Celebrate National Donut Day with BFGoodrich Tires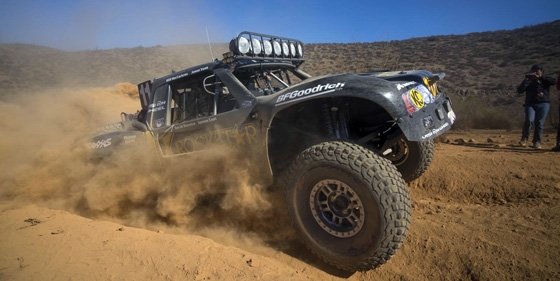 This post is sponsored by BFGoodrich® Tires

Normally we like to celebrate National Donut Day the traditional way, with deep fried sugary goodness. Mmmmmm Donuts. This year, however, we've been inspired to celebrate it like a race-car driver, thanks to the good folks at BFGoodrich® Tires. BFGoodrich knows the sweetest donuts are those you make yourself, when you win.
BFGoodrich has more desert race wins than any other tire manufacturer, including 87 total overall race wins in the Baja peninsula. As the winningest tire brand in desert racing history, BFGoodrich Performance Team Members (like RJ Anderson) are uniquely qualified to demonstrate the art of making the perfect victory donut.
RJ Anderson is part of the new breed of off-road racers, who began his racing career at 14. Now just 23, the 6-time off-road racing champion already has an established history of winning and donut making with his BFGoodrich Tires. Anderson shows us how to celebrate National Donut Day in style with post-race victory donuts in the deliciously sweet video below :
As you can see, BFGoodrich Tires are not only shaped like donuts (Disclaimer: Do Not Eat Tires), but they're well versed in the art of making celebratory donuts. That winning pedigree from the racing tires translates directly to their consumer tires and performance for you, on and off the road. Decades of motorsports research and development tech is transferred to BFGoodrich passenger tires, delivering the grip and control that spirited driving demands.
When you choose a tire, you're choosing the level of performance you can demand from your vehicle, as well as how much fun you can have behind the wheel. So why not choose the tires built on a history of winning? For auto enthusiasts seeking to experience the most out of their ride, consider the extremely capable BFGoodrich® All-Terrain T/A® KO2 tires, which incorporate technology gleaned directly from years of desert racing and off-road wins on BFGoodrich racing tires – the All-Terrain T/A® KR2s.
Read about BFGoodrich® Tires Seeking 32nd Overall SCORE Baja 500 Win.
See additional National Donut Day coverage from our MenWhoBlog friends.