Celebrate National Lemonade Day with Cocktails from Cruzan Rum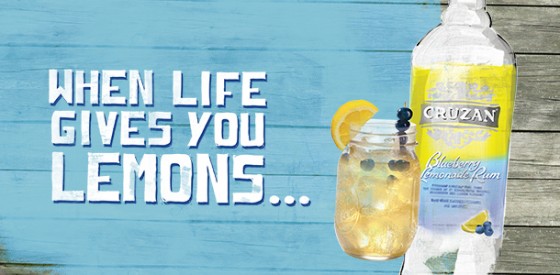 Today is National Lemonade Day! This might make you think of things like little kids with card tables and signs mixing lemony-flavored Kool Aid and ice. Not us. It makes us think of cocktails. Fun, delicious, rum-infused ones.
If you think like us, then don't worry. Our friends at Cruzan Rum have our backs. They introduced a new rum in April called Blueberry Lemonade and with a couple of recipes, you can mix it up to make some great National Lemonade Day treats for your deck party. Because if you use Blueberry Lemonade Rum to mix a cocktail, then it's technically a type of lemonade too! Drink one of these while you watch the neighborhood kids try to squeeze lemons and work out how much 5 cents is now, after inflation.
Cruzen Blueberry Lemonade Lush
This recipe is the closest to a traditional Lemonade, with some of that Blueberry Rum goodness mixed in. Build in a Mason jar over ice. Add Cruzan Blueberry Lemonade Rum, lemonade, and lemon-lime soda. Garnish with blueberries and a lemon wedge.
1 Part Cruzan® Blueberry Lemonade Rum
2 Parts Lemonade
Splash of Lemon-lime soda
Cruzan Blueberry Lemonade Colada
Want something a little more tropical? This one's a little more fun. Put the following ingredients into a blender and blend until smooth, then pour into a stemmed hurricane glass and garnish with lemon zest.
2 parts Cruzan Blueberry Lemonade Rum
1 part Coco Lopez Cream of Coconut
1 part fresh lemon juice
Ice
Cruzan Blueberry Lemonade Cooler
This is also a bit traditional and can be made on the fly, quick and dirty, for some fast refreshment. Mix the following into a shaker and then strain it into a cup with ice, topping it off with club soda.
2 parts Cruzan Blueberry Lemonade Rum
3/4 part fresh grapefruit juice
small pinch of sea salt
Cruzan Caribbean Dream
This one is a simple recipe that can be made on the fly to please any number of guests. Combine the following into a shaker, double-strain into a shot glass and garnish with a maraschino cherry and grated cinnamon.
1-1/2 part Cruzan Blueberry Lemonade Rum
1/2 part fresh lime juice
1/2 part cream
Cruzan Blue Velvet
For this one, you're going to need a few simple ingredients and a tall glass filled halfway up with ice. Into that glass, mix the following ingredients, then stir and garnish with a lemon wedge or some blueberries.
1 part Cruzan Blueberry Lemonade Rum
1 part Cruzan Raspberry Rum
1/2 part Sour Mix
3 parts cranberry juice