Celebrate St. Patrick's Day with Guinness
It's no secret that we're big fans of Guinness here at Gunaxin, and with St. Patrick's Day coming this weekend, there really is no other choice than a pint of Guinness. Please don't even think of ordering a green beer, even if you're a woman. There is absolutely nothing hotter than a Guinness Girl.
This St. Patrick's Day, Guinness conducted a survey of 1,000 male and female beer drinkers to uncover the general perception of the "Guinness Girl," and you may be surprised to hear what they found out…
Nearly 9 out of 10 women say ordering a GUINNESS on a first date is a "total do." (86%)
Men would prefer to hang with a woman who orders GUINNESS over one who orders Cosmopolitans, light beer, vodka and soda and scotch on the rocks by 2 to 1.
Almost half of men would feel pride if a girl he was dating brought GUINNESS to a party but nearly as many would also be pleasantly surprised.
Almost half of men agree that a woman drinking a GUINNESS is "bold" and "intriguing."
More than 60% of women think GUINNESS is a heavy beer, but did you know that a pint of GUINNESS has less calories than a pint of orange juice?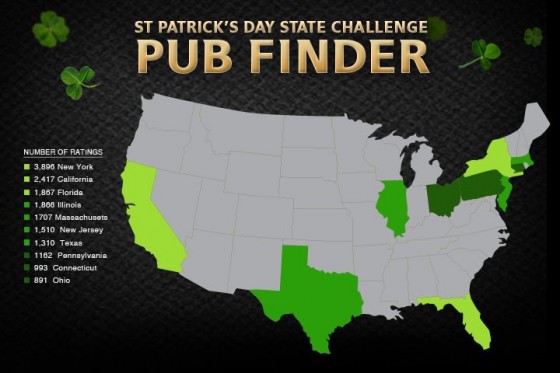 To help you find your local Guinness Pub, they have even created a Facebook App which does just that. As you can see from the map above, the party will be going strongest in population centers, but that doesn't mean you can't find a pint of Guinness in your local market. To help you pull together your crew for an epic weekend of partying, Guinness has put together another amazing app which will allow you to invite your friends with a customized movie trailer :
While you are enjoying your Guinness this weekend, you can take a moment to help others, just by sending a text message :
This St. Patrick's Day, join Guinness in honoring our nation's firefighters with the brand's "$100,000 Pour," to help provide the necessary equipment, technology and training to America's bravest. A live Guinness pint mosaic that will be comprised of consumer pledges, each of which represents $1 of the $100,000 donation that GUINNESS has committed to the Leary Firefighters Foundation. To support the LFF and be a part of the $100,000 Pour, adult GUINNESS fans can pledge by texting "GUINNESS" to 878787.