Char-Broil Commercial Series Grill
This post brought to you by Char-Broil.
The content and opinions expressed below are that of Gunaxin.
Summer is fully underway, which means we're cooking outside just about every day here at Gunaxin. So you can imagine our excitement when the beautifully rugged grill pictured above arrived at our door this past week. It's a Char-Broil Commercial Series three-burner gas grill featuring the TRU-Infrared™ cooking system and it's absolutely fabulous. They are sold exclusively at Lowe's and are the best-selling line of infrared gas grills, so we couldn't wait to fire it up.
That photo though is the finished product, and there was definitely some assembly required before we could start cooking. We're not going to lie, when all you can think about is searing perfect grill marks into a steak, spending an afternoon putting together a grill can be a bit frustrating. However after two-dozen steps and more parts than we could count, the new Gunaxin Char-Broil was finally assembled. Putting it together was a bit of a chore, but it left us with a better appreciation for the quality of this Commercial Series Grill. We're digging the upgraded design and improved materials for 2015, and once fully assembled it feels quite sturdy.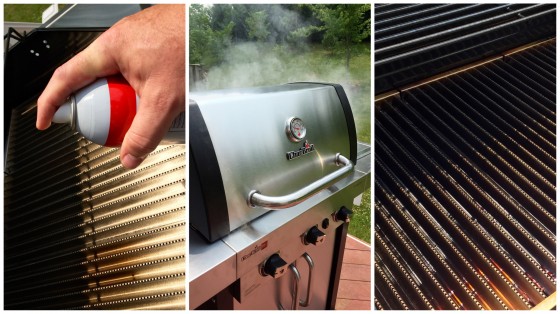 There was one more important step before we could begin cooking though, seasoning the stainless steel infrared emitters underneath the cast iron cooking grates. Seasoning them optimizes cooking performance, makes cleaning easier, and inhibits rust. The process is relatively simple, we just coated both sides of the emitters with a canola oil spray, and then heated the grill up for about 15 minutes and waited for it to stop smoking. Now we were ready to Grill it Up!
To christen the new Char-Broil, we didn't go with a big juicy steak or a rack of ribs, we instead purposely went for the easiest, cheapest thing that we could possibly grill : Hot Dogs. It may seem like a puzzling choice, but the reason was simple, there is a bit of a learning curve involved here. We've been cooking with our traditional gas grill for the past decade, and we know exactly what to expect. When we switched to the TRU-Infrared™ cooking system from Char-Broil, we wanted to make sure we didn't ruin an expensive cut of meat while orienting ourselves with a new grill. So you can see our hot dogs above came out pretty good, however our grill marks are a bit more aggressive than we would like on those buns.
In 1948, Char-Broil brought the first charcoal grill to market, and almost 60 years later they debuted another innovation every bit as monumental, the TRU-Infrared™ cooking system. It delivers even heat across the entire cooking surface (no more hot and cold spots), juicier food, higher temperatures without flare ups, for restaurant-quality results. The key there is higher temperatures, especially right on the grill grates as infrared heats your food directly, and utilizes less convection. That makes killer grill marks much easier to achieve, but also a chance that you can char your food more than you intended if you don't adjust the heat properly. There is a wide range of temperature control for both searing and low-and-slow cooking that we had to practice with. Learn more about Char-Broil's infrared technology.
We don't normally need an excuse to grill, but summer gatherings and Father's day are swiftly approaching, so we thought we'd provide you with a fun idea for your next cookout, beyond the usual hotdogs and hamburgers. For our second meal on the new Char-Broil, we went with Chicken Skewers (or Kebabs) for a few reasons. Again, they are relatively cheap and allowed us to test grilling both chicken and vegetables. Key for our purposes though was the fact that they photograph well, and look great on the grill. The next time you are hosting a cookout, we highly suggest them to impress your guests. Kebabs take a relatively long time to prep, but that can be perfect when you have a crowd over that just wants to talk your ear off while you're in the kitchen. As you assemble them, you are literally standing in one place doing a relatively mindless task for up to half an hour, so you have time to hear the story about your buddy's cousin who was drafted in the 28th round by the Diamondbacks.
As you can see, we assembled our pre-soaked skewers with chicken, peppers (variety of colors) and vidalia onions. We tried to slice everything to less than an inch cubed, so our pieces would cook evenly. Obviously having the chicken cooked fully is absolutely critical, so definitely make sure those pieces aren't too large. We soaked the vegetables in a bowl of water with a bit of olive oil and some seasoning for about 15 minutes before assembling, to make sure they stayed moist on the grill, however in retrospect this step may not have been necessary with the infrared grill. Often we marinade the meat, but this time we just went with a sprinkle of dry seasoning mix.
It's been awhile since we've made Kebabs, and we always have the desire to start and end with a piece of pepper, because they are firm and hold on so well during assembly. What we forgot however is what happens when you cook them, they actually become loose on the skewer and make it difficult to rotate them without losing pieces. For that reason we suggest you start and stop with your meat (chicken, steak, pork, etc.) as it tends to hug the skewer tightly when it's cooked.
To go with our Kebabs, we picked up a loaf of Artisan Filone Jalapeno Cheddar Cheese bread at our local grocery store and sliced it every half-inch. We butter both sides and grill it for a fun little starter or side. You can see above, that we're still working on getting the time and temperature right for the bread, but there weren't any leftovers, so they must have been pretty damn good.
For our skewers, we generally try to cook them for about 10-15 minutes on high heat, rotating them at least 3 times while cooking, so they are done evenly. The small chunks of chicken cook relatively fast, but you still want to make sure they are fully cooked before serving. Kebabs can be enjoyed right off the stick as you hang out on the back deck, or slid off the skewer with a fork and eaten off a plate, whichever you prefer. Another fun idea would be to use the slices of filone bread and assemble little chicken kebab panini sliders.
Char-Broil Commercial Series Grills are an absolutely perfect gift for Father's Day, but we definitely suggest you pre-assemble the grill as part of the gift so the dad in your life can just skip right to the good stuff. Lowe's is actually offering free local delivery, assembly, and haul away on grills of $399 or more until July 20th so save yourself some trouble. We always enjoy cooking out, but having an amazing tool like this definitely makes it easier and more fun to be King of the Grill. We can't wait to get back outside all summer long to Grill It Up, so keep an eye on our Instagram feed to see what we grill up next.