Christmas Trees for the Clinically Insane
Is it possible that Charlie Brown was wrong in thinking that all you need is a plain, simple, REAL looking tree for your Christmas decorating needs? After all, he didn't have the Internet, and therefore didn't have access to the silly shit that's available to us today through the magic of a Google search.
Well, we investigated things and we've come to the conclusion that there's no need for the giant metallic trees that won't decompose under any circumstances whatsoever. We've also got little use for a tree made of recycled jock straps and Bedazzled with precious gemstones. That said, let's look at some trees that make our jockstrap tree seem like a great alternative.
The "Tango Red Lipstick Pencil" Tree
It's Clifford the Big Red Dog's dick. There's no other way to put it. Look at this thing. What about this affront to nature screams "Merry Christmas" to you? Nothing. It's a dog dick. Period.  Now, we're not going to judge you if that's what you're into, but don't expect a fruit cake from us.
The "Sassy Sapphire Blue Tinsel" Tree
It's unclear who this is being marketed toward. Either a Smurf fetishist or a rather sensitive Emo hipster. Either way, keep that information to yourself.
The "Some Like It Hot Pink" Tree
Some Like It Hot was a 1959 movie starring Marilyn Monroe. Simply playing on the title of a classic film doesn't make your product more attractive. Seriously, strap some titties on it, rename it the Marilyn Christmas Boobtacular, and watch the money come rolling in.
The "Black" Tree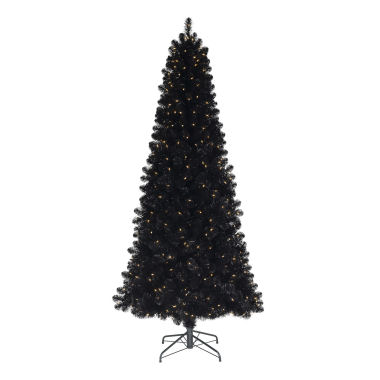 For the festive Goth among you. They didn't even try to get cute with the name on this one. Unless you're planning on taking a bath with your toaster, we suggest you skip this one altogether.
The "Colossal Candy Corn" Tree
It's only fair, really. Christmas has been horning in on Halloween for years now. Payback is a bitch.
The "Silver Dazzling Diva Tinsel" Tree

We think they made a mistake in the catalog. This belongs on an adult website. It looks like something better suited for the bedroom than the family room.
We're with Charlie Brown on this one. Give us a stick, two ornaments and some sissy's blanket, and we'll call it Christmas. If you insist on owning Clifford's Dick, you can find it and more at TreeTopia