Cinema Wasteland : April 2015
Cinema Wasteland is a mecca. It really, truly is! No, trust me, c'mon guys! Okay, listen: it's located in slightly distanced city in Ohio called Strongsville that looks and feels like any number of slightly larger cities throughout the country. It's held in -and basically takes over- and entire Holiday Inn, and the crowd it draws is singular in its oddities and undying love for all things underground horror. So now do you get it? Mecca. For freaks.
From the moment you walk in one thing becomes inherently apparent -especially if you are the aforementioned "horror freak"- and that is that you feel immediately at home. They are friends, confidants, and fellow lovers of the genre. You just know and understand right away that this place is where you belong: this is the weekend and the place where it's never even looked at sideways when you sport a T-Shirt promoting Cannibal Ferox or Tombs of the Blind Dead. This is your home away from home and it's time to take it all in.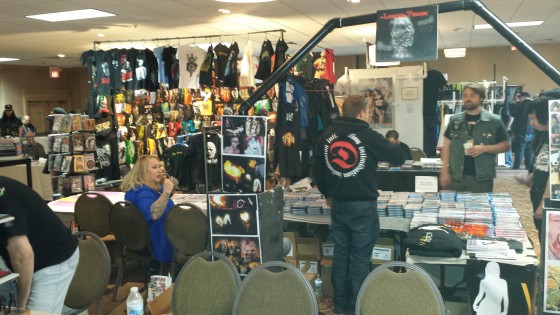 Much like any other convention-type collection of people all gathered together in a much smaller space, it's a good idea to plan your itinerary accordingly. It's especially smart to get there a while before the event actually opens, get the lay of the land, and get in line. Fortunately for most, Cinema Wasteland opens its doors somewhere between 4 and 5 PM on Friday, and the large portion of the crowd doesn't really get there until either later in the day, or Saturday. This is beneficial in a few ways. First off, you can get your greetings with the stars before the huge lines and waits get their heels dug in. And secondly, you can peruse the merch and decide what you want to buy without the feeling of being rushed. So it's all good on Friday.
This especially came in handy for me on this first day. After six visits over the years I have a pretty good idea of where everything is and how to move among the tables without getting overwhelmed. I knew going in that the the 30th Anniversary cast of the classic Day of the Dead was in attendance and I wanted to meet and greet before the big Q&A on Saturday. So since Friday was light on the crowds, I went around and shook hands and chatted up one of the nicest and most genuine collection of people I have ever met, including (wait for it) Tom Savini. That's right, THE Tom Savini, Godfather of Gore. Sure, he's a regular at the convention circuit, but I'd personally never met him and it was a huge deal for me. We talked about his work, and I was especially drawn to his info about Creepshow and even From Dusk Till Dawn. His stories about Ted Danson and his belt gun from FDTD, respectively, were hilarious. We chatted for a half hour or so and I have to say he is absolutely a gem.
But the next item on the list would change the way my outlook went for the weekend in one, silly film. You see, my buddy suggested we see a movie called Mutantis. Well, based on the name alone I was definitely game. The movie itself was an absolutely, unabashedly goofy mess, and I loved every second of it. In fact, truth be told, it was the best thing in terms of cinema I watched all weekend. Check out the trailer below:
So, I was obviously excited to interview one of the folks responsible for making the movie. But why just get the words of the director? No, anyone could do that. What really hit a note with me (sorry) was the soundtrack! So I asked a few questions to Paul Joyce, the man behind the music. I'll have that entire interview coming up soon in a dedicated feature about Mutantis.
Oh, and yes, there was an amazing panel featuring the largest cast reunion of Day of the Dead in thirty years, and it was a ton of standing-room-only greatness. Sadly Mutantis wasn't there. The next Cinema Wasteland Movie and Memorabilia Expo will be held during the first weekend of October, and hopefully I'll see you there!