25 Classic NFL Uniforms from the Past 50 Years
Lawrence Taylor, Emmitt Smith, Joe Montana, Jerry Rice, Dan Marino, and John Elway are some of the greatest NFL players ever. They all worked hard throughout their entire career and some of them even reaped the benefits of all of the hard work with a Super Bowl ring, or more.
It was beautiful to watch them play. They were like actors in a play performing at their best every time they stepped onto the football field. From the amazing passes in the back of the end zone to the hard-hitting linebackers that scared the crap out of their opponents, what good is a performance without an amazing wardrobe?
The uniforms worn by these players were some of the coolest ever worn in the history of the NFL. Not once did they wear something called, "Color Rush." There are so many more classic uniforms over the past 50 years that can only be described as bad ass, and below we've assembled our Top 25…
25. Tampa Bay Buccaneers
Version: Standard
Years: 1998-2013
24. Jacksonville Jaguars
Version: Standard
Years: 2002-2006
23. Denver Broncos
Version: Standard
Years: 1997 – 2008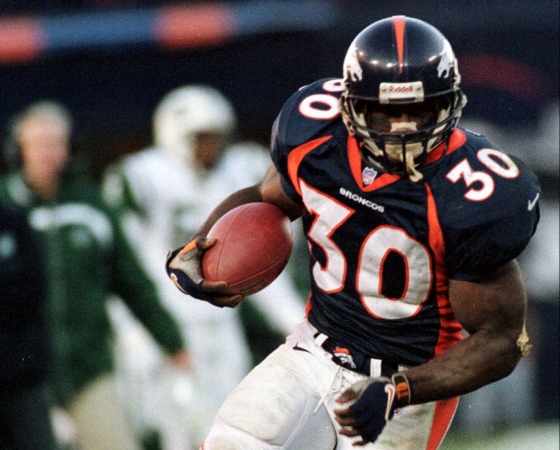 22. Minnesota Vikings
Version: Standard
Years: 1996 – 2005
21. Arizona Cardinals
Version: Alternate – Black Jersey
Years: 2010 – Present
20. Philadelphia Eagles
Version: Standard
Years: 1970 – 1973
19. Detroit Lions
Version: 75th Anniversary Throwback Edition
Year: 1994
18. Atlanta Falcons
Version: Standard
Years: 1990 – 2002
17. Seattle Seahawks
Version: Standard
Years: 1983 – 2001
16. New York Giants
Version: Standard
Years: 1980 – 1999
15. Denver Broncos
Version: Standard
Years: 1974 – 1993
Level of Greatness: The Broncos looked good during Super Bowl 50 and the two they won before that, when John Elway was around. However, they have never won a Super Bowl with the classic uniforms so maybe it was a good thing for the team. The orange and blue reminds us of the old days of the NFL, back when players could still hit other players without penalty.
14. New Orleans Saints
Version: Standard
Years: 1967 – 1974
Level of Greatness: Not much has changed over the years except the colors on the pants and a few style issues with the logo and jersey. But the Saints have never dealt with any drastic changes since 1967, 50 years ago. During that time, until 1974, they added the gold pants to match their black tops.
13. Washington Redskins
Version: Standard
Years: 1979 – 2013
Level of Greatness: We love these uniforms, not for the helmets (yikes!), but for the colors and style. The burgundy and white only work with the gold outline from top to bottom. It is the glue that turns a plain ole uniform into a classic NFL jersey.
12. Miami Dolphins
Version: Standard
Years: 1967 – 1972
Level of Greatness: There are only a few teams that have kept the same core design over the years. San Diego, Dallas, New Orleans, Minnesota, Atlanta, and Miami are all teams that kept a very similar style since their inception. Miami did manage to get a gritty and more hardcore look back in the 60's and 70's. It is not easy to see but the logos on the helmets are nowhere near what the cartoonish style they use today.
11. New England Patriots
Version: Standard
Years: 1961-1992
Level of Greatness: Before the Patriots started dominating the NFL behind the duo of Tom Brady and Bill Bellichik, they wore the retro red, white, and blue uniforms that dates back to the second year of the franchise's existence. The white helmets with the Patriot logo remains one of the greatest team logo's of any sport, ever. The uniform is ten hundred times better than what they wear today and it could be time to get back to the throwbacks.
10. Houston Oilers
Version: Standard
Years: 1983 – 1997
Level of Greatness: The Titans have sucked for quite some time. Their uniforms are average at best. But the Houston Oilers, now those were some badass NFL uniforms. What says Texas more than an Oil Derrick?
9. Tampa Bay Buccaneers
Version: Standard
Years: 1976 – 1996
Level of Greatness: Before the copper and red badass Buccaneers jersey's surfaced in 1997, they rocked the orange creamsicle colors. The logo was simple and detailed in it's face but the uniform went from fans hating it to everyone loving it. For some reason, these orange uni's have grown in value over the past few years and is now becoming one of the best ever.
8. Oakland Raiders
Version: Standard
Years: 1964 – Present
Level of Greatness: No one was more feared than the Oakland Raiders opponent's during the 60's, 70's, and 80's. But then something happened and that fear went away and now the Raiders have been struggling to get above .500 for 12 seasons now. Through all of the desperate times, they still managed to remain loyal to the silver and black that has kept them as one of the NFL's best uniforms.
7. Buffalo Bills
Version: Standard
Years: 1964 – 1973
Level of Greatness: Maybe it was a bad idea to show O.J. Simpson here but it remains one of the most basic logos, a plain red buffalo shadow, on a white helmet with blue uniforms. As far as the coloring goes, the NFL needed some and it was the Bills who brought the red and blue to the next level.
6. Los Angeles / St.Louis Rams
Version: Standard
Years: 1973 – 1999
Level of Greatness: We have said simple is as simple does but the Rams yellow and blue uniforms are more than simple, they are basic. Yet, they are the coolest things ever worn in St.Louis or Los Angeles. If only they could find a way to revert back to them, then we could all be happy again.
5. Washington Redskins
Version: Standard
Years: 1970 – 1971
Level of Greatness: Although the Redskins only wore these uniforms for two seasons, they stood out for us because of the lack of the Redskin logo on the helmet. They used a simple R with a feather out the back of it instead of going with their more current, and racist, Redskin on the helmet.
4. Buffalo Bills
Version: Standard
Years: 1984 – 2001
Level of Greatness: Surprised to see Buffalo in the top five? When we started doing research, the Bills were an easy choice for the list but we didn't realize just how impressive those blue and red uni's were during the late 80's and all throughout their Super Bowl streak. Uniforms these days are trying to add a little too much to them instead of keeping it simple and solid.
3. Los Angeles Rams
Version: Standard
Years: 1964 – 1972
Level of Greatness: Roman Gabriel wore the Rams white and blue uniforms the best back in the late 60's. He lead the team to 32-7-3 record during a three year span that put them in the NFC playoffs before losing in the first round, twice. Before they changed from white to yellow, the uniforms were worn every game and still look amazing, even in the black and white video replays. These are the most underrated of all the uniforms on the list.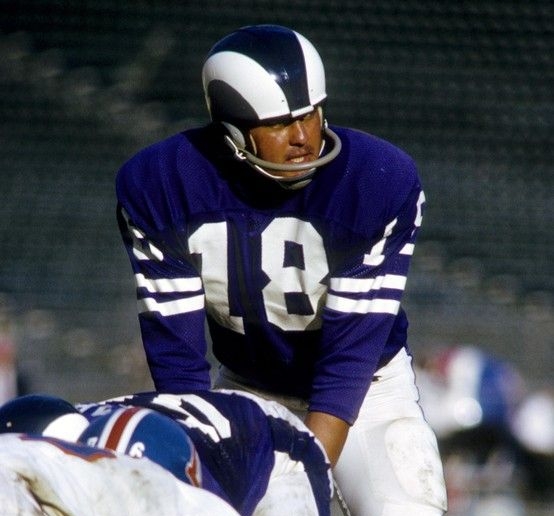 2. New York Jets
Version: Standard
Years: 1965 – 1977
Level of Greatness: What is not to love about those green meanies? The retro Jets uniforms, shown below, remains one of the top selling throwbacks ever, especially the Joe Namath one. Tune on the TV during a Jets game and notice how many fans are rocking that same classic style. It is the best the team has ever had too.
1. San Diego Chargers
Version: Throwback
Years: 2000, 2002-2006, 2009
Level of Greatness: All 32 NFL teams have tried, several times, to produce something for their teams to wear that comes close to what the San Diego Chargers have done with their modernized throwbacks that have become their most requested jersey, and one of the NFL's most popular jersey. They went back in time to recreate a uniform they wore, once upon a time, using the light blue, lightning bolts, and helmet numbers to perfection.