Seven Cocktails for Thanksgiving
While we typically recommend you drink Beer on Thanksgiving, this year we're going in a different direction. Thanksgiving is a holiday that typically features a large family gathering. Such a loud stressful occasion calls for a stiffer drink than you can typically get from Beer or Wine, so why not mix up some cocktails? Below we've collected seven winning cocktail recipes from some of our favorite spirits brands.
From before the first kickoff, till after the last piece of pie is long gone, you have enough variety here to keep a drink in your crazy uncle's hand for the entire day. Once he's consumed some liquid courage, your uncle is guaranteed to start ranting about building a wall and deporting the illegals causing your little brother's dreamer girlfriend to cry. At our house, we call that a traditional Thanksgiving!
Cascade Toddy
Ingredients:
1.5 oz. Cascade Blonde American Whiskey
4 oz. boiling water
.25 oz. honey
Lemon wheel
Cinnamon stick
Directions:
Add ingredients into mug
Garnish with a lemon wheel
Garnish with a cinnamon stick
Scorchin Winter Warmer
Ingredients:
1 oz. Crown Royal® Regal Apple Flavored Whisky
0.5 oz. Stirrings® Ginger Flavored Liqueur
3 dash(es) aromatic bitters
4 oz. apple cider
slice(s) apple
Directions:
Combine ingredients in a toddy glass.
Top with warm apple cider.
Garnish with an apple slice.
Kentucky Autumn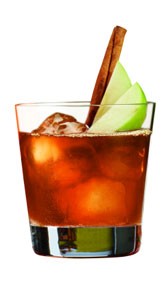 Ingredients:
1.25 oz. Bulleit Bourbon
0.5 oz. ginger liqueur
1.5 oz. pomegranate juice
0.5 oz. lemon juice
0.4 oz. maple syrup
1 dash powdered cinnamon
3 dashes baked apple bitters or orange bitters
Apple slices and cinnamon sticks for garnish
Directions:
Shake all ingredients vigorously for 10 seconds over ice.
Strain over fresh ice into large rocks glass.
Garnish with apple slices and cinnamon sticks.
Tennessee Cider
Ingredients:
1.3 oz. George Dickel No. 12
2 oz. Apple Cider
0.5 oz. Grade B Maple Syrup
3 dashes Angostura Bitters
Directions:
Combine all ingredients.
Garnish with an apple slice and cinnamon stick.
Apple Pie Sour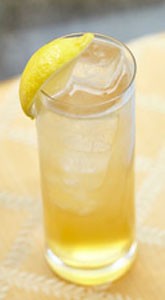 Ingredients:
1.5 oz. Piehole Apple Pie
1.25 oz. sour mix
Splash of orange juice
Lemon wedges
Directions:
Add ingredients to an ice-filled mixing tin.
Squeeze a lemon wedge into the tin.
Shake and strain into an ice-filled Collins glass.
Garnish with a lemon wedge.
Basil Hayden's Pumpkin Sour
Ingredients:
2 parts Basil Hayden's® Bourbon
0.5 part Fresh Orange Juice
0.5 part Lemon Juice
0.5 part Maple Syrup
2 heaping barspoon Canned Pumpkin Puree
3 dashes Angostura® Bitters
2 part Allspice Dram
1 twisted orange peel
Directions:
Combine all ingredients into a mixing tin, add ice and shake vigorously
Strain into a rocks glass over ice.
Garnish with a twisted orange peel.
Cruzan Peach Cobbler
Ingredients:
1.5 parts Cruzan Peach Rum
0.25 part Turbinado Simple Syrup
0.5 part Dark Sherry
0.25 part Blackberry Liqueur
0.5 part Fresh Lemon Juice
Nutmeg
Orange Peel
Directions:
Combine all ingredients over ice, shake and pour into an old fashioned glass.
Garnish with fresh grated Nutmeg & flamed Orange Peel.