Coco : Day of the Dead Must-Watch Movie
Editor's Note : Coco is a must-watch movie pick for November 2nd, the Day of the Dead. Below we have re-published Eddie's 2017 review of the instant Disney classic. Coco is streaming on Disney+.
Coco is a joyous celebration of all that encompasses the cycle of life and death. Adrian Molina and Matthew Aldrich's script may oversimplify these notions to walk the line between children's entertainment and overly-morbid, but it's a surprisingly mature meditation on the legacy we leave other people. The film uses the Mexican holiday Día de Muertos (Day of the Dead) as the conduit through which the living communicate with the dead, incorporating the colorful imagery which adorns this day of remembrance.
The film itself is standard Disney "I must be who I was born to be" fare. My initial reaction to Coco was one of indifference, thinking it simply a gender-reversal of Brave. After all, isn't this what studios are doing these days? Ghostbusters, the upcoming all-female reboot of Ocean's Eleven? It's too simple to say Coco is riding this trend, though; trends in Hollywood come and go, but it's hardier, sturdier stuff which makes movies timeless. With this in mind, Coco is a fine chapter in the Pixar pantheon – engaging, delightful, and full of the heart which we've come to expect from their films.
This particular heart is found in young Miguel Rivera (Anthony Gonzalez), born to a family of shoemakers expecting him to pick up their trade. Of course, that's not what he's cut out to do; he's meant to be a guitar-playing legend like his great-great-grandfather, Ernesto de la Cruz (Benjamin Bratt). However, due to Ernesto leaving the family to pursue his musical fortune, his wife and Miguel's great-great-grandmother Mamá (Alanna Ubach) places a perpetual ban on music in the family. Even Miguel's grandmother Abuelita (Reneé Victor) has to chase musicians off with a broom when they get too close to the family compound, which also houses their shoemaking business.
Yeah – sooner than you can say "tonight I gotta cut footloose," we see Miguel secretly indulging in his favorite pastime; playing along to records and videotapes of Ernesto's in earnest and with a surprising skill. He's also seen as a caring member of the Rivera family, especially to his dementia-ridden great-grandmother Coco (Ana Ofelia Murguia), Ernesto and Imelda's daughter. But his soul cries out for more than just this provincial life – he's destined for greatness, and he's got one chance to prove it at his hometown's Día de Muertos party.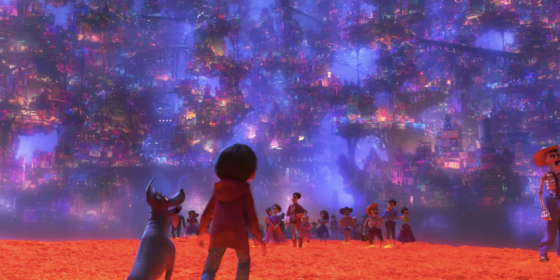 Wouldn't you know it – the family finds out what he's been doing with his spare time and takes it all away from him, including smashing his guitar. There's only one place he can find a guitar in time, and that's in the large mausoleum dedicated to the remains of Ernesto de la Cruz. And when Miguel breaks in and strums it, he's magically transported to the mythical Land of the Dead, the "other side" where he meets the deceased members of his family.
It's a little morbid, to be honest – it takes some time to get used to the fact that Miguel is conversing with walking, talking, skeletal dead people. The requisite dead-guy jokes are made, but a somber tone befalls the proceedings after Miguel meets Hector (Gael García Bernal), a bedraggled denizen of the Land of the Dead. No one remembers him or has put his picture on their ofrenda (the traditional altar erected in remembrance of the dead), thus barring him from the Land of the Living. The film's other conflict comes heavily into play when we see what happens when no one remembers the souls of the dead – they disappear into the ether, like Obi-Wan Kenobi.
Miguel has to find his great-great-grandfather Ernesto to prove his worth, and Miguel is the only one who can help him. In return, Miguel promises to put Hector's picture on his ofrenda so he won't die a second time. This central friendship forms the bulk of Coco, with a shocking twist throwing everything into not just a race against time, but a race against death itself. Coco's sense of adventure and excitement bubbles over as Miguel and Hector battle through the underworld to effect their return to the Land of the Living.
Pixar deserves plaudits for Coco's vision and grandeur, unleashing sweeping vistas of this fabled world with little nooks and crannies in which we lose ourselves. Its eye-popping spectacle leaves Pixar's previous efforts in the dust, with the utmost attention paid to detail, authenticity, and vibe. From the papel picado banners which accompany the opening narration to seeing them brought to vivid life later on in the movie, Coco yanks you straight into the unfolding frenzy surrounding Miguel's escapades.
The voice cast is nimble and furious, agilely weaving in and around each other to keep the script as effervescent as its ornate visuals. Anthony Gonzalez keeps us firmly rooted in the film, yet never loses the childlike wonder which we as an audience feel right along with him. He's driven, but he remains fancy-free and loose, never giving into sounding jaded or overly-adult the way some child actors sound. That's okay, because the older members of the cast provide the right amount of world-weary, seasoned performances which seem to make Gonzalez shine all the more.
As the ratty Hector, Gael García Bernal – whom I've adored since Y tu mamá también – plays the downtrodden part well, wavering between lunacy and lucidity. The script doesn't let him show his hand until a pivotal moment, and his performance goes a long way toward guarding the ace up his sleeve. Balancing him out are the bravado-filled and self-assured tones of Benjamin Bratt, who gives Ernesto the puffed-out chest his peacock of a character needs. Staying ahead of both of them is the vivacious Alanna Ubach, who spikes Mamá Imelda with a smart and punchy sass, being the aural equivalent of the slap in the face every time she's on screen.
Coco's marvelous aesthetics and terrific voice cast all take a backseat to the emotion conveyed throughout the film. All of the colors in the world (and they seriously try to shove every one of them in here) only enhance this film's portrayal of the honor, love and respect we share with our families, and the hope of gaining the acceptance we seek from them. With Coco, we find Pixar doing what Pixar does best: finding the common ground we all share, then using it to build relationships and unity. It's a unity not just for the characters the film, but with us in the audience as well.
Originally Published at DCFilmdom.com.
Coco
Pixar doing what Pixar does best: finding the common ground we all share, then using it to build relationships and unity