College Football Power Rankings : Week 3
Two weeks down, 13 to go in the 2015 NCAA football season. A lot has changed in the past two weeks since we last gave you our power rankings including a few near upsets and a few more actual upsets. There have been predictable outcomes too. TCU, for example, put up 70 this past weekend against Stephen F. Austin while Boston College added even more scoring when they dismantled Howard 76-0.
The players are also showing up this season like Matt Johnson for Bowling Green. The Senior QB has already thrown for 915 yards and 8 TDs in only 2 games. This is a guy that missed almost all of last season and only threw for 3,467 yards in 2013 as a full-time starter. He is on pace to throw for 5,484 yards, 48 TDs, and 6 INTs.
Yes the season just began and yes things will change over time but what we have seen so far has been amazing and we still have plenty of football left to go. Here is our brand new power rankings in college football as we head into week 3 of the 2015 season.
1. Ohio State (2-0)
Next Up – vs. Northern Illinois (2-0)
After just two weeks, the Ohio State football team looks like the best team in the country. And that is scary.
Braxton Miller was a Heisman candidate at the QB position two years ago. He is now pulling a Boobie Miles and playing every other position because he is such an unbelievable talent. In two games, he has 13 carries for 118 yards, 5 catches for 95 yards, and 2 Total TDs. When your 3rd string QB moves to WR and puts up big numbers, you know it is going to be a fun season.
2. Michigan State (2-0)
This Week – vs. Air Force (2-0)
Oregon's offense has been fun to watch for a very long time as they continue to change the way we watch football. Michigan State has always had a tough defense that has helped them remain one of the best teams in the country.
Last week, the Spartans showed everyone just how good they are when they held Oregon's offense to 28 points and 432 yards of offense. Before the 4th quarter, the Spartans were holding the Ducks under 300 total yards before giving up some big plays.
For some reason, no one has Michigan State ranked this high and that is shocking. This team is the second best in the country and they proved it Saturday.
3. Baylor (2-0)
Next Up – Bye
Too bad Baylor has a week off this early in the season. We are just getting pumped up about that offense. They have already given us plenty to cheer about and they will not be stopped. At least, not any time soon.
They could end up breaking all kinds of records this year on their way to the top spot in the rankings.
4. Alabama (2-0)
Next Up – vs. #19 Ole Miss
Alabama has become synonymous with winning by having a gigantic offensive line and a tough defensive front seven. This season has not shown much of a difference and Alabama has put together one of their best front seven ever.
Ole Miss is the only SEC team to beat Alabama since Auburn did it back in 2013 when they beat them around the same time last year. They have another strong defense but can they beat Alabama twice in two years? We do not think so.
5. TCU (2-0)
Next up – vs. Southern Methodist (SMU)
After a shaky week one game against Minnesota, TCU bounced back with a huge win against Stephen F. Austin. They put up 35 points in each half en route to a 70-7 beatdown.
If this offense continues to roll like they did this past weekend, no one is going to be able to stop them. That is, until, they face Oklahoma and Baylor. But that is a long time from now.
6. USC (2-0)
Next Up – vs. Stanford
Everyone better get on board the bandwagon now before it is too late. This is not Pete Carroll's Trojans anymore, this is a legit National Champion contender from SoCal. And they did it by following all the recruiting rules Mr.Carroll did not.
Cody Kessler has lived up to the hype and his USC Trojans are about to face their first real opponent of the season. This is the week that legitimizes USC as a true contender.
7. Georgia (2-0)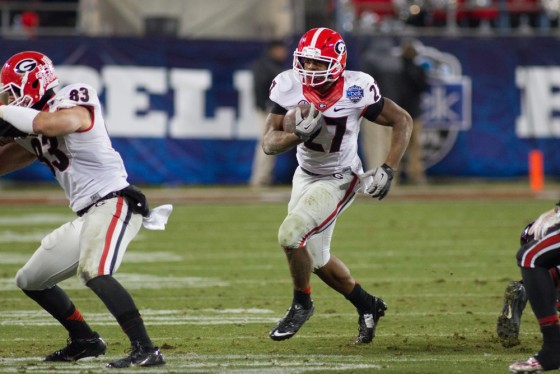 Next Up – vs. South Carolina
Nick Chubb was supposed to be the best Running Back in the NCAA this season. He was going to tear up anyone who got in his way. He has all the skills to reach the NFL and become an instant impact player.
Two games into 2015 and all those statements are true. This guy is amazing and he should have no issues against South Carolina this weekend. The Gamecocks are giving up over 200 rushing yards per week. This is the weekend he gets his highlight reel play that gets played during all the shows and all the Heisman discussions.
8. Notre Dame (2-0)
Next Up – vs. #12 Georgia Tech (2-0)
The injury bug strikes again in South Bend. Over the weekend Notre Dame lost both their starting QB, Malik Zaire, and TE, Durham Smythe, for the season. They lost starting RB Tarean Folston last week for the season already, how many more players can they lose before they begin to feel the effects?
We were reluctant to rank them too high after their performance against Virginia and their upcoming game against Georgia Tech. They might have to figure something out to stop the Yellow Jackets offense on Saturday, we just aren't sure they will be able to in time. The loss of Zaire could mean another long season in South Bend.
9. LSU (1-0)
Next Up – vs. #16 Auburn
After having their first game cancelled due to lightning, LSU had to travel up the road to Starkville and face the Mississippi State Bulldogs who just a week earlier opened the season with an impressive beatdown of Southern Miss. LSU made a bunch of mistakes and even had two touchdowns called back in the first half. But when the game ended, the Tigers were heading home with a win thanks to Leonard Fournette's 159 yards and 3 TDs.
10. Clemson (2-0)
Next Up – @ Louisville
Is there a scarier team in the top ten that no one is talking about then Clemson? It seems like we are the only ones making the point that they have one of the best offenses in the country and a schedule to allow them plenty of time to get better.
Louisville is going to be tough but they have too many weapons to be stopped this weekend. It is really going to be scary when these guys go undefeated come November.
11. UCLA (2-0)
12. Georgia Tech (2-0)
13. Florida State (2-0)
14. Arizona (2-0)
15. Oregon (1-1)
16. Auburn (2-0)
17. Oklahoma (2-0)
18. Texas A&M (2-0)
19. Ole Miss (2-0)
20. California (2-0)
21. Wisconsin (1-1)
22. Utah (2-0)
23. BYU (2-0)
24. Oklahoma State (2-0)
25. Temple (2-0)
26. Missouri (2-0)
27. West Virginia (2-0)
28. Northwestern (2-0)
29. Mississippi State (1-1)
30. Kansas State (2-0)