College Football's Greatest Pre-Season #1 Teams of All-Time
Since 1950, the AP Poll has been releasing its annual preseason poll revealing the number one team in the country just weeks before the regular season began. Recently, the 2017 AP Poll announced that Alabama would be the number one team in the country this season marking their sixth time atop the poll. In their previous five times beginning the season as number one overall, they won the national championship once, in 1978.
That kind of statistic is common among teams ranked first in the AP's Preseason poll. Of the 67 years that the AP Poll unveiled its' preseason poll number one, only 10 of those teams have won a national title (USC vacated their title in 2004). For the most part, teams that start the season atop the AP Poll wind up finishing in the top ten or worse but rarely are they ever celebrating a national title when the season ends.
This year's poll has given us plenty to be excited about with Alabama standing high atop the poll followed by Ohio State, Florida State, USC, Clemson, Penn State, Oklahoma, Washington, Wisconsin, and Oklahoma State to round out the top ten. But for the first time in AP Poll history, the first game of the season is going to be between number one Alabama and number three Florida State. There has never been a top three match-up between two teams in the preseason AP Poll history.
In honor of this prestigious poll, let's go back in time and rank all of the best teams that were once dubbed the AP Poll's number one overall to start the season. Enjoy.
50) 1976 Nebraska
Conference: Big-8
Head Coach: Tom Osborne
Season Record (Conference): 9-3-1 (4-3)
Bowl Game: Bluebonnet
Result: W, 27-24 (Texas Tech)
Final AP Poll Ranking: 9
49) 2013 Alabama
Conference: SEC
Head Coach: Nick Saban
Season Record (Conference): 11-2 (7-1)
Bowl Game: Sugar Bowl
Result: L, 31-45 (Oklahoma)
Final AP Poll Ranking: 7
48) 2000 Nebraska
Conference: Big-12
Head Coach: Frank Solich
Season Record (Conference): 10-2 (6-2)
Bowl Game: Alamo Bowl
Result: W, 66-17 (Northwestern)
Final AP Poll Ranking: 8
47) 1958 Ohio State
Conference: Big Ten
Head Coach: Woody Hayes
Season Record (Conference): 6-1-2 (4-1-2)
Final AP Poll Ranking: 8
46) 1973 USC
Conference: Pac-8
Head Coach: John McKay
Season Record (Conference): 9-2-1 (7-0)
Bowl Game: Rose Bowl
Result: L, 21-42 (Ohio State)
Final AP Poll Ranking: 8
45) 1994 Florida
Conference: SEC
Head Coach: Steve Spurrier
Season Record (Conference): 10-2-1 (7-1)
Bowl Game: Sugar Bowl
Result: L, 17-23 (Florida State)
Final AP Poll Ranking: 7
44) 1977 Oklahoma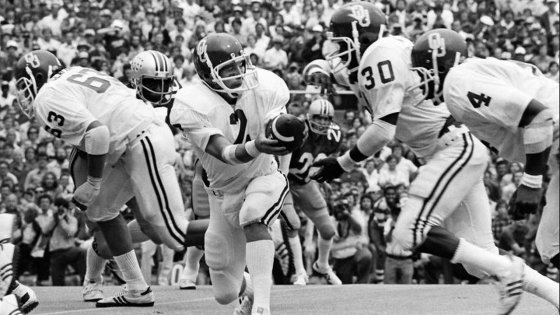 Conference: Big-8
Head Coach: Barry Switzer
Season Record (Conference): 10-2 (7-0)
Bowl Game: Orange Bowl
Result: L, 6-31 (Arkansas)
Final AP Poll Ranking: 7
43) 1996 Nebraska
Conference: Big 12
Head Coach: Tom Osborne
Season Record (Conference): 11-2 (8-0)
Bowl Game: Orange Bowl
Result: W, 41-21 (Virginia Tech)
Final AP Poll Ranking: 6
42) 1989 Michigan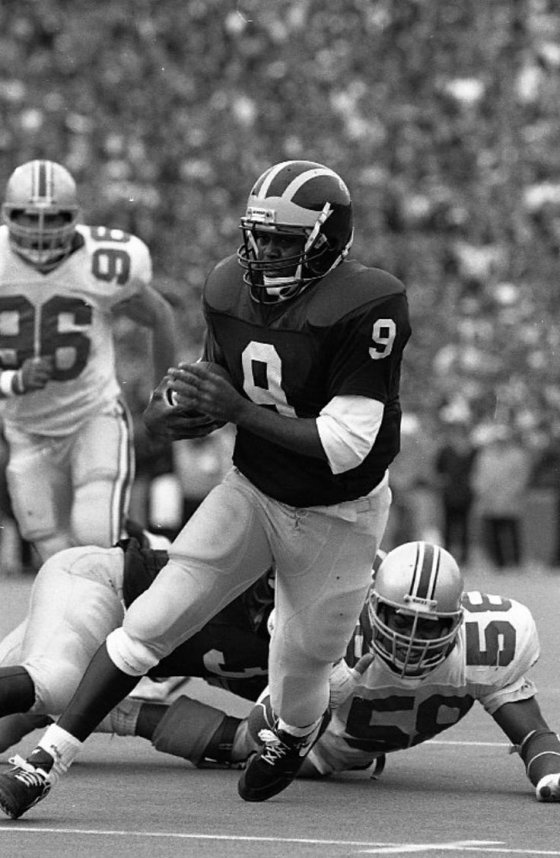 Conference: Big Ten
Head Coach: Bo Schembechler
Season Record (Conference): 10-2 (8-0)
Bowl Game: Rose Bowl
Result: L, 10-17 (USC)
Final AP Poll Ranking: 7
41) 2014 Florida State
Conference: ACC
Head Coach: Jimbo Fisher
Season Record (Conference): 13-1 (8-0)
Bowl Game: CFB Semi-Final (Rose Bowl)
Result: L, 20-59 (Oregon)
Final AP Poll Ranking: 5
40) 1970 Ohio State
Conference: Big Ten
Head Coach: Woody Hayes
Season Record (Conference): 9-1 (7-0)
Bowl Game: Rose Bowl
Result: L, 17-27 (Stanford)
Final AP Poll Ranking: 5
39) 1967 Notre Dame
Head Coach: Ara Parseghian
Season Record: 8-2
Final AP Poll Ranking: 5
38) 1995 Florida State
Conference: ACC
Head Coach: Bobby Bowden
Season Record (Conference): 10-2 (7-1)
Bowl Game: Orange Bowl
Result: W, 31-26 (Notre Dame)
Final AP Poll Ranking: 4
37) 2015 Ohio State
Conference: Big Ten
Head Coach: Urban Meyer
Season Record (Conference): 12-1 (7-1)
Bowl Game: Fiesta Bowl
Result: W, 44-28 (Notre Dame)
Final AP Poll Ranking: 4
36) 1965 Nebraska
Conference: Big-8
Head Coach: Bob Devaney
Season Record (Conference): 10-1 (7-0)
Bowl Game: Orange Bowl
Result: L, 28-39 (Alabama)
Final AP Poll Ranking: 5
35) 1991 Florida State
Head Coach: Bobby Bowden
Season Record: 11-2
Bowl Game: Cotton Bowl
Result: W, 10-2 (Texas A&M)
Final AP Poll Ranking: 4
34) 1957 Oklahoma
Conference: Big-7
Head Coach: Bud Wilkinson
Season Record (Conference): 10-1 (6-0)
Bowl Game: Orange Bowl
Result: W, 48-21 (Duke)
Final AP Poll Ranking: 4
33) 1972 Nebraska
Conference: Big-8
Head Coach: Bob Devaney
Season Record (Conference): 9-2-1 (5-1-1)
Bowl Game: Orange Bowl
Result: W, 40-6 (Notre Dame)
Final AP Poll Ranking: 4
32) 2009 Florida
Conference: SEC
Head Coach: Urban Meyer
Season Record (Conference): 13-1 (8-0)
Bowl Game: Sugar Bowl
Result: W, 51-24 (Cincinnati)
Final AP Poll Ranking: 3
31) 1969 Ohio State
Conference: Big Ten
Head Coach: Woody Hayes
Season Record (Conference): 8-1 (6-1)
Final AP Poll Ranking: 4
30) 1954 Notre Dame
Head Coach: Terry Brennan
Season Record: 9-1
Final AP Poll Ranking: 4
29) 1955 UCLA
Conference: PCC
Head Coach: Red Sanders
Season Record (Conference): 9-2 (6-0)
Bowl Game: Rose Bowl
Result: L, 14-17 (Michigan State)
Final AP Poll Ranking: 4
28) 1990 Miami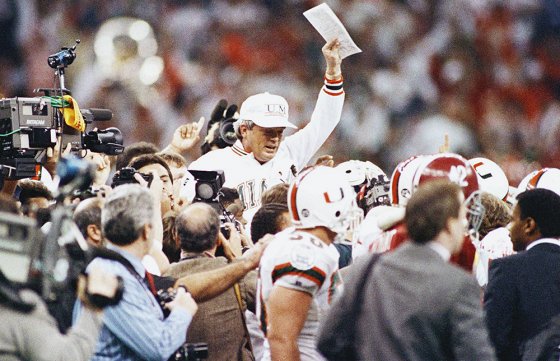 Head Coach: Dennis Erickson
Season Record (Conference): 10-2
Bowl Game: Cotton Bowl
Result: W, 46-3 (Texas)
Final AP Poll Ranking: 3
27) 1987 Oklahoma
Conference: Big-8
Head Coach: Barry Switzer
Season Record (Conference): 11-1 (7-0)
Bowl Game: Orange Bowl
Result: L, 14-20 (Miami)
Final AP Poll Ranking: 3
26) 2007 USC
Conference: Pac-10
Head Coach: Pete Carroll
Season Record (Conference): 11-2 (7-2)
Bowl Game: Rose Bowl
Result: W, 49-17 (Illinois)
Final AP Poll Ranking: 3
25) 2001 Florida
Conference: SEC
Head Coach: Steve Spurrier
Season Record (Conference): 10-2 (6-2)
Bowl Game: Orange Bowl
Result: W, 56-23 (Maryland)
Final AP Poll Ranking: 3
24) 1986 Oklahoma
Conference: Big-8
Head Coach: Barry Switzer
Season Record (Conference): 11-1 (7-0)
Bowl Game: Orange Bowl
Result: W, 42-8 (Arkansas)
Final AP Poll Ranking: 3
23) 1992 Miami
Conference: Big East
Head Coach: Dennis Erickson
Season Record (Conference): 11-1 (4-0)
Bowl Game: Sugar Bowl
Result: L, 13-34 (Alabama)
Final AP Poll Ranking: 3
22) 1988 Florida State
Head Coach: Bobby Bowden
Season Record: 11-1
Bowl Game: Sugar Bowl
Result: W, 13-7 (Auburn)
Final AP Poll Ranking: 3
21) 1966 Alabama
Conference: SEC
Head Coach: Bear Bryant
Season Record (Conference): 11-0 (6-0)
Bowl Game: Sugar Bowl
Result: W, 34-7 (Nebraska)
Final AP Poll Ranking: 3
20) 1959 LSU
Conference: SEC
Head Coach: Paul Dietzel
Season Record (Conference): 9-2 (5-1)
Bowl Game: Sugar Bowl
Result: L, 0-21 (Ole Miss)
Final AP Poll Ranking: 3
19) 2003 Oklahoma
Conference: Big 12
Head Coach: Bob Stoops
Season Record (Conference): 12-2 (8-1)
Bowl Game: Sugar Bowl (National Title)
Result: L, 14-21 (LSU)
Final AP Poll Ranking: 3
18) 2006 Ohio State
Conference: Big Ten
Head Coach: Jim Tressel
Season Record (Conference): 12-1 (8-0)
Bowl Game: BCS Title Game
Result: L, 14-41 (Florida)
Final AP Poll Ranking: 2
17) 2016 Alabama
Conference: SEC
Head Coach: Nick Saban
Season Record (Conference): 14-1 (8-0)
Bowl Game: CFB Title Game
Result: L, 31-35 (Clemson)
Final AP Poll Ranking: 2
16) 1998 Ohio State
Conference: Big Ten
Head Coach: John Cooper
Season Record (Conference): 11-1 (7-1)
Bowl Game: Sugar Bowl
Result: W, 24-14 (Texas A&M)
Final AP Poll Ranking: 2
15) 2002 Miami
Conference: Big East
Head Coach: Larry Coker
Season Record (Conference): 12-1 (7-0)
Bowl Game: Fiesta Bowl
Result: L, 24-31 (Ohio State)
Final AP Poll Ranking: 2
14) 2005 USC
Conference: Pac-10
Head Coach: Pete Carroll
Season Record (Conference): Vacated Entire Season for Violations
Bowl Game: Rose Bowl (National Title)
Result: L, 38-41 (Texas)
Final AP Poll Ranking: 2
13) 1953 Notre Dame
Head Coach: Frank Leahy
Season Record: 9-0-1
Final AP Poll Ranking: 2
12) 1983 Nebraska
Conference: Big-8
Head Coach: Tom Osborne
Season Record (Conference): 12-1 (7-0)
Bowl Game: Orange Bowl
Result: L, 30-31 (Miami)
Final AP Poll Ranking: 2
11) 1979 USC
Conference: Pac-10
Head Coach: John Robinson
Season Record (Conference): 11-0-1 (6-0-1)
Bowl Game: Rose Bowl
Result: W, 17-16 (Ohio State)
Final AP Poll Ranking: 2
10) 1985 Oklahoma
Conference: Big-8
Head Coach: Barry Switzer
Season Record (Conference): 11-1 (7-0)
Bowl Game: Orange Bowl
Result: W, 25-10 (Penn State)
National Champion: Yes
Final AP Poll Ranking: 1
9) 1951 Tennessee
Conference: SEC
Head Coach: Robert Neyland
Season Record (Conference): 10-1 (5-0)
National Champion: Yes
Final AP Poll Ranking: 1
8) 1975 Oklahoma
Conference: Big-8
Head Coach: Barry Switzer
Season Record (Conference): 11-1 (6-1)
Bowl Game: Orange Bowl
Result: W, 14-6 (Michigan)
National Champion:
Final AP Poll Ranking: 1
7) 1978 Alabama
Conference: SEC
Head Coach: Bear Bryant
Season Record (Conference): 11-1 (6-0)
Bowl Game: Sugar Bowl
Result: W, 14-7 (Penn State)
National Champion: Yes
Final AP Poll Ranking: 1
6) 1952 Michigan State
Head Coach: Clarence Munn
Season Record: 9-0
National Champion: Yes
Final AP Poll Ranking: 1
5) 1993 Florida State
Conference: ACC
Head Coach: Bobby Bowden
Season Record (Conference): 12-1 (8-0)
Bowl Game: Orange Bowl
Result: W, 18-16 (Nebraska)
National Champion: Yes
Final AP Poll Ranking: 1
4) 1974 Oklahoma
Conference: Big-8
Head Coach: Barry Switzer
Season Record (Conference): 11-0 (7-0)
National Champion: Yes
Final AP Poll Ranking: 1
3) 2004 USC
Conference: Pac-10
Head Coach: Pete Carroll
Season Record (Conference): 11-0 (8-0)
Bowl Game: Orange Bowl
Result: W, 55-19 (Oklahoma)
National Champion: Vacated Title for Violations
Final AP Poll Ranking: 1
2) 1999 Florida State
Conference: ACC
Head Coach: Bobby Bowden
Season Record (Conference): 12-0 (8-0)
Bowl Game: Sugar Bowl
Result: W, 46-29 (Virginia Tech)
National Champion:
Final AP Poll Ranking: 1
1) 1956 Oklahoma
Conference: Big-7
Head Coach: Bud Wilkinson
Season Record (Conference): 10-0 (6-0)
National Champion: Yes
Final AP Poll Ranking: 1