Cool Lord of the Rings Troll Stuff

In The Lord of the Rings: The Fellowship of the Ring, the appearance of the troll in the Mines of Moria is perhaps one of the most amazing moments we're shown. By the end of Return of the King, they're everywhere, storming Minas Tirith and making us gawk in amazement.
Fortunately for us collectors, Sideshow Collectibles made some amazing statues and busts, and no other company has done anything even close. So here they are, the best troll stuff.
First, let's remind ourselves why we love the troll.
Totally Awesome Statues
The Cave Troll Polystone Statue
This is the mother of the Sideshow Collectibles Cave Troll statues, completely sold out and extremely expensive if you find one on eBay. I got lucky and got it at the original price on eBay only because someone poorly listed it, but most people spend in excess of $1000 on it, sometimes $1500.

My only problem with this statue is that it's not much bigger (it only stands about 9 inches), but other than that, it has great detail and is a fine piece for any collector. It's not one solid piece – the troll fits into the base, and he cannot stand level without the base because his feet are at different positions because of the stairs (the knight he is holding does not come out of his hand, not that that's a problem). His sword comes out and is flexible so it doesn't easily snap, but it could be easily lost if you're moving things around and aren't careful.

The Stone Trolls Statue Polystone Statue
This is perhaps the rarest statue on the list, or at least the hardest to find. It pops up on eBay less often than any of the others.
BUSTS
This is certainly the ultimate bust of this guy, and originally more expensive than anything else on this list.
This is a much smaller and affordable bust of the Legendary Bust, and it goes best on a mantle partnered with the three below.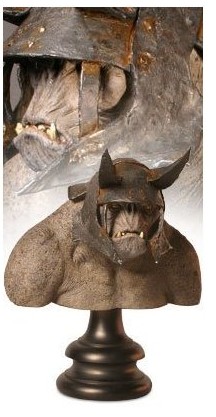 Troll Sounds