Dabbling in Daily Fantasy Football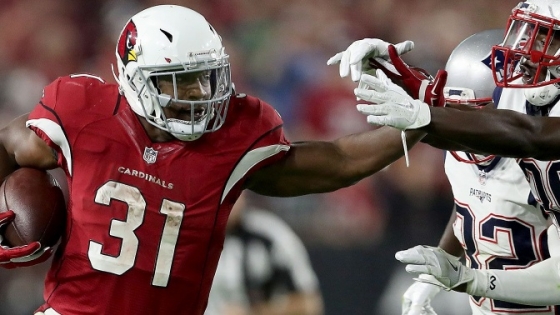 Degenerate gamblers unite! The ultimate game of chance skill is back. Of course I'm referring to Daily Fantasy Sports, or DFS to those in the know. Specifically Daily Fantasy Football, which is kinda sorta like season long fantasy football, except much more addictive (and costly if you're not careful). I mean, all those ads on TV, radio, and the internet make it sound so easy. Kevin M. from Des Moines spent $10 and won $25000; Todd L. turned $25 into $300,000. How hard can it be?
Well, I'm here to tell you it's exceedingly difficult to score cash. I have reached this fairly obvious conclusion after participating in DFS for the last four years. I did win $300 in a tournament in 2015, but most weeks I'm lucky to win $10. Full disclosure: I'm not pretending to be anything but a casual player. If you want expert analysis and scientific algorithms, hit up guys like Tommy G or Al Zeidenfeld (who won a million last Sunday on DK); those dudes are effing dialed in. Me, I'm just a regular NFL fan having some fun.
And having fun should be the goal for noobs. If you go in thinking you can earn that retirement stash by entering 20 lineups in the weekly Millionaire tourneys, uh, good luck with that. Me, I stick to $1-$5 single-entry GPP tournaments. The top prize is usually a grand. The sharps and pros avoid small fish fields because the prize pool isn't worth their time. As such, your odds of being rewarded a tidy sum still suck, but they don't suck quite as bad.
The key to GPP tournaments is being contrarian, just not too contrarian. I like to identify three or four players to build my rosters around and go from there. Here's one of my Week 3 lineups on DraftKings, complete with my sane (or insane) reasoning for selecting the players I did.
QB – Philip Rivers: $6700
Who says old man Rivers needs Keenan Allen and Danny Woodhead? I actually feel bad for Phil, who always seems to be working with a receiving corps held together by bubble gum and bailing wire. He's not going to toss 4 scores every Sunday, but 300 yards and 3 touchdowns against Indy is within reach. Bolts and Colts looks like an O.K. Corral game, so sign me up for the cheaper of the two gunslingers.
RB – David Johnson: $7700
Despite being the league's most potent dual-threat back, Johnson hasn't been highly owned through the first two weeks. A lot of players prefer to skimp on runners and pay up for elite wideouts, which seems counter-intuitive considering the crazy depth at WR and the sheer number of bargains available. My strategy going forward is to spend on the high volume backs like DJ because the position is an absolute wasteland of under-performing duds (Eddie Lacy) and injured stalwarts (AP and Woodhead). Finally, Johnson faces a Rob Ryan clown car defense that has already been drawn and quartered by Spencer Ware and Matt Forte. Me likey.
RB – DeMarco Murray: $6300
Normally I'd avoid Murray because most of his runs go for one yard, no gain, or negative yards. However, the ex-Eagle and ex-Cowboy has snagged 12 catches on 14 targets with two touchdowns. Again, RBs heavily involved in the passing game are platinum on DraftKings. An added bonus is he's facing a Raiders defense yielding 34.5 points and 517 yards per game. Yes please.
WR – Marvin Jones, Jr: $6200
Consistency is key. Twelve receptions on 21 targets in a pass-first, pass-always Lions attack. Marvin has yet to find the end zone, but a suspect Packers secondary missing Sam Shields could oblige him on Sunday. The same secondary Stefon Diggs abused last Sunday night. If Shields suits up, I will likely pivot to Diggs, who is way under-priced considering he's the NFL's leading receiver.
WR – Jarvis Landry: $6600
My only concern with Landry is game flow against the Cody Kessler Brownies. It's possible the Phins D scores two defensive touchdowns in the first quarter, allowing the offense to play it safe the rest of the way. That said, Miami has no running game and Cleveland's secondary has been ripped to pieces by Carson Wentz and Joe Flacco. Plus, Landry has totaled at least 12 PPR fantasy points in his last six games dating back to last season.
WR – Jeremy Maclin: $6000
Talk about undervalued. How is Maclin less than Marvin Jones, Sammy Watkins, and Donte Moncrief? Dude has the third most targets through two weeks and now he gets the pleasure of facing a Jets secondary starring the artist formerly known as Darrelle Revis. When scrubs like Marquise Goodwin are roasting you for long touchdowns, it's probably time to call it a career. JMac isn't flashy by any means, but this is the same guy who totaled 172 catches and 18 scores in 2014 and 2015. I'll take that kind of production all day.
TE – Trey Burton: $2500
I rolled with Burton in Week 2 in two of my lineups and he paid dividends by hauling in 5 balls for 49 yards and a touchdown. He also narrowly missed another score at the goal line due to a timely deflection by a Bears defensive back. Obviously phenom Carson Wentz has taken a shine to the former Gator. With Zach Ertz still sidelined with a displaced rib (ouchy), I'm rolling out Burton again at minimum price in a game that figures to have Philly trying to keep pace with the vaunted Steelers.
Flex – Travis Benjamin: $5200
Gotta have a stack with Rivers. I might be chasing points here but I made the mistake last year of not rostering Benjamin after a great Week 1. What did he do for an encore? Three grabs for 112 yards and a pair of touchdowns. I absolutely loved him as a value pick this year and I love him even more this week. Have I mentioned the Colts defense is a burning tanker truck in the middle of a six-lane highway covered in gasoline? With an over/under of 52, I'm confident San Diego vs Indy won't mirror the Saints-Giants debacle from a week ago.
D/ST – Bengals: $2800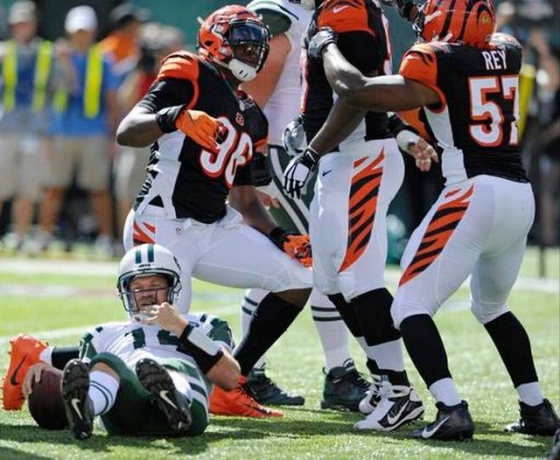 Everyone is going to peg the Dolphins as the defense to play this week. Hey, I get it. I have the Fish in a couple of my lineups too. But Trevor Siemian and his three interceptions on the road in a stadium fittingly dubbed "The Jungle" has me salivating. Cincy is pissed after dropping one to Pittsburgh in Week 2. My Spidey sense tells me they will take out their frustrations on poor little Trevor.