Dallas Cowboys Suck
Like baseball fans who hate the New York Yankees, football fans hate the Dallas Cowboys. The self-proclaimed 'America's Team' seems to have more 'Dallas Sucks' stuff available than any other NFL team.
There is no lack of content on the web relating to the keywords "Dallas Cowboys Suck." Here, I will compile it for you.
Squidoo.com offers the Ten Reasons Why the Dallas Cowboys Suck, including:
Jerry Jones Is An Overconfident Owner Who Doesn't Know How To Run A Football Team
Tony Romo Is More Interested In Dating Than He Is In Winning The Super Bowl
The Cowboys Regularly Bring In Players Like Terrell Owens
From last year, Deadspin offers these reasons why the Cowboys suck, including:
If I have to hear Berman say "How bout them Cowboys?" one more god damn time…
I'm an American, and I did not ask for this team
Always remember: Michael Irvin once stabbed a guy in the neck with scissors
From bleacherreport.com, the Ten Reasons to Hate the Dallas Cowboys.
From attitudetees.com, a chart of evolution: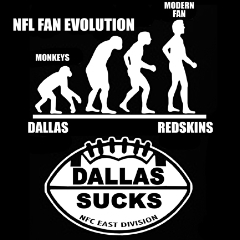 There are plenty of Dallas Cowboys jokes, courtesy of some guy on angelfire, including:
Q: What's Jerry Jones biggest concern
A: Does Bail Money count against the Salary Cap?
Q: What do you call a drug ring in Dallas?
A: The huddle.
Q: Four Dallas Cowboys in a car, who's driving?
A: The police.
Mike Responts: The Blog lists Top Ten Dallas Cowboys Arrests of All Time, including:
Larry Bethea: This former Cowboys defensive lineman was arrested and later convicted of stealing $ 64,000 from his own mother.
Harvey Martin: After "smoking crack all evening" this former end on the "Doomsday Defense" was arrested for domestic violence.
Nate Newton: Looking to expand his employment opportunities following his career as a hefty NFL offensive lineman, Nate Newton was arrested with 213 ponds of marijuana in his car.
This site, azcentral.com, has a list of Why We Love to Hate the Dallas Cowboys.
I Hate the Dallas Cowboys: And Who Elected Them America's Team Anyway?
(from Mr. Irrelevant)
Cowboys Suck on Twitter: cowboys_suck and Dallas_Sucks.
Facebook, of course, has a Cowboys Suck page. Also, an I Hate the Cowboys page.
Cowboys Suck Clothing