Dashing Through the Snow in a Mazda CX-5
A first class upgrade ensured eyes weren't still filled with sleep after a blurry 3:45am wake-up at home. Still, the passenger seat of the black, rain dotted Mazda CX-3 still looked most appealing as it idled curbside, waiting for its own adventure.
It's a curious ride from the Vancouver airport to Whistler. The first half is city driving, up out of Richmond, BC then cutting around Stanley Park, the glittering diamond of Vancouver golden ring, before a mostly straight, picturesque path flanked by evergreens on the right and bodies of water to the left.
This journey is dotted with photo opportunities but the steady rain and heavy fog of arrival day dampened enthusiasm to pull over and stage anything worthy of the 'Gram.
During a whirlwind midweek spent in the very real winter wonderland of Whistler, BC during Mazda's #RoadsReimagined event, we learned about the updated 2019 CX-lineup while winking deep into the Four Seasons Whistler.
The CX-3 which capably and comfortably transported us the 2.5 hours north from VYR the day prior started things off on presentation day. The big change here is an auto-hold electric parking brake providing space for a new center console, bigger storage, and an armrest. The passengers in the back aren't left out! They've got a new armrest with cupholders and everyone bouncing along in a 2019 Mazda CX-3 will bounce less in redesigned seats with high-density, vibration absorbing urethane foam.
Saving the biggest for last in the presentation, the CX-9, Mazda's flagship 3-row crossover, wrapped up our time in the ballroom and led everyone out to the lobby for drive time. The Signature Trim of the CX-9 features Santos Rosewood interior trim, a leather-wrapped wheel with handsome stitching, Nappa leather seats, Predictive i-ACTIV All-Wheel Drive, and signature level badging. The CX-9 crossover is a showstopper in the mountains or the city.
The big news in the Mazda CX-lineup for 2019, for music and podcast lovers, and for those who love not getting lost or into a fender bender while fussing with their phone, is that Apple CarPlay and Android Auto have arrived (Finally! But worth the wait!) across the CX line with more ingenuity than any car we've seen.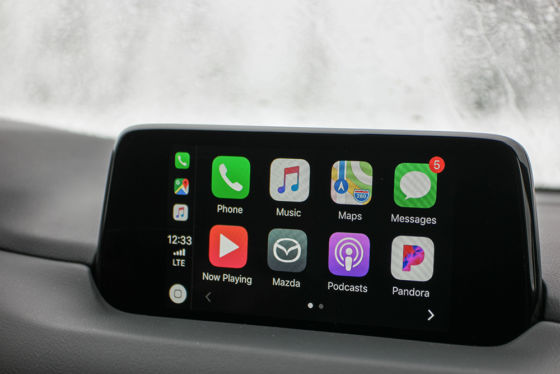 Mazda's modern infotainment mobile system has a steeper learning curve then you might expect but the trade-off is safer interaction with your phone (and all that's on it) while you're driving.
Cleverly, Mazda designers and engineers have made it so that the driver can use two systems simultaneously (Sirius XM on Mazda Connect and Google Maps on Apple CarPlay, for example) with just a long press of the home button on the Commander next to your right hip, to toggle back and forth.
You'll notice that the 7″ bright, crystal clear dashboard display is…just out of reach, even for long-armed drivers, and this is no accident. The screen is at a distance precisely so that you cannot reach it, thus forcing usage through the Commander-only interface, keeping you from actual accidents while driving.
Have an older Mazda? For just $200 and about 2-hours of labor, it is possible to retrofit this new genius platform into any car with Mazda Connect for Apple CarPlay.
The most significant takeaway from 48 hours spent in the cradle of Pacific Northwest luxury, in addition to the realization that a lot of snow can fall awfully fast up there, was that in capable hands and inside a capable CX-5, both driver and passenger(s) can achieve peak relaxation in any climate or condition. This is true whether a treacherous peak is being climbed or not…and is done in a kind of luxury you can afford.
Snow, sun, rain, fog, and something this side of sleet, and we'd traveled not even 30 kilometers around Whistler, BC and experienced the full compliment of BC's microclimates!
Snug atop leather seats and safe from all those elements (and from bears, should we have encountered them and most definitely NOT fed them), we popped into the quaint Blackbird Bakery tucked down into Pemberton for a flesh flaky pastry, a hot drink, and local craft root beer.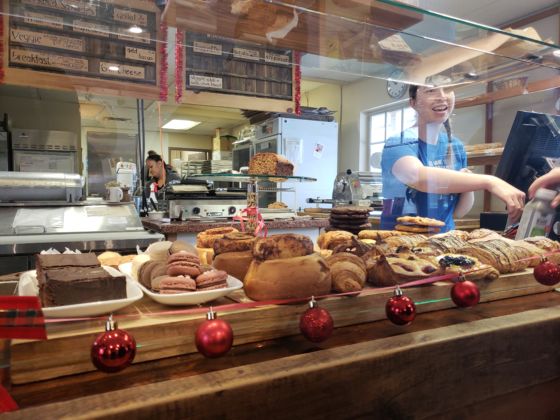 There is now an available turbocharged SKYACTIVE-G 2.5T (same as in the CX-9 and 2018 Mazda6) engine with a 6-speed transmission that delivers only what drivers need in an acceleration event without playing the 'transmission game' throttling up and down.
i-ACTIVE-AWD, an elegant intelligent slip protection that is monitoring wheel spin 200 times per second to anticipate slip before the driver and react accordingly, was in full effect and performed brilliantly on sloping roads winding through and around Whistler.
This is a system so well designed that, like the best soccer ref, you won't notice it is working! At the same time, Mazda believes drivers should feel, and therefore understand, the car's limits. The stability and traction controls smartly let the car slide and the wheels spin, giving the driver the chance to demonstrate her or his control over the vehicle, but will intervene when/if needed to keep the driver out of trouble on troublesome roads.
Finally, the 2019 Mazda CX-5 has an improved G-Vectoring control strategy, an algorithm that presents a uniquely human way to improve steering. The result is steering response more precise, consistent and predictable than ever before. GVC+ improves turn-out by dragging the outside front brake, simply making any driver a better driver.
For years, Mazda has been fueled by the phrase Jinba Ittai. They've used this "horse and rider as one" mantra to stay laser focused on the intuitiveness of the car/driver interaction. It helps fuel an invigorating driving experience thanks to Japanese mastery and artful design.
Mazda's goal is to pave a path to premium as a brand and based on the joyful driving experience in elegantly challenging conditions in Whistler in winter, Mazda has climbed the automotive summit and planted their flag near the top.