The Daytona 500 was CRAZY
The Daytona 500 was held last night, for the first time on a Monday, due to being rained out on Sunday. That was probably one of the most normal things that happened at the race, because what transpired last night was straight up crazy. Collectively the entire weekend will probably go down as one of the most memorable Daytona 500s ever.
Before the race was even two laps old, some of the biggest names in the event were out of contention. Jimmie Johnson was tapped from behind, and then slammed into by 2011 Winner, Trevor Bayne. Many of the cars involved in the early wreck found their way back onto the track, but were obviously no longer competitive. This included rookie Danica Patrick, Kurt Busch, and Elliott Sadler.
As we noted last week, we were rooting hard for our new friend, #11 Denny Hamlin, in hopes of winning a trip to the All-Star race in June. Hamlin emerged at the front of the pack rather early, and was the aggressor for much of the evening. Denny actually led for the most laps in the race, with 57, so he gave us much reason to be excited.
Undoubtedly this Daytona 500 will be remembered for an unimaginable accident, that racing veterans had never seen before. As I'm sure you've heard by now, Juan Pablo Montoya lost control of his car during a caution flag, and slammed into a Jet Dryer trailer. Amazingly nobody was seriously injured, but the incident would cause a two-hour delay.
When they finally resumed the race, Matt Kenseth took the lead, and never looked back. Impressively, he was having difficulty with his radio and was unable to transmit to his crew for the end of the race. While we were rooting for the Hamlin victory, we met Matt Kenseth on a couple of Crown Royal trips last year, and that personal connection will make him our favorite driver for life. So the end of the race proved to be a thriller that kept us entertained into the wee hours of the morning.
After a few more crashes and restarts, ultimately it came down to four drivers battling it out, with team tactics proving to be decisive. Despite losing a chance to go to the All-Star race in June, we were delighted to see Kenseth hang on for victory, while Hamlin finished an impressive 4th.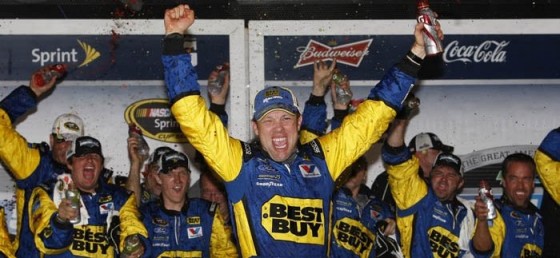 Congratulations to the Smoking Jacket and Kenseth for a great race. The final standings of the Daytona 500 Tune-In Challenge are below :
1) Matt Kenseth (The Smoking Jacket)
4) Denny Hamlin (Gunaxin)
5) Jeff Burton (Man Jr.)
9) Joey Logano (Aaron Torres Sports)
13) Marcos Ambrose (Black Sports Online)
20) Ricky Stenhouse, Jr. (With Leather)
21) Ryan Newman (Midwest Sports Fans)
24) Regan Smith (Guys Gab)
31) Jamie McMurray (Mankind Unplugged)
33) Aric Almirola (Sports Crackle Pop)
35) Trevor Bayne (Jersey Girl Sports)