Dead TV Characters of 2011 – In Memoriam
One of the reasons I love long-form narrative is because I get to know and love certain characters. This is all well and good until these characters are mercilessly ripped away from me. TV writers are cruel people. This year felt like a year in which we lost a lot of great characters. Death is a necessary evil on TV, so let's celebrate the lives of these great TV characters rather than mourn their deaths. Obviously, spoilers aplenty.
Katya, Archer

Someone was finally going to tame Sterling Archer. Who cares if she might have been a double agent? Our favorite animated playboy was so stricken with grief after her death that he hopped a plane and banished himself to an island.
Piney, Sons of Anarchy
Getting old is rough. Piney could hardly enjoy his old age with Clay running the club into the ground. Piney started shooting his mouth off a little too much and ended up getting a shotgun blast to the chest. His son crying over him was brutally touching.
Colonel Grant, Strike Back
Strike Back was the surprise of the year. The show follows a group of British special forces as they try to take down a terrorist leader named Latif. Latif almost gets away, but Colonel Grant in a final standoff blows both herself and Latif up. I kept thinking to myself, "Surely they won't kill off one of the main characters in the first season, will they?" Well, they did.
Lil Sebastian, Parks and Recreation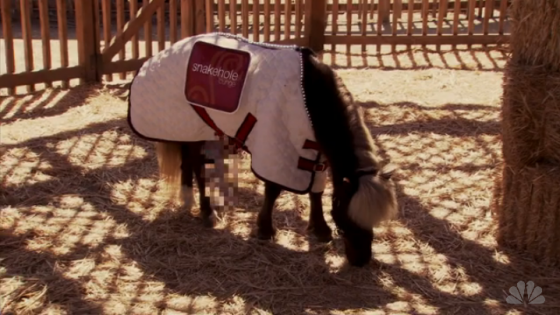 The mini-horse that captured the hearts of all the citizens of Pawnee. Anything that makes Ron Swanson get emotional is dang powerful.
Ned Stark, Game of Thrones
The chop heard round the world. This show proved that the world of Westeros was the star of the show. You just kept waiting for some sort of deus ex machina, but none came. Prince Joffrey was a bastard until the last second. Poor Aria had to watch her father's demise.
Michael Scott, The Office
Ok, this is a bit of a cheat, but still. It's not every year we lose a beloved character like this. The Office also really feels his absence. The fact that Steve Carell never won an Emmy for the role is ridiculous. His last few episodes were just so perfect. Go back and watch "Garage Sale." You won't regret it.
Mags Bennet, Justified
Margo Martindale was simply stunning in this role. I kept hoping that maybe she'd stick around but it probably would have taken away from her brilliance. Anytime she served up some "apple pie" it was must-see TV. Now she gets to cash those network TV checks on A Gifted Man!
Gustavo Fring, Breaking Bad
Fastidious right until the end. Such an amazing character. The perfect foil to Walter. Walt just found that fatal of his and exploited it. Reactions to the scene can be summed up like this: "The bell! Whoa! No way he just…AHHHHH!!! Wow…"
Jimmy Darmody, Boardwalk Empire
I just did not see this coming. Season two really went out with a bang. It makes total sense for the story but I still didn't think they'd go through with it. He was easily the most interesting and well-developed character on the show. His absence will create a massive void.
Andy Whitfield, Spartacus
In all seriousness, a man, not a character, gone far too soon. Cancer sucks. RIP. For your sake, we will kill them all!