DeAndre Jordan Dunks Over Blake Griffin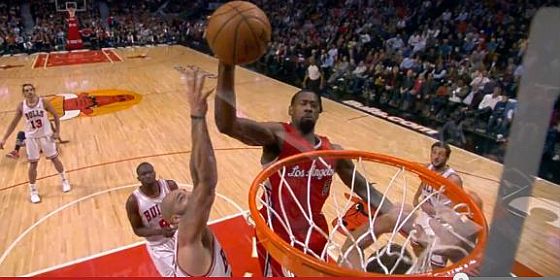 When Chris Paul came to the Los Angeles Clippers last season we expected him to team with young superstar Blake Griffin to create a high-flying team. It looks like those predictions were on the money, as the Clippers hold a one game lead in the Pacific Division, and were riding a six game winning streak going into last night's game against fellow first place team Chicago. The Clippers streak continued their winning streak, beating Chicago on the road 94-89 thanks to a first half run that included a pair of monster slams.
With the Clips down one with a little over three minutes to go Griffin started off a 12-2 run, taking off for a power dunk to put the Clippers up 39-38. A minute later teammate DeAndre Jordan one-upped his more famous teammate with a slam of his own, over Griffin himself. Announcer Hubie Brown, working the game for TNT, saw the Jordan dunk coming, warning the Bulls to "watch the trailer".