Denard Robinson vs. Tyrone Wheatley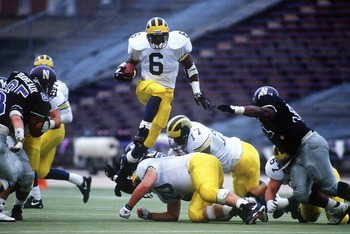 In this season's win over Air Force, Michigan's Denard Robinson tied a nearly 30 year old school record. By rushing for touchdowns of 79 and 58 yards on the way to scores Robinson, the Wolverine's QB, became only the second player in Michigan history to have two 50+ yard TD runs in a single game. He matched former star RB Tyrone Wheatley, who ran for TDs of 56 and 88 yards in the 1993 Rose Bowl against Washington.
That little statistical nugget seems to have inspired this brilliant bit of video from the folks over at Maize & Blue News, where they paired the video of Wheatley's 88 yard run against Robinson's 87 yarder against Notre Dame in 2010.
We will let them break it down in their own words:
"The Denard Robinson play starts first, but synced it up so both are at the 12-yard line, on the run at the same time. Wheatley has the edge at first, possibly because he had a better head of steam going. But if you watch it closely, when Wheatley hits the 50, Robinson is about a yard and a half behind, but they hit the 30 at the same time. So Denard closed that gap over the course of 20 yards."