Two Difficult Desserts That Almost Aren't Worth the Effort
If you are amongst the "normal" portion of people that represent humanity as a whole, then you surely enjoy a tasty dessert every once in a while. Whether it's apple pie that gets your motor running or you melt at the thought of having a mouthful of chocolate cake, there's a special dessert out there that might as well have your name on it.
However, most of us are concerned only with the eating part of dessert and not so much with the actual preparation involved in bringing our favorite sweet treats into existence. Little do most of us know, some of the desserts we love the most take more time and effort than we could ever imagine to make. If we had to make them ourselves… well, we probably wouldn't care enough to have them anymore.
Don't believe us? Well, here are a couple of the world's most difficult desserts to cook up:
Chocolate Soufflé
Ever wonder why so many people fail miserably when it comes to making this single delicacy? The reason is simple; it's really freakin' hard!
First, you should take into account that whenever the term "delicate" is used in a cooking setting, it really means flippin' impossible. Guess what word people tend to use to describe these little chocolate bastards (hint: it starts with "d" and ends with "elicate").
Le Process:
It all begins with little soufflé dishes. First, the chef must "delicately" brush them with butter, taking care to use only upward strokes on the sides and then sprinkle sugar on them. Once this has been done, a game of "heat on, heat off" must be played with a saucepan of melted butter, flour and milk.
Once that bit is ready, chocolate is stirred into the mixture carefully along with sugar and egg yolks. When that part is completed, egg whites are beaten for a while and then "folded" into the chocolate mixture.
DELICATELY spoon the mixture out into the dishes you painstakingly prepared beforehand and cook those suckers for about twenty minutes in a preheated oven.
This is it; the moment of truth! Will they rise higher than the Eiffel Tower or will they fall flatter than a single pancake pressed by a steamroller? If yours have drooped, feel free to join the chorus of worldwide collective sobs from the many others who have failed and pretend you just made chocolate lava cake.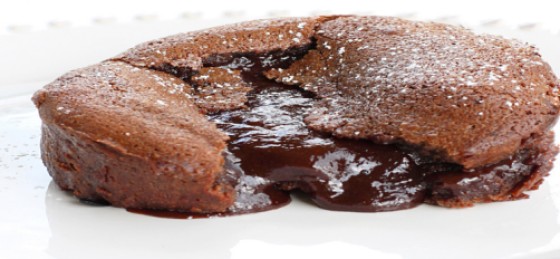 Pumpkin Chiffon Layer Cake
There's nothing in this world that can turn a hungry man in the opposite direction quite like the prospect of beating, pressing and double boiling ANYTHING that probably won't last a single night once it's finished.
But alas, there's a cake that helps to demonstrate this simple fact and it's made up largely of pumpkin.
Le Process:
To make this cake, one must start at the base with a delicious, yet tedious graham cracker mixture which is made and pressed into the bottom of a buttered pan. Next, the recipe calls for a fluffy cream cheese mixture to be made and spread over the buttery base. This bit is then baked for twenty-five minutes or until it's "set".
Moving on, the brave chef must attempt to double boil the pumpkin mix for a while until it is creamy and then let this cool. Once this has cooled, gelatin and water must be added to it, followed by a special batch of beaten egg whites (we can never just throw in an EGG now can we?). Once that crap's all mixed up, you dump it on top of the baked part of the cake and refrigerate before finally adding cool whip and nuts to the top at the end.
Kiss the chef ladies, seriously; he needs it. Next time, just let him buy a Pumpkin Pie at the store.