Dicks We Love – Masters of None

[podcast]http://www.podtrac.com/pts/redirect.mp3/traffic.libsyn.com/mastersofnone/MON_6_3.mp3[/podcast]
Masters of None – 6.3 – Dicks We Love (Download)
There is this unwritten rule that most women love guys that are assholes. They'll deny it up and down, say they want someone with a good sense of humor, but let's be honest – it's all about being a jackass.
But here's something that most people don't know, we ALL love dicks. Guys and girls alike. Being Snarky and Smarmy and whatever other made up word we can come up gets us clapping our over-purelled appendages together in triumph and joy.
In our latest episode of Masters of None, we discuss this very topic. Those that rise above the rest. These universal dicks are coveted and cherished by the masses and revered. Here are some of our favorites:
Tony Stark – Funny how a few billion dollars and a superhero alter ego can overshadow alcoholism and enough douchebaggery to choke a horse with. Find me anyone who doesn't secretly want to trade places with Tony Stark and I'll show you someone who is a disappointment to their parents.
Phil Connors – If you were stuck in the same day for the rest of your life, you wouldn't be all chipper either. Phil does exactly what we all wish we could and then some. Manipulating the system to get laid, get rich, and get even. That…was a pretty good…day.
Stewart Gilligan Griffn – Murder? World Domination? Sexy Parties? It doesn't matter the amount of pain Stewie attempts to inflict on the world around him, he's just too damn cute to stay mad at.
We discuss these and many more in the latest episode of Masters of None. Plus this week's Segment is with Model, Zombie Actress, and Lingerie Football League player, Carie Small.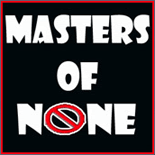 Gunaxin is proud to be partnering with Masters of None, and featuring their content here on our site. Masters of None are former radio guys Mike, Art & Jay, who debate and answer mankind's most important questions each week. Along the way you'll encounter unsustainable amounts of movie quotes, horribly tasteless jokes, TV references, offensive comments, old radio bits, biting insults, tall tales, unsportsmanlike conduct, raping and pillaging of all things pop culture. It's a comedy podcast that doesn't suck.
---