2013 Dorm Room Gadget Guide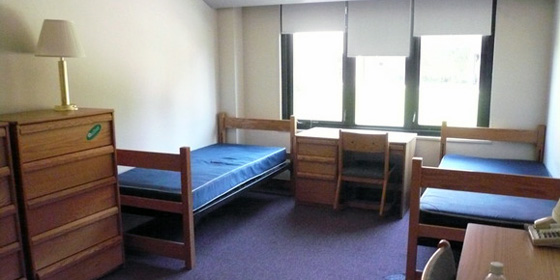 Ah yes, the blank slate of a dorm room in the Fall, just waiting to be filled with your posters and beer bongs. While we realize that most students are already back at school, in our day the first day of class came on the Tuesday after Labor Day. That makes this Dorm Room Gadget Guide perfectly timed. When you consider that we're GIVING AWAY everything that you see here to our readers, we think you'll forgive us for the slightly late timing.
Most students already have the big stuff taken care of. A laptop, smartphone, tablet, mini fridge, and a television all seem like must-haves for college students living in a dorm these days. So we'll assume you have those, and instead focus on some cool accessories to make your college life just that much better. Check out the six featured items below, and see how to enter to win one of them at the bottom.
Satechi USB LED Bottle Lamp
As a college student, you're likely to have some empties junking up your room. The Satechi USB LED Bottle Lamp allows you to convert any empty bottle into an environmentally-friendly, custom desk lamp. Once you grow tired of your Orbitz (Google it) lamp, you can toss the bottle and upgrade it to Crown Royal. How's that for easy redecorating?
Place the lamp into the opening of any bottle and plug it into a USB port to instantly transform a once obsolete product into a one-of-a-kind, functional decorative piece
Features a frosted white shade to produce a soft glow, creating a comfortable environment
Easily turn the lamp on/off by touching the silver disc at the top of the lamp
Contains no mercury and has a lifespan of up to 50,000 hours
Available at: Amazon.com
Price: $24.99
Website: www.Satechi.net
Crossley Radio: Cruiser Turntable
We recently featured a gallery of classic albums on vinyl, and noted that turntables are experiencing a bit of a renaissance. This portable unit from Crosley Radio is sure to be a hit with the girls on your floor. Now you'll just need to find someplace to buy records.
Briefcase-styled record player is lightweight and easily transported
Plays 3 Speeds – 33 1/3, 45 and 78 RPM Records
Features a belt-driven turntable mechanism, RCA audio outlet, headphone jack and full range
Stereo speakers
Color palette derived from a mixture of Crosley's expertise and Pantone's VIEW color forecasting program
Available in Strong Blue, Peacock Blue, Pink Flambé, Tangerine Tango and Oasis Green
Available at: Amazon.com
Price: $99.95
Website: www.crosleyradio.com
Digital Treasures PowerFlask
All of your mobile gadgets have a battery, and they all need power to keep em juiced up. The PowerFlask from Digital Treasures is a portable, novel way to charge three USB devices simultaneously. Hopefully you're not always going to be in your room, so the PowerFlask is ideal for keeping you powered up on the run.
Portable and lightweight, the flask design allows the user to easily slide it into a bag, purse, or pocket to ensure your devices have a recharging option ready anytime, anywhere.
13,000 mAh rechargeable lithium-ion battery which will keep supplying extra juice for devices on- the-go
Two ultra-bright flashlight LED's are situated at the top of the PowerFlask for lighting options while the user is on the road.
Works with the iPhone, iPad, iPod, Windows and Android smartphones.
The PowerFlask is wrapped in a supple leather with an aluminum finish for a high-quality and eye-catching aesthetic
Available at: Amazon.com
Price: $89.95
Website: www.digitaltreasures.com
Bēm Wireless : College Mobile Speaker
For those times that you're not spinning some vinyl, a bluetooth speaker is a must for your entertainment needs these days. Docking your iPhone is so outdated, go wireless. Bēm has a portable, wireless speaker available in 24 college colors to show off your school spirit at the next party, tailgate or study session.
It's about the size of a tennis ball (2.5" cubed), so simply toss it into your backpack for an instant party wherever you go on campus.
The mobile speaker connects to any Bluetooth-enabled device for crystal clear music anytime, anywhere.
There is an on/off switch underneath the speaker as well as a touch sensitive volume control and play/pause button.
The speaker has a non-slip bottom so it won't slide around on your desk or table.
Aux In and Out ports for multiple connecting options as well as a Mini USB port to charge your phone or other devices.
Up to 25 feet of working wireless range with about six hours of battery life before it needs to be recharged.
Available at: Amazon.com
Price: $69.99
Website: www.bemwireless.com
Ogio Renegade RSS
Mobility is important in college these days, and the ability to take your workstation with you whenever you need is absolutely critical. Ogio makes the coolest backpacks to fit all of your gadgets. Hell, you could probably even find room in here for books, if your school still uses those. The Ogio Renegade is an awe-inspiring backpack that touts a variety of unique features and must-haves for ultimate on-the-go use.
Offers an armor protected dedicated laptop compartment with RSS that fits most 15" and select 17" laptops
Unparalleled, crush proof Tech Vault pocket built into the top portion of the bag for precious goods such as sunglasses
Additional padded pocket built-in for tablets and e-readers
UB (Hybrid Unibody Backpanel) design provides ultimate comfort for long periods of time
Increased shoulder strap foam padding for "sweet spot" comfort zone
Additional storage options include: quick access expandable phone pocket, dual sided water bottle/accessory holder, two zippered side pockets and a padded digital camera pocket
Available in a distinctive black pindot finish
Available at: Amazon.com
Price: $150
Website: www.ogio.com
AOC i2367fh Monitor
Laptops are great, but the screen size is often limiting to getting real work done. So for those times when you are actually working at your desk, we recommend a nice large monitor. This 23″ LED offering from AOC would probably be good for your gaming and other entertainment needs too, because we can't always be studying.
ENERGY STAR rated monitor combines impressive display technology with energy efficiency
Advanced High-Performance In-Plane Switching (IPS) technology and 50,000,000:1 dynamic contrast ratio provide enhanced picture quality, higher definition, better color accuracy and greater light transmission
Blu-ray players, game consoles and other devices connect effortlessly through the integrated HDMI port, and the built-in speakers eliminate the need for external audio
Modern design includes a 2mm bezel that gives the monitor a sleek, borderless appearance, plus a metallic hook-shaped stand that allows for two different modes of viewing –photo frame style without a base or standard function stand
e-Saver feature and off timer function help to reduce power consumption
Available at: Amazon.com
Price: $199
Website: us.aoc.com
Enter to Win!
We're giving away everything you see above in our awesome Dorm Room Gadget Guide and Giveaway! Each selected winner will receive one prize, and we'll ship the products (United States only) to the winners at the conclusion of the contest. Entry will be handled by the widget below, and you can increase your chances of winning by helping us promote this giveaway via Twitter and Facebook :