Draft Magazine's Top 25 Beers of 2011
Even though the year isn't officially over as of yet, that fact makes little difference to Draft Magazine. Just released in the newest issue is their pretty damn definitive list of the Top 25 Beers of the year. If you're a beer aficionado like myself, this is definitely a list worth checking out. So, rather than just re-post the entire list here, I'm just going to toss in a few of my favorites that I've tried from it, and you can go check it out for yourself. Sound good?
Sublimely Self-Righteous Ale
Stone Brewing
Black IPA
When you're a dark beer fan like myself, it stands to reason that a black IPA would be right up my alley. And they are, too. In fact, many companies released similar offerings of the style this year, but it was definitely Stone that made it their own with an eclectic mix of chocolate mochas, resiny pine, and hints of citrus.
Newcastle Brown Ale
Heineken International
Northern English Brown Ale
Wait, what? This classic offering has been around since just about forever. What gives? Well, much like many of its brethren this beer can now be found in cans! So awesome since, due to its clear bottles, Newcastle can often take on a nasty skunkiness that really masks its great flavor. The can completely kills that and it is so, so good.
The Gambler
Short's Brewing
Spice/Herb/Vegetable Beer
Lucky for me, Shorts is right here in Bellaire, Michigan, just north of where I live, so we get their offerings all over the place. This particular batch is infused with black tea leaves and is meant to be paired with cigars. Seriously. Now, I don't smoke, but by the flavor alone, it's pretty obvious why this sample would be a perfect fit with a robust stogie.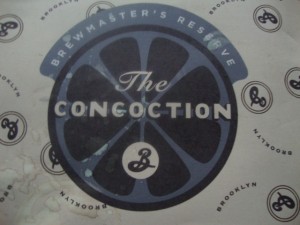 The Concoction
Brooklyn Brewery
Specialty Beer
Peaty, smokey, honey and ginger, a bit of citrus, and a bite like a fine Cognac. This is a sipping beer that brings new meaning to the term 'robust'. If you like making friends with your beer and really setting aside an evening for a beer that is, for the most part, as much as some higher-end bottles of wine… well, this is a great way to go.