Duff Goldman of Ace of Cakes – Masters of None

[podcast]http://www.podtrac.com/pts/redirect.mp3/media.libsyn.com/media/mastersofnone/MON_4_18.mp3[/podcast]
Masters of None – 4.18 – We Know Celebrities #7: Duff Goldman of Ace of Cakes
Download the show – HERE
We had a chance to speak with the Food Network's Ace of Cakes star Duff Goldman and Rahn from their band …soihadto… They have a new album out: Adventure Stories (not based on fact?), available on Amazon or iTunes. They will be performing at The Great American Food & Music Fest this Sunday June, 13th at the New Meadowlands Stadium in East Rutherford, New Jersey. To purchase tickets click here.
We talk to the band on their style of music, fans, Star Wars, the Ace of Cakes show, reality TV, and we find out Duff's favorite mode of transportation. Ace of Cakes also airs on Good Food in the UK and Lifestyle Food in Australia. Hook up with the band on Facebook and on Twitter @soihadto.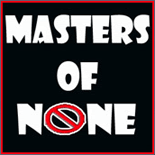 Gunaxin is proud to be partnering with Masters of None, and featuring their content here on our site. Masters of None are former radio guys Mike, Art & Jay, who debate and answer mankind's most important questions each week. Along the way you'll encounter unsustainable amounts of movie quotes, horribly tasteless jokes, TV references, offensive comments, old radio bits, biting insults, tall tales, unsportsmanlike conduct, raping and pillaging of all things pop culture. It's a comedy podcast that doesn't suck.
---