DVD Review: Sam Kinison: Unleashed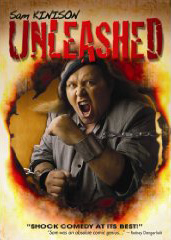 Sam Kinison: Unleashed!, features three acts from different parts of Sam's career. "Breaking the Rules" was filmed in 1987 and shows Sam on the stage with his beret, microphone and gargantuous scream. He tears through classic bits such as being married twice and the life of Jesus Christ. "Family Entertainment Hour," filmed in 1991, shows a 'clean' Sam (off cocaine, according to him) with a rock band, walking wife Malika and her sister Sabrina around on leashes. Here he tackles subjects such as rap music sucking (right before introducing rapper Ice T in the crowd) and how bad TV sucks.
Die hard fans of Sam Kinison will buy this DVD but won't find much new here, but casual fans will enjoy some vintage Sam. Anyone who has heard any of Sam's four cds – Louder Than Hell (1986), Have You Seen Me Lately? (1988), Leader of the Banned (1990) and Live From Hell (1993) – will certainly hear some of the same jokes on this DVD.
The bonus material is a poorly filmed set (sometimes with inaudible audio) of Sam lazily doing some of the very same jokes from the two other features.
Overall, though, for a man who has been dead for 17 years, Kinison's voice was loud enough to echo into 2009.
More Sam news… Variety reported back in November that HBO is making Brother Sam, a Sam biography. Dan Fogler, of the movie Balls of Fury, is set to star. Here is his audition: