eBay's Most Expensive Nikes
So I'm on eBay the other day looking for used reversible condoms and crotchless Aladdin pants, and I stumble across some seriously expensive shoes. Like impossibly expensive. So much so that I had to double check that these sellers were serious. It turns out that they were, and are. I can sort of understand the appeal of astronomically overpriced footwear. I mean, after all these things are both Nike and marketed by Michael Jordan and LeBron James, arguably the two greatest basketball players of all time. But even so, why? What's the deal with these particular shoes? Read on, interested folk!
10) Nike LeBron X Cork
Ridiculous Price: $1,200
What's the deal? Well, according to SneakerNews.com… uh, they're cork. With a gold box. Cork? I don't get it.
9) Nike Air Foamposite NRG
Ridiculous Price: $2,000
What's the deal? SoleCollector.com says something akin to the fact that they have a universe pattern on them and Penny Hardaway sported them. Fair enough.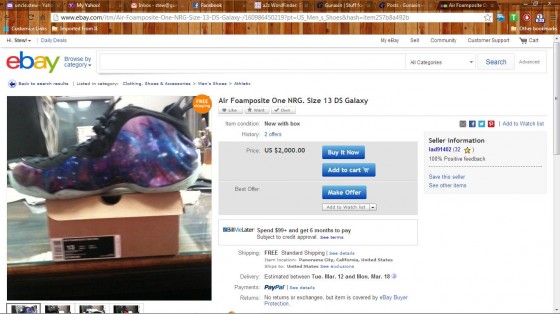 8) Nike Air Jordan Retro IV (Oregon Ducks)
Ridiculous Price: $2,399
What's the deal? So SneakerNews.com speaks the gospel that aside from the fact that these shoes are Jordans and Oregon Ducks approved… they were also worn by actor Chi McBride. So there.
7) Nike LeBron VII Hardwood Classic
Ridiculous Price: $2,899
What's the deal? KicksOnFire.com says some silly things, but ultimately it's just because they're LeBron's… and some are orange. That's about it.
6) Nike Jordan V Retro
Ridiculous Price: $3,995
What's the deal? Leave it to Nike's own Insider to overtly tout the simple fact that these shoes are both Jordans and modeled after airplanes. Whoopee!
5) Nike Air Jordan V Game Issue (1990- Signed)
Ridiculous Price: $4,000
What's the deal? No link here, since the info itself is identical to what's above. It's the fact that these babies were actually worn by Jordan himself during a real game that makes them so special. Also sweaty, probably.
4) Nike Air Jordan XII (1997- Game Worn)
Ridiculous Price: $4,650
What's the deal? OSneaker.com shows a very similar style in a really hideous color, and also shows the fact that these particular Jordans were and are worn by Carmelo Anthony. He might not sell you his, though… but someone is because these are also game-worn.
3) Nike Air Jordan Collezione (Complete Collection)
Ridiculous Price: $4,875
What's the deal? Not much info on these particular shoes. But let's just assume that, besides being Jordans (duh) they were worn by one of God's cherubs. In Heaven. They are spiritually awesome, people.
2) Nike Air Yeezy II NRG
Ridiculous Price: $4,999
What's the deal? NiceKicks.com says that the June 2012 release of these particular shoes was so epic because, get ready for this… they had Kanye West's seal of approval and name. Seriously?
1) Nike 2011 Limited Edition 'Back To The Future'
Ridiculous Price: $5,250
What's the deal? That's right, kids! These are the (almost) official Nikes from Back to the Future II when Marty steps into them and they tie themselves! Wow! I want some! Too bad the release was limited. Also shoes do NOT tie themselves. Well screw that then.