Eight Great Sports Moments from 2016
The best sports moments of the year are rarely debatable. When it comes to movies, music, and television, it depends on personal preference. For example, Sons of Anarchy was one of the greatest cable television shows of all time but some people flat-out did not want to watch it and therefore might disagree. But with sports, even if you do not watch that sport, you watch ESPN and you have seen or heard about these moments already.
This past year in sports was more than just another year, it was special because it gave the fans a ton of reasons to be hopeful for the future. We watched as sports icons left the game forever, even at the Olympics, and others continued to march toward their career goals. It gave us game winning goals and last second baskets. It relieved fans that have been in pain for almost a century, as they patiently waited for their first title in forever.
Let's take a walk down memory lane and enjoy some of the best sports moments of the past 365 days. Enjoy.
1) America's Team is Baaaaaack!
Two of the NFL's best rookies have done the impossible and they have led the Dallas Cowboys to a 13-2 record giving them their best regular season record since 2007 with one more game left to play. A win in their final game would mark their best regular season finish in franchise history. As the NFC's No.1 seed already, their final game is meaningless for their playoff run so it will come down to heart.
Dak Prescott and Ezekiel Elliott have combined for 5,897 yards, passing, rushing, and receiving, which adds up to 99% of the Dallas Cowboys total yards from scrimmage in 2016. Ezekiel Elliott, meanwhile, leads the NFL in rushing with an outstanding 1,631 yards rushing and 15 touchdowns (He also has 32 receptions for 363 yards and a touchdown). He is now just needs 177 yards and three scores to tie Eric Dickerson's NFL rookie rushing record in yards and touchdowns.
2) The WNBA Finals Game of the Year
The WNBA Finals between the Los Angeles Sparks and Minnesota Lynx was tied at 2-2 and was heading into winner-take-all Game 5. It was as amazing as anything we had ever seen in the WNBA before.
With three minutes remaining, the Sparks took a 71-63 lead, their largest of the game. The Lynx took a timeout to talk it over. When they returned, Maya Moore sank a free throw followed by one of the best three-pointers anyone has ever shot which cut it to 71-67. Now, with only two minutes left, Moore passed down low to Rebekkah Brunson for a tough shot to send the Minnesota crowd into a frenzy as the score was now 71-69 leading to a LA timeout.
Following the break, Minnesota's starting point guard, Lindsay Whalen, stole the ball away from LA and drove the distance of the court to nail the game-tying bucket making it 71-71 and the entire arena was standing. Not a single soul was sitting down for the final three minutes. How could they at this point?
With the score now 75-74, LA up by one, Maya Moore had the ball for Minnesota and needed to come up with a clutch shot or her team would be in serious trouble. She did. She nailed a baseline jumper to give the Lynx a one-point lead with only 15.4 seconds remaining.
Both teams without any timeouts at this point so they had to inbound and quickly move it up the court. Nneka Ogwumike rebounded a missed jumper and missed her put back but got the rebound and nailed a falling away shot to give the Sparks the lead with only 3.1 seconds remaining. That would prove to be the last made shot of the game and LA won 77-76.
3) Dee Gordon Goes Deep Honoring Friend
After serving an 80-game suspension after testing positive for exogenous testosterone and clostebol, both on the Major League Baseball list of Performance Enhancing Drugs (PEDs), Dee Gordon returned to the Miami Marlins on July 28th. It did not take very long before he returned into his role as the league's best lead-off hitter and one of the Marlins best overall players.
But as the season was coming to an end, a tragedy occurred that shocked the world of baseball when Marlins Ace died in a terrible boating accident on September 25th. He was considered one of the best pitchers in baseball and was having the best year of his career before he died (He was 16-8 with a 2.86 ERA, 253 strikeouts, and only 55 walks).
Dee Gordon and Jose Fernandez were best friends and his death caused a lot of pain for a lot of his friends, family, and fans. So the following night, in honor of the tragic death of his friend, Dee, a left-hander, batted from the right side in his first at-bat of the game because Jose was a right-hander. He moved back to the left side of the plate for his second at-bat of the game and launched a home run that went into the upper deck. According to Dee, it was the furthest he had ever hit a baseball, in his career. It was also his first of the season and only the ninth of his career. It was one of those amazing moments that left Dee crying by the time he reached home plate.
4) Villanova Hits the Three!!!
For the second time in school history, Villanova claimed the National Championship in basketball in epic fashion.
With 1:32 left on the clock, and North Carolina trailing 70-64, Marcus Paige sank a tough three-pointer from the corner moving the Tar Heels to within three points. Following a Villanova turnover, the Tar Heels took the ball straight down the court and Brice Johnson hit a jump-shot to cut the lead to one, making it 70-69 with 1:05 left to play.
After a few possessions, the score was 74-71, Villanova with the lead, and only 13.5 seconds to go and UNC with the ball. When they came down the court, Marcus Paige took a shot that was ill-advised to say the least, from outside the perimeter, and nailed it to tie the game at 74-74. It felt as though the Tar Heels would take this one in overtime because there was only 4.7 seconds remaining and the Wildcats looking like they were already beat.
But then came Villanova's Kris Jenkins who hit a buzzer-beater from the timeline to give the Wildcats their second national title in basketball in one of the greatest title game finishes ever.
5) LeBron James Does The Impossible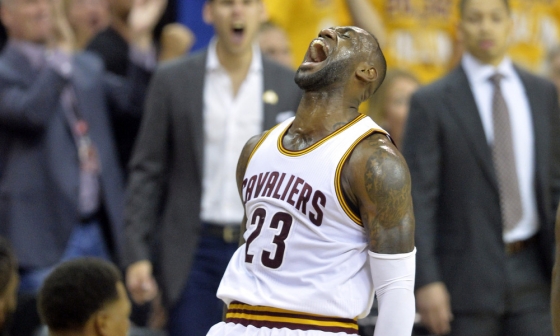 After winning a NBA record 73 games this past season, the Golden State Warriors returned to the NBA Finals to defend their title against the same team they faced the year before, the Cleveland Cavaliers. After just two games, it looked as though the Warriors would run away with their second consecutive title easily after winning the first game by 15 and Game two by 33. But then they returned to Cleveland and Lebron James and Kyrie Irving combined for 62 points, 14 assists, and 15 rebounds to lead the Cavs to a 30-point victory.
Game 4 was another battle and it ended with the Warriors winning and taking a 3-1 series lead. No team in NBA history has comeback after trailing 3-1 games, until now. LeBron James led the Cavaliers to three of his best career games to do something that no one has ever done before, claiming his third career NBA title in the process.
6) Future Hall of Famers Retire in Style
Three legends in sports retired this year. Peyton Manning rode off into the sunset after winning his second Super Bowl ring. He ended his illustrious NFL career with about 400 NFL passing and quarterback records in his back pocket. He left the game and is a surefire first ballot Hall of Famer that just might be the greatest overall QB ever to play the game. He might not have the number of titles that Joe Montana or Tom Brady own but he was great for a different reason, he was the smartest man on the field, every time he played.
The other two legends came from the NBA when Tim Duncan and Kobe Bryant both called it a career following the 2015-16 season. Each player won five NBA Titles after starting their careers just one year apart. Kobe played his final game on April 13th and, in true Kobe fashion, he lit up the STAPLES center when he 60 points reminding us all about his incredible scoring abilities.
7) Michael Phelps is Unstoppable
Before Michael Phelps started appearing in the Olympics, and that goes all the way back to 2000, people believed Mark Spitz was the greatest American Olympic swimmer. But then, after four consecutive Olympic games, Michael Phelps became the most decorated Olympian, and possibly the greatest overall athlete, in the history of swimming, winning 23 Gold medals, 3 Silver medals, and 2 Bronze medals. That means that he owns more Olympic Gold Medals than most countries ever have won. He just might own a record that is untouchable, at least, for now.
8) Chicago Cubs Finally Win A World Series
In 1906, the Chicago Cubs won a MLB record 116 regular season games, a record that is still standing in 2016, and earned a spot in the World Series, the franchises third appearance. They lost to the Chicago White Sox in six games, 4-2 and was the beginning of a dominant two season run they were about to go on.
After losing the 1906 World Series, they came back in 1907 and again, in 1908, and beat the Detroit Tigers in consecutive World Series to win their first two World Series titles. The Cubs would return to the World Series seven times between 1909 and 1945, losing all seven of them. They would not get back to the World Series again until this season.
Led by the National League MVP, Kris Bryant, the 2016 Chicago Cubs won a league leading 103 games and made it look easy along the way until they faced a tough American League club, the Cleveland Indians. The World Series was a battle from Game 1 until Kris Bryant, smiling from ear to ear, made the final out at first base to give the fans, the city, and the sports world a sigh of relief.