The Eight Least Surprising Entrances Into the 27 Club
So, notorious alcoholic and drug-addled musician, Amy Winehouse was found dead this past weekend (immediately joining the prestigious 27 Club) much to absolutely no one's surprise. And, though I just buried the lead there, that's exactly what this list is about. What is this 27 Club? You might be stupidly asking yourself? Well, unless you've been somehow shut in a closet in a cabin in the middle of nowhere, many musical artists have managed to find themselves dead at the ripe old age of 27. If you want more information, Wikipedia always knows all. Quite s few names on there, no? And it's pretty obvious which ones are the most well know. Which isn't to say those particular ones were the least surprising. Let's see which ones were, shall we?
The more obvious the death combined with the least surprising the outcome is directly proportionate to the amount of trouble with particular substances the rocker had. And, when you're in a band called Hole with a seemingly indestructible mess named Courtney Love, it's only a matter of time. Here's some direct copy from Wikipedia: "All was not well, however; while living in Washington's 'heroin capital', Pfaff developed a problem with drug use. "Everybody was doing it. Everyone, everyone. All our friends were junkies. It was ridiculous. Everybody in this town did dope", said Love of this period in the Seattle music scene." Thus, little shock and awe when Pfaff turned up dead from a heroine overdose in 1994.
7
Alexander Bashlachev
Freelance musician/poet
During the 70's and 80's, music -though primarily rock- was under the cover of major censorship in Russia, and many up-and-coming artists choosing to buck the system had to create their own scenes and mini festivals just to get their names out. This, doubtlessly, caused many musicians to feel strangled and unheard. Bashlachev was one of many who felt his art was not being seen by enough people and fell into deep depression. From Wiki: "Shortly before his death, Bashlachev had difficulties with writer's block, rarely writing new songs and tending to avoid performing old ones. His last song, entitled "Cherry", was written in August 1987. Also, he had become more isolated as his depression and alcoholism grew more severe." He fell from a 9th story window in 1988.
The world of music is a fickle beast at best: one day you're on top of the game knocking out a few hits under the Beatles label, Apple, and the next day you're wrapped up in the arms of a strangling industry with no money and a manager who turns his back on you. This is, not surprisingly, not an uncommon theme. However, for Ham, after releasing two amazing hits in "Come and Get it" and "No Matter What" -the former having been written by Paul McCartney- things just kind of went down hill. From Wiki: "During the Warner Bros. Records era from 1973–75, Badfinger became embroiled in many internal, financial, and managerial problems and their music was stifled. By 1975, with no income and the band's business manager non-communicative, Ham became despondent and he hanged himself in the garage of his Surrey home."
5
Ron 'Pigpen' McKernan
The Grateful Dead
It becomes less of a surprise the death is bearing down when most of your own biography is studded predigiously with info on how you love to drink. It becomes even more apparent when alcoholism sets in right after high school. Oh, and being a founding member of the Grateful Dead doesn't help matters any, either. McKernan was on the right path to an early death when: "While his friends were experimenting with LSD and other psychedelics, McKernan stuck to Thunderbird wine and Southern Comfort." Eventually, alcohol began taking an even rougher toll on McKernan: "In 1970, McKernan began experiencing symptoms of congenital biliary cirrhosis. After an August 1971 hospitalization, doctors requested that he stop touring indefinitely." Eventually, with a storied past of heavy drinking: "On March 8, 1973, he was found dead of a gastrointestinal hemorrhage."
All it takes is a cursory glance at Oliver Stone's classic bio-pic, The Doors, to see that Jim Morrison was a severe alcoholic with notoriety of attempting to sing, several times, while excessively intoxicated, often with less-than-stellar results: "After this, Morrison started to show up for recording sessions inebriated. He was also frequently late for live performances. As a result, the band would play instrumental music or force Manzarek to take on the singing duties." So, it came as no surprise that it was likely the bottle that did him in, but, his death is even now unknown: "Morrison died on July 3, 1971. In the official account of his death, he was found in a Paris apartment bathtub by Courson. Pursuant to French law, no autopsy was performed because the medical examiner claimed to have found no evidence of foul play. The absence of an official autopsy has left many questions regarding Morrison's cause of death."
To say that Jimi Hendrix was a guitarist (like I just did up there) is like saying Stephen King writes books. Hendrix, to many, was the definitive guitarist of his and any other time. He was magic. Sadly, he was also troubled and a well known drug abuser. Though his usage was of little consequence to his musicianship, it did often play part in isolating him from friends and band mates. Sadly, his death, though not entirely a surprise, was nonetheless ridiculous: "Early on September 18, 1970, Jimi Hendrix died in London. He had spent the latter part of the previous evening at a party and was picked up at close to 03:00 by girlfriend Monika Dannemann and driven to her flat at the Samarkand Hotel, 22 Lansdowne Crescent, Notting Hill. Dannemann claimed in her original testimony that after they returned to her lodgings the evening before, Hendrix, unknown to her, had taken nine of her prescribed Vesparax sleeping pills. The normal medical dose was a half to one tablet as stated in the literature, but Hendrix was unfamiliar with this very strong Belgian brand. According to surgeon John Bannister, the doctor who initially attended to him, Hendrix had asphyxiated in his own vomit, mainly red wine which had filled his airways."
2
Janis Joplin
Blues/Rock Singer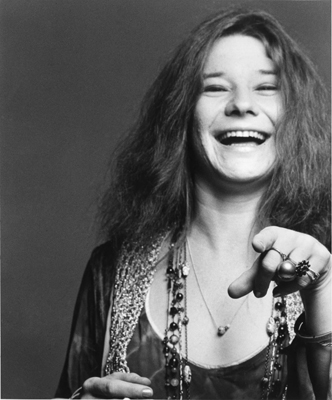 Once again, the strangle-hold of alcoholism plays a major roll in the death of one of music's greatest voices. Ironically: "Her first song recorded on tape, at the home of a fellow student in December 1962, was "What Good Can Drinkin' Do"." Soon: "Around this time her drug use increased, and she acquired a reputation as a "speed freak" and occasional heroin user. She also used other psychoactive drugs and was a heavy drinker throughout her career; her favorite beverage was Southern Comfort." In 1969, Joplin was asked to perform at Woodstock. This would mark a huge downward turn for a struggling alcoholic and drug user: "By most accounts, Woodstock was not a happy affair for Joplin. Faced with a ten hour wait after arriving at the festival, she shot heroin with Peggy Caserta and was drinking alcohol, so by the time she hit the stage, she was "three sheets to the wind." Joplin's performance was not included in the documentary film or the hit soundtrack, although the 25th anniversary director's cut of Woodstock includes her performance of "Work Me, Lord." Sadly: "When Joplin failed to show up at Sunset Sound Recorders for the next recording session by Sunday afternoon, producer Paul A. Rothchild became concerned. Full Tilt Boogie's road manager, John Cooke, drove to the Landmark. He saw Joplin's psychedelically painted Porsche 356C Cabriolet in the parking lot. Upon entering her room, he found her dead on the floor beside her bed. The official cause of death was an overdose of heroin, possibly combined with the effects of alcohol."
And, finally and least surprising, we've come to Amy Winehouse. When it comes to well known and publicized substance abuse issues, Winehouse was a veritable poster child. From Wiki: " In various interviews, she admitted to having problems with self-harm, depression and eating disorders. The British tabloid The Sun posted a video of a woman, alleged to be Winehouse, apparently smoking crack cocaine and speaking of having taken ecstasy and valium. By late April 2008, her erratic behaviour, including an allegation of assault, caused fear that her drug rehabilitation efforts have been unsuccessful, leading to efforts by Winehouse's father and manager to seek assistance in having her sectioned. Her dishevelled appearance during and after a scheduled club night in September sparked new rumours of a relapse. Photographers were quoted as saying she appeared to have cuts on her legs and arms." Whether it was the drug use, alcoholism, or various other health issues that finally killed Winehouse has yet to be determined, but the simple fact remains that she had, at one time, allegedly spoke of ending up in the 27 Club.