Eight Wrestlers and their Real Names
Growing up I was a huge fan of the World Wrestling Federation. Of course now that's 'World Wrestling Entertainment', but that's another story for another time. I would inhale countless hours of the WWF, watching with a permanent grin as Hulk Hogan, Andre the Giant, The Bushwackers, The Road Warriors, and all the others would battle endlessly as 'Mean' Gene Okerlund and Gorilla Monsoon prattled on as excited as humanly possible. But even then, I always wanted to know who was really behind those names that were, so obviously, made up to seem more character driven and exciting.
Sometimes, regular wrestling stars who somehow fell out of favor with the crowds would suddenly change personas and return later as someone entirely different, yet we always knew it was the same guy. In fact, that very thing happened a lot in the wrestling world: wrestlers would hang around in the particular 'alliance' by altering his gimmick over and over. Here we have eight of the most popular wrestlers, their given names, and all the different themes they've adopted.
Real Name : Montgomery Kip Sopp
Other Aliases: Billy Gunn, Bad Ass, Mr. Ass, Kipp James, Rockabilly, The One, "The One" Billy Gunn, The New Age Outlaw, The Outlaw, Cute Kip
Monty started his career in 1993 in the WWF (WWE) as Billy Gunn with his on-screen brother and tag-team partner, Bart Gunn (Michael Anderson Polchlopek, Jr.). Eventually, after several feuds, he adopted the moniker 'Rockabilly' and became a protege of The Honky-Tonk Man. Eventually, he took on the persona that would solidify him as a well established wrestler: "Bad Ass" Billy Gunn and became a partner of "The Road Dogg" Jesse James (Brian Gerard James), both quickly aligning themselves with the faction called Degeneration X (Triple H and Shawn Michaels) as 'The New Age Outlaws'. Once this faze fell out of favor, he became Mr. Ass and others, finally settling on Cute Kip for TNA's Impact! label.
Real Name: Robert James "Gino" Marella
Positions: Wrestler, Play-by-Play Announcer, Talent Booker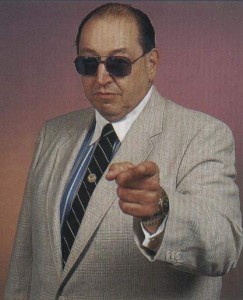 Beginning his illustrious career as a face named, well, Gino Marella, Robert would croon (badly) Italian tunes before every match. Soon, he came to realize that it wasn't his mastery of ring knowledge that impressed the fans, but rather the outlandish gimmicks and, of course, turning heel. Eventually, after a complete 180, Gino returned as the bearded giant from Manchuria called Gorilla Monsoon. In 1963, just as Vince McMahon was creating then-called WWWF, Gorilla became a huge draw especially when feuding with babyface hero, Bruno Sammartino. Thanks to his years-long friendship with McMahon, Gorilla (once retired from action) sold his shares of the company to Vince in exchange for lifetime employment with the WWF, then taking on the role most know him for: announcing and booking. Monsoon passed away in 1999.
Real Name: Randall Mario Poffo
Other Aliases: Randy Savage, The Macho Man, The Spider Friend, The Big Geno, The Macho King
While fighting in the International Championship Wrestling for his father, a booker for the GCW faction named Ole Anderson (eventually of the Four Horsemen) suggested that Poffo was, well, stupid, especially for someone who "wrestled like a savage". Soon after, Randy and his brother Lanny joined Jerry Lawler's Continental Wrestling Association where Savage and Lawler fought over the Southern Heavyweight Championship. By 1985, everyone was working for Vince McMahon in the WWF where Savage's career took off with his in and out ring antics. His on-again/off-again friendship with Hulk Hogan proved to be what made Randy what he was, along with his skills as a wrestler. Savage, too, join opposition TNA where he eventually 'retired' in 2005. An interesting bit of trivia here, Savage's first ring persona was The Spider Friend, a hero not unlike Spider-Man. Later, Savage would go on to become Bone Saw in the Spider-Man movie.
Real Name: Roderick George Toombs
Other Aliases: The Masked Canadian
Surprisingly, Roddy is not anywhere near Scottish, though his famous character is billed as hailing from Glasgow, sporting a jaunty kilt, and entering the ring to bagpipe music. From 1973-75, Piper was a jobber (someone who purposely loses to raise the cred of his opponent) for the National Wrestling Alliance. Soon, his presence became so popular that his turn as one of the most well known and equally hated heels launched his career, especially against Classy Freddy Blassie. In 1980, in the Mid-Atlantic faction, Piper defeated the popular Ric Flair for the US Belt. In 1983, not surprisingly, Vince McMahon called upon Piper to enter the WWF as a manager for "Mr. Wonderful" Paul Orndorff. Eventually, his popularity skyrocketed, even garnering him his own 'talk show', Piper's Pit. He is largely considered one of the greatest heels of all time.
Real Name: Michael Shawn Hickenbottom
Other Aliases: Boy Toy, The Heartbreak Kid, Tag Team Partner With Marty Jannetty as the (Midnight) Rockers
While training with Mexican wrestling professional, Jose Lotharion, Michael adopted the name Shawn Michaels. During his tenure with Texas All-Star Wrestling, Shawn and his then tag-team partner, Paul Diamond, were awarded the Tag Belts by Chavo Guerrero, Sr. (father of Chavo from WWE). At the age of 20, partnering with Marty Jannetty, Shawn made his big time debut as one-half of the Midnight Rockers; a team that would, later down the line, switch to just The Rockers a remain a popular tag team for years. Soon, Michaels decided on a path as a heel, whereby he Superkicked Jannetty through plate glass effectively ending their friendship. He then adopted the name of The Heartbreak Kid, at the insistence of Curt Hennig. Michaels has since gone on to cause any number of incidents, phony accidents, and career-ending moves Ric Flair), eventually rising to a feud with Chris Jericho and Batista just this year.
Real Name: Paul Michael Levesque
Other Aliases: Terra Ryzing, Jean-Paul Levesque, Hunter Hearst Helmsley, The Game, The Cerebral Assassin
Beginning his career, as many did, under the WWE's opposing factor in the late 80's and 90's, the WCW, Paul began as Terra Ryzing and Jean-Paul Levesque. In 1995 he joined the rival WWF as the wealthy, cocky, sophisticated Hunter Hearst Helmsley (eventually shortened to HHH, or Triple H). Prior to his first on-screen appearance in 1995, HHH filmed several between-match vignettes touting proper ring etiquette and manners. Levesque was also known backstage as one of the members of 'The Kliq', a group of wrestlers (that included Shawn Michaels, Kevin Nash, Sean Waltman and Scott Hall) who were known for influencing Vince McMahon and the WWF (E) creative team. Soon, he became intertwined in a love triangle between Stephanie McMahon and Test, eventually marrying Stephanie on air and off. He has been a staple of WWE getting involved in feuds with every big man from Randy Orton to John Cena.
Real Name: Michael Francis "Mick" Foley, Sr.
Other Aliases: Cactus Jack, Cactus Jack Manson, Dude Love, Mick Foley, Commissioner Foley
Originally fighting for the Memphis faction of the CWA, Mick made his first name as Cactus Jack, teaming with Gary Young as part of the team called the Stud Stable. Soon after, he fought for the WCCW and the better known WCW where he really honed his ability as a more 'hardcore' talent. In 1991 he debuted as a heel for the WCW, attacking Sting and, later, Vader. During a match with Vader, Foley was legitimately injured (as was the case many times afterword) and attempted to get WCW to play it seriously, but instead they concocted a storyline that would lead to his return as a 'crazy, escaped mental patient'. During one of WCW's most talked about matches, Foley lost an ear while tangled in the ropes as he fought Vader, though, once again, WCW refused to incorporate the injury smartly into the story. Finally, after bouncing around in several factions, he debuted with WWF as Mankind in 1996, immediately igniting a long feud with The Undertaker that would eventually lead to, arguably, one of wrestling's greatest matches. He is, for all intents and purposes, one of the greatest hardcore wrestlers of all time. For more on Mankind, check out our tribute.
Real Name: Terry Gene Bollea
Other Aliases: The Super Destroyer, Sterling Golden, Terry Boulder, Incredible Hulk Hogan, Hulk Machine, Hollywood Hulk, Hogan, Hollywood Hogan, Mr. America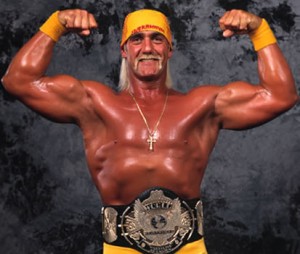 On August 9th, 1977, the man that would eventually go on to become the outright definition of wrestling began his career as "The Super Destroyer", and soon with Ed Leslie (Brutus 'The Barber' Beefcake) as Terry and Ed Boulder. In 1979, Bollea got his first real taste at a championship against a man who was, at the time, considered to be one of the greats: Ox Baker. Hogan defeated him and took the NWA Southeast Heavyweight Championship. In 1979, impressing Vince McMahon greatly, Bollea joined the WWF with an 'Irish' last name of Hogan and began his long feud with Andre The Giant. Hogan honed his wrestling repertoire in Japan while working for the WWF, going so far as to win the coveted International Wrestling Grand Prix (IWGP) tournament. Thanks to his win over Bob Backlund in 1983, and Gorilla Monsoon's announcement of such, 'Hulkamania' was born. Though he changed from face to heel often over the rest of his career, the crowd still erupts when Hogan makes his now infrequent appearances. For lack of a better term: Hogan is wrestling now and forever. For more on the Hulkster, check out Uncoached's Evolution of Hulk Hogan.
For more Wrestling goodness, check out :