Five Emerging NFL Quarterback Controversies
It is an old saying that the back-up quarterback is the most popular guy on the team. Lets face facts though, there is a reason why the back-up quarterback is the back-up quarterback. Last year, Russell Wilson was practically drafted as a back-up after Matt Flynn was signed to a high paying deal on the basis of a really good relief start for the Green Bay Packers. Matt Flynn got beat out by Russell Wilson. A year later, Matt Flynn was beaten out by Terrelle Pryor.
A back-up quarterback is by definition a spare tire. You really want them to run well on the freeway, but after a while you want to run a real tire. Like spare tires, they come in two varieties. The first is the kind in the back of the trunk which comes with the car, and it made for that sole purpose, to be a spare tire. The other type is an old tire which has not yet blown out, but could at any minute. The old tire was a good tire in its day, but now you just hope that you can get a few more miles out of it.
With all of that in mind, here are a few names of popular guys which you are going to start hearing an awful lot more of in the days, weeks, and months to come…. if their starters can't get their act together.
1) T.J. Yates
In the next couple weeks, the fans in Houston are probably going to do everything up to and including singing "all we are saying is give Yates a chance" in the stands. The trouble is that Texans' coaches have seen this movie before. In the 2011 season, Yates had 5 starts with the Texans when Schaub was out for the regular season and playoffs. Texans coaches actually have the luxury of remembering this.
Yates won his first two starts albeit barely and by successively lower margins before dropping the last two games of the season. Yates then won the Texans first playoff game against rookie Andy Dalton and the Cincinnati Bengals before falling to the Ravens. Yates also threw as many interceptions as he did touchdowns which is not traditionally a promotional bell-ringer.
Coach Gary Kubiak was a back-up quarterback in this league for a long time. When the coach was a back-up quarterback is afraid to use his own back-up quarterback, that should tell you something about the young man's ability to start an NFL football game.
2) Matt Cassel / Josh Freeman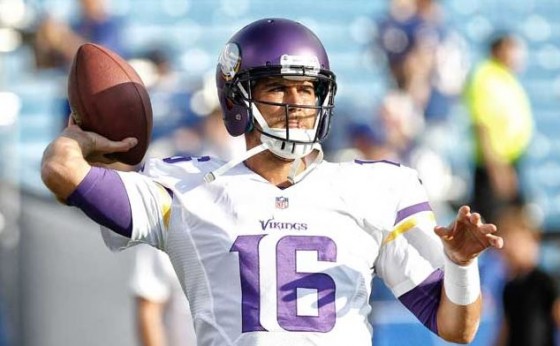 We are well aware that Christian Ponder is injured. However, when the hottest quarterback controversy going is between two other guys on the team, that does not say great things about your future. Adrian Peterson has had an almost depressingly pedestrian season this year after a stellar season coming off injury last year.
Josh Freeman cried his way out of Tampa Bay almost instantly after being told that he was no longer the starter. This is not the type of guy who will even begin to pretend to take the Alex Smith high road. Matt Cassel played his way out of Kansas City back into a back-up role like he had with the New England Patriots. That means that Cassel is capable of handling relief duty, but both have plenty of starting experience.
Expect Freeman to beat out Cassel for the starting job. The interesting discussion will happen when Ponder is ready to return. If Ponder is not given back the starting job, then the off-season in Minnesota should be entertaining.
3) Kirk Cousins
Repeat the following to yourself. Kirk Cousins is not a back-up quarterback. Kirk Cousins is merely a quarterback who is not starting yet. In Washington D.C., Cousins is like the Prince of Wales. When Robert Griffin III breaks down or proves that he is not competent to be a drop back passer, Cousins will be the man in D.C. for possibly a decade to come.
Remember, they put Vince Young on the cover of Madden and Young cannot get a return call from an NFL team these days. Griffin has a four-year career in D.C. or a trade to the Arizona Cardinals written all over him. Nevertheless, as the year progresses, expect more people to ask for the return of this 'Captain Kirk' than the version done by Christopher Pine.
4) Ryan Mallett
Don't laugh. Tom Brady did not exactly have 'Super Bowl' written all over him before he got the starting job either. The Patriots of today are much like the 49ers of old. No one would be better when you were there. However, no one would cut you quicker when they thought that they could get a better deal. Joe Montana was not immune. Ronnie Lott was not immune. Jerry Rice was not immune. Tom Brady is not immune if Peyton Manning is not.
Brady did not throw a touchdown for the first time in years last Sunday against the Bengals. Ryan Mallett was mentioned jokingly as a replacement. The laughter will become more nervous and will disappear altogether. The main driving force behind it may also be the play of Brian Hoyer. Hoyer was playing on a not so good team with Browns and looked like a franchise quarterback. Granted, Hoyer was hurt a little way into his third start. However, Patriots fan might be wondering what else they have left on the bench over the years. Its like the last years of Paul "Bear' Bryant coaching at Alabama. Not everyone was saying that the Bear was done. On the flip side of the coin, it is not like no one was saying that the Bear was done.
5) Matt Flynn
Matt Flynn for the rest of the season will be the Three Amigos of quarterback discussions. Wherever there is a bad game, Matt Flynn's name will be there. Whenever a starting quarterback goes down, Matt Flynn will be there. Matt Flynn is probably already more popular in Dallas than Tony Romo and he has never played a down for the Cowboys. Flynn has made nearly 15 million in the last two years for two starts. To have a better work to pay ratio and still be named Flynn, you would have to be fictional and in the Tron universe. Flynn will be home waiting by his cell phone counting millions. As a matter of fact, he  might just have his name legally changed to 'The Dude.'