Timeline of Eminem Songs About Kim
During the past 11 years, Eminem has made a lot of money rapping, often about his personal life. The most interesting aspect of this is his on-again, off-again relationship with his twice ex-wife, Kim. Here is a breakdown of Marshall Mathers' relationship with Kim in his songs. Missing something? Leave a comment.
99′
97′ Bonnie & Clyde
The Slim Shady LP
On his first album, Eminem takes his daughter on a ride-along to dump his wife's body in a lake. A star is born.
Lyrics
00′
Kim
The Marshall Mathers LP
On his second album, Eminem writes another song about killing Kim, which is a prequel to the first. It's perhaps the angriest, most disgusting song Eminem has ever written.
Lyrics
After this song came out, Kim attempted suicide after seeing him perform it in concert. She sued Eminem for defamation. The couple briefly reconciled, then divorced.
02′
Sing for the Moment
The Eminem Show
You're full of s–t too, Guerra, that was a fist that hit you
Lyrics
This refers to a fight that Eminem had with bouncer John Guerra, who he saw kissing Kim outside the Hot Rock Café in Detroit in June of 2000.
02′
'Till I Collapse
The Eminem Show
My thoughts are sporadic, I act like I'm an addict
I rap like I'm addicted to smack like I'm Kim Mathers.
Lyrics
Kim had been arrested for drug use and this is Eminem's cheap shot. Good one, Marshall; really clever.
02′
Soldier
The Eminem Show
So ticcy toc, listen as the sound ticks on the clock
Listen to the sound of Kim as she licks on the cock
Lyrics
A reference to Kim's previous infidelity during their marriage.
02′
Hailie's Song
The Eminem Show
But I got a wife that's determined to make my life livin' hell
But I handle it well, given the circumstances I'm dealt
So many chances, man, it's too bad, coulda had someone else
But the years that I've wasted are nothing to the tears that I've tasted
So here's what I'm facin':
3 felonies, 6 years of probation
I've went to jail for this woman, I've been to bat for this woman
I've taken bats to peoples backs, bent over backwards for this woman
Man, I shoulda seen it comin', why'd I stick my penis up in?
Woulda ripped the pre-nup up if I'd seen what she was fuckin'
Lyrics
This is pretty sad. Em writes a song for his daughter, and still resorts to ripping on Kim.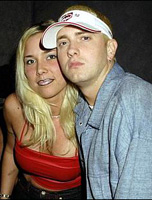 02′
Say Goodbye to Hollywood
The Eminem Show
I thought I had it all figured out, I didn't
I thought I was tough enough to stick it out with Kim
But I wasn't tough enough to juggle two things at once
I found myself laying on my knees in cuffs
Which shoulda been a reason enough for me to get my stuff and just leave
How come I couldnt see this shit myself? It's just me
Nobody couldn't seen this shit I felt
Knowin' damn well she wasn't gonna be there when I fell
To catch me – the minute she was heated she just bailed
I'm standin' and swingin' on like 30 people by myself
I couldnt even see the millimeter when it fell
Turned around saw Gary stashin' a heater in his belt
Saw the bouncers rush him and beat him to the ground
I just sold 2 million records, I don't need to go to jail
I'm not about to lose my freedom over no female
Lyrics
It's clear that The Eminem Show could've been called The Kim and Eminem Show. Also, "Superman" makes reference to her as "what's her face."
It's funny I remember back one year when daddy had no money
Mommy wrapped the Christmas presents up And stuck 'em under the tree
and said some of 'em were from me Cuz daddy couldn't buy 'em
I'll never forget that Christmas I sat up the whole night crying
Lyrics
Em suddenly switches gears and starts talking about the good stuff that Kim has done.

I knew I shouldn't go and get another tattoo of you
On my arm, but what do I go and do
I go and get another one, now I got two
Ooh ooh ooh ooh ooh ooh ooh
I'm sittin' here with your name on my skin
I can't believe I went and did this stupid shit again
My next girlfriend, now her name's gotta be Kim
05′
When I'm Gone
Curtain Calls: The Hits
That's when I wake up, alarm clock's ringin', there's birds singin'
It's Spring and Hailie's outside swinging, I walk right up to Kim and kiss her
Tell her I miss her, Hailie just smiles and winks at her little sister
Almost as if to say…
And when I'm gone, just carry on, don't mourn
Rejoice every time you hear the sound of my voice
Just know that I'm looking down on you smiling
And I didn't feel a thing, So baby don't feel no pain
Just smile back
Lyrics
This is perhaps the most from-the-heart song Eminem has ever written, and had he never written another song after this and rode off into the sunset, he would have redeemed himself for everything he ever said about Kim. Eminem adopts Whitney, Kim's daughter from another relationship. Slim and Kim remarry soon afterward. Then they divorce soon after that.

10′
I'm Going Through Changes
Recovery
Hailie this one is for you, Whitney and Alaina too
I still love your mother, that'll never change, think about her every day
We just could never get it together hey, wish there was a better way
For me to say it, but I swear on everything
I'd do anything for her on any day
Lyrics
It's been four years and Em didn't mention Kim on his album Relapse. Here, he makes his feelings clear.
There are other songs on this album that sound like they might be about Kim, like "No Love," "Space Bound," "25 to Life" and "Love the Way You Lie." Kim isn't directly mentioned in these songs, so if they are about her, in full or in part, only Mr. Mathers could tell us for sure.
More information on Marshall and Kim is available on about.com.