Epic Ideas for Adult Halloween Parties
Every single year, the month of October turns into the scariest and creepiest time in America. From the haunted houses to the costume parties, Halloween is the unofficial start of the holiday season. It is the one time of the year where people can dress up and let go.
Many people love it so much, they spend the entire year preparing for this time of the year by decorating their homes, creating personalized, and sometimes hilarious, costumes, or coming up with ideas for their Halloween party.
If you are planning on throwing an epic Halloween party this year, and you are still looking for some new ideas for your guests, than this is the place to be. We scoured the message boards, Halloween websites, and just about anywhere else that we could find the best adult Halloween party ideas to use this year.
Here is our list of the Most Epic Ideas for Your Adult Halloween Party This Year.
Costume Theme Ideas

Through the Years
All guests must dress up in a costume that represents one of a select number of Decades (1920's, 1960's, 1970's, 1980's, 1990's). It has to be fun and it has to be easy to figure out which decade you are representing too.
Handcuff Party w/ ABC Twist
For this one to be successful, guests need to understand how it works ahead of time or it will become a major fail right away. The concept of a handcuff party is to handcuff two people together, usually strangers or significant others, and they remain handcuffed all night. As soon as guests walk in the door, they are to be immediately handcuffed to a person of the opposite sex, or same sex if they want to.
The second part of the theme is the ABC twist. ABC means "Anything But Clothes" and requires guests to come up with creative ideas for costumes without using clothing. They can be as creative as they want, using caution tape, towels, beer boxes, etc…
Frightening Flicks
If you can't figure this one out, then maybe you need to rethink your Halloween experience. The costumes have to be characters from classic horror movies. Some ideas are Freddy Kruger from Nightmare on Elm Street, Mike Meyers from Halloween, Chucky from Child's Play, etc…
Besides the costumes, you can add another element to the fun of this type of party by decorating rooms to match the movies. Turn your bathroom into the shower scene from Psycho or maybe just decorate the bedrooms using Nightmare on Elm Street decor.
A Frightful Fantasy
With the popularity of HBO's hit television show, Game of Thrones, being at an all time high right now, why not capitalize on it with a fantasy style theme party?
Since Game of Thrones is so specific, by opening it up to all fantasy and medieval themes, guests can go with other aspects of those worlds. Lord of the Rings, Princess Bride, and King Arthur are a good start but it does not just have to be movies. Go as a King or Queen, or just go as a jester. The options are endless but still within the theme.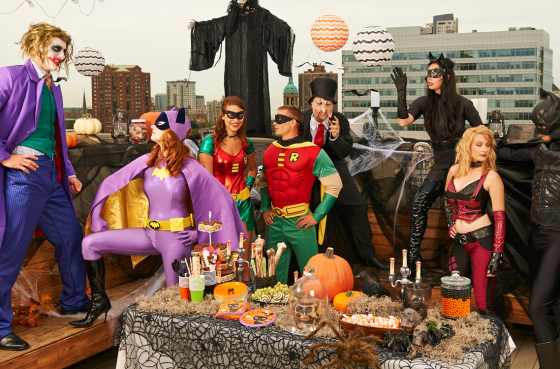 Superheroes & Villains
Thanks to the Marvel Cinematic Universe, superheroes have never been more popular than they are today. But instead of simply having guests dress up as Iron Man and Thor, you can also have them depict their favorite superhero villain. Darth Vader, Harley Quinn, The Joker, and Maleficent are the most popular of these choices.
The Decorations
If you plan on having an epic Halloween party, you cannot do so without having the proper decor around your home. The reason so many people love Disney World is because once you get into Disney World, you still have to drive several miles into it before you get to your hotel or any of the parks. The guests get fully immersed in Disney and forget about the real world, which feels like miles away.
That is what the perfect Halloween decorations can do for your party. They keep the guests involved which allows them to open up and fully enjoy the experience. Although there are many more ideas, here are the five must-use decorations that are needed for every single Halloween party, regardless of theme.
Spooky Fog Cauldrons
Bloody Hand Towels
Creepy Mirror Messages
Cobwebs, Cobwebs, and Even More Cobwebs
Bloody Candles
Cheesecloth Lawn Ghosts
The Entertainment

Live DJ
The music is almost as important as the party itself. It eliminates the awkwardness that can exist when you are in a house full of people and no sound. Once you hire a DJ that plays your customized Halloween playlist, it opens up the entire ambiance of the party, giving people an excuse to talk and dance with strangers.
Freak Show Actors
During season four of the creepy FX show, American Horror Story, they went back in time to 1952 to follow the lives of one of the countries only remaining freak shows. The freak show featured crazy acts like Lobster Boy, The Strongman, and The Three Breasted Woman.
The success of the show helped increase the number of entertainers willing to work for hire as a freak show character. Some of the characters you might want to hire could be a juggler on stilts, a contortionist, some fire-dancers, magicians, little people, or about ten dozen other ideas.
Professional Photographer
If you are serving alcohol, it will not take very long before people start getting intoxicated. The day after your party, if it was as epic as you had hoped, you are going to hear a lot of thank-you's and stories from your friends. But the one thing you are going to wish you had is a picture of it. So stay ahead of the game and get a professional photographer to take pictures all night long so you can wake up and help your brain remember the parts of the night that you simply cannot after passing out, right?
Scary Clowns
Clowns have always been scary and some people even have a phobia about it. So even though the idea of a scary clown is nothing new to Halloween, the popularity of the fear about clowns has risen this past year thanks to the reboot of Stephen King's most infamous novel, It.
It has broken all types of box office records including becoming the highest grossing R-rated Horror movie of all time and is closing in on $300 million.
So assume some of your guests are going to be scared of evil clowns and hire some of them to show up and just be there, as "guests".
Professional Dancers (NOT STRIPPERS!)
This is a dangerous idea that should not be abused. If you hire strippers, you are not going to have the type of Halloween party you imagined. It is the wrong place for them and it will cause a drop in attendance, especially from the ladies. But mostly, you just don't want to put your guests in an awkward situation by forcing strippers upon them without knowing ahead of time.
Now, knowing that strippers are a bad idea, we should tell you that professional dancers are good ideas. You can even hire professional dancers that adhere to the theme of your party.