Escort Max 360 : Hands-On
This post brought to you by Escort Radar + Laser Detectors.
The content and opinions expressed below are that of Gunaxin.
Recently we made the case for why you need ticket protection when you drive, and told you all about the Escort Max 360 Radar and Laser detector. Due to its GPS-powered AutoLearn technology and pre-loaded Defender Database, we called it a modern solution for the modern enforcement world. That was based on our research about the product, but we've spent the past week actually testing it in the real world. So what do we think now?
Upon un-boxing the Escort Max 360, we were instantly impressed by the quality of the device. It's certainly a step up from the cheap piece of crap we drove with back in college. For good reason too, as the Escort Max 360 will set you back $650 at the Escort site. For that much money, you'd probably want this device to come with some sort of guarantee, and it does. They offer a "Speeding Ticket Limited Guarantee" including both radar and laser speeding tickets when purchased factory direct.
Initial installation and setup was easy. The StickyCup mount was strong and held to the windshield well. The Escort Max 360 slipped into the mount and was held in place magnetically. The power cord plugs into a regular accessory socket, and this "SmartCord" came equipped with an easy to reach button for several device features. At first we just drove with the detector turned on, and didn't even open the manual, because we wanted to see how easy it was to use. Within a few miles we figured out the major controls, and it was already detecting different forms of radar and laser for us.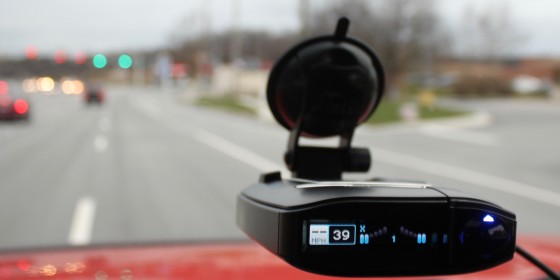 If you've ever used radar detectors in the past, then you are aware that false positives are a fairly common problem. There are a ton of things in the world that use radar that aren't likely to give you a ticket. These include automatic doors, lights, cameras and counting devices. The key is to ignore those false positives while paying attention only to the real problem. That is where the Escort Max 360 really shines, with its built-in GPS and AutoLearn capability, it can learn from you what signals can be ignored, and it will remember that for the future. It can even download updates and receive information from other drivers about speed traps and false positives. In our short time with the device, it was already starting to become more useful, but we imagine with a few weeks of regular driving, we'll have it trained to minimize annoyances and maximize effectiveness.
So the Escort Max 360 was already impressing us right out of the box, but we're living in a modern world, with the internet of things. Which means we want to connect to our devices, and there must be an app for that. Indeed there is, it's called Escort Live! and it connects via Bluetooth to serve as an expanded interface for the Max 360. As you can see in the photos it displays additional information (and a GPS interface) from the device, however it also allows you to communicate with other drivers instantly to keep your protection up-to-date and accurate.
Most of our testing time with the Escort Max 360 involved driving, which didn't lend itself well to taking great photographs of the various alert conditions. Rest assured however that it did warn us of oncoming Red Light Cameras and Speed Cameras as well, via the built in (updateable) GPS database. Check out some more photos of the Max 360 and Escort Live! App in the small gallery below :
Radar and Laser detection technology has leapt miles ahead of where it was when we last used one, and modern features leveraging GPS and Bluetooth are exactly what we'd expect from one of the most advanced units on the market. We did indeed encounter a few speed traps and red light cameras while testing the Escort 360, and it alerted us in each instance so that we were protected from receiving a ticket. We found the device effective and now can't imagine driving without it.