Exploring Bell's Planets Series
Ever want to be an astronaut? Of course you have, every Red-Blooded American child has at one time or another dreamed of taking a rocket to the stars. Well that's great, but what if I told you, that as a responsible beer drinking adult, you could, figuratively, transport yourself to the cosmos? Well you can, and the good folks at Bell's Brewing Company are more than willing to help. How? With their ongoing series of special brews called The Planet Series. Let's explore, shall we?
So far there have been five Planets, and each and all of the seven total were inspired by composer Gustav Holst's "The Planets" orchestral suite. Each is released roughly every other month, and each selection is just as vastly different as the astral body it represents. The beers' release date begun back in August of last year and are slated to run through July of this year. Now I don't know if these brews are showing up as frequently on store shelves in the many other states that carry Bell's, but I do know that they are quite easy to get your hands on here in Michigan, where Bell's is located. Okay, so let's discuss the offerings that have been released thus far.
MARS
The Bringer of War (Double IPA)
The series began appropriately enough with the blasting power of the 10.1 % ABV Mars, a Double IPA with the mouth-melting delights inherent in the style. DIPA's are some of my favorites, and this one absolutely didn't disappoint: bitter grapefruity hops, juicy stone fruits, and a semisweet malty character that perfectly balanced the tones. This is an example of what DIPA's should always striven to be, and it might just be one of Bell's best beers ever.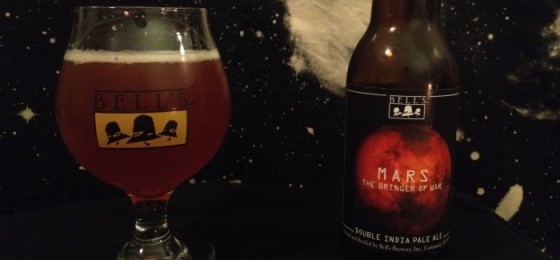 VENUS
The Bringer of Peace (Blonde Ale with honey, vanilla, and cardamom)
Slightly herbacious and tangy with fruits, this 7.5 % ABV brew was, and is, the least impressive of the series thus far. At least in my opinion. It's not that it was bad necessarily, it's just that following on the heels of such an amazing beer in Mars, I think anything was ultimately bound to disappoint. As far as the taste goes, it was far too similar to Oberon to really be considered anything too special.
MERCURY
The Winged Messenger (Belgian Single)
This 4.7 % sessionable sample is crisp, slightly pear-like, and very refreshing. Again, having followed on the footsteps of Mars, and even to a lesser extent, Venus, Mercury came across as a beer you could definitely quaff throughout a lazy Summer afternoon and not trip over your lawnmower. Tasty, but not my ideal choice.
JUPITER
The Bringer of Jollity (Imperial Brown Ale)
Arriving at a perfect 8 % ABV, this Imperial Brown Ale is biscuity, bready, rich, and satisfying. The hops in this selection play a backing role to the toasty and yeasty malts that really serve to act as a warmer for this delicious style.
SATURN
The Bringer of Old Age (Bourbon Cask Aged Barlywine)
After Mars, this one is my favorite. It is an 11.2 % monster that starts of almost sweet and a bit smoky, with tones of raisins and dark, tart cherries. And then comes the finish: oaky, slightly burning with its inherent aged alcohol seer, and the rich notes of the Bourbon from the very barrels in which it was aged. Very good and very strong.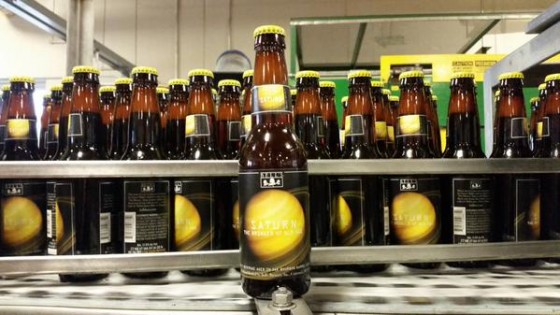 Well folks, that's it so far from this exceptional themed release from Bell's Brewery. Coming soon at the end of May will be Uranus, a Double Black IPA, and Neptune, an Imperial Stout. I will be back to conclude this epic beer journey through the galaxy at the end of July. Until then, enjoy all the Bell's beer you can and support a great, local (to me anyway) craft brewery.