Falcons Host Marine Hero, Amputee
In the midst of one of the best seasons in their franchise's history, the Falcons took time out last week to host an actual hero. Marine Corporal Todd Love, who was honored by the team at Sunday's game, spoke to the team and visited the team at Friday's practice. Cpl Love, a triple amputee, has never been one to sit on the sidelines, however, and took a turn as the holder for a field goal attempt for Kicker Matt Bryant. After some good-natured ribbing from the team, Love held the ball perfectly, allowing Bryant to split the uprights.
This experience was hardly unique for Love, who has made it a point to do the incredible since losing both legs and his left arm in an IED explosion in Afghanistan. Earlier this year, as a guest of Team X-T.R.E.M.E, Cpl Love headed to Hawaii, where he scuba dived, surfed, and sky dived. The tandem dive was with Retired U.S. Army SFC Michael Elliott, who is best known for twice jumping with former President George H. W. Bush.
Corporal Love wasn't done there, though. In August, again with Team X-T.R.E.M.E., Love attempted the grueling Spartan Race in Leesburg, Virginia. The 10.5 mile ordeal, over an extreme obstacle course, is enough to defeat many able-bodied participants, but Love completed it in five and hours. He also did so while wearing a gas mask, the signature of the charity and outreach group. The full face mask can restrict breathing by 25-30% and is worn to represent perseverance.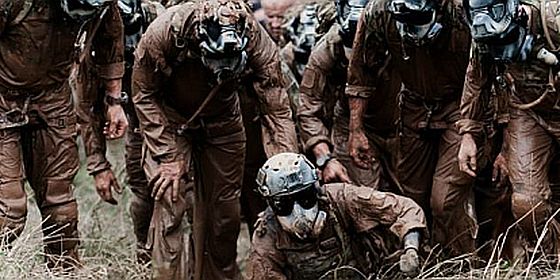 If all that wasn't enough, Love wrestled an alligator on the Animal Planet show "Gator Boys" earlier this year.
Joining Love with the Falcons was Army SFC Michael Schlitz, another military amputee. The visit was organized by thee Stephen Siller Tunnel to Towers Foundation and the Gary Sinise Foundation, two charities that work to build or modify homes for wounded vets.