Ten Great Fall Beers
Eight might have been enough (see what we did there), but ten never is. Especially when it comes to beer ten is most definitely never enough. And that's why, friends, we have extended our Autumn Beer list from 2016 with ten more choices. The simple fact is that there are just so damn many beers to choose from. Anyway you crack it open, here are Ten More Great Fall Beers. Oh, and as it turns out, we're seeing a new resurgence in another Year of the Pumpkin Beer, and the list reflects that in eight of our ten selections.
Roadsmary's Baby (6.8% ABV)
Do you like your beer aged in rum barrels? Of course you do, because when you do that you both fill it with rum flavor, and because it's aged, it ups the alcohol pretty substantially as well. The folks at Two Roads Brewing in Connecticut really know what they're doing, and they especially know what they're doing with a rum-infused pumpkin ale. It's delicious. Not only that, but they absolutely get our vote for the best label this year.
Figtoberfest (5.6% ABV)
This California brewery sits right near the Figueroa Mountain range, a landmark from which it gets its name. It's not an easy place to get to if you live anywhere east of the Mason Dixon, but it's worth the trip to taste their amazing beers. For the fall season, they brew Figtoberfest in quite limited amounts, so if you want some you need to plan your trip… well, probably yesterday. Even so, it's worth it to taste their version of a traditional German Lager.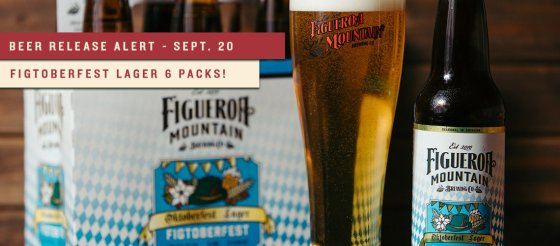 Pumpkin Ale (6.5% ABV)
Available late Summer through Thanksgiving, this New Hampshire brewery's pumpkin ale has been going strong annually since 2008. Brewed from an old recipe and chock-full of gourds, squash, and pumpkins. Though not strong in the alcohol sense, it is redolent and packed with pumpkin flavor and the taste of a crisp Fall day.
Rumpkin (17.5% ABV)
There are crisp-evening Autumn warmers, and then there's Avery Brewing's version and it is a doozy! Brewed in their Boulder, Colorado brewery, Avery makes a pumpkin ale that will curl your toes and create a delicious burn from the very first swallow. Aged in rum barrels and infused with its sugary, oaky flavor, Rumpkin delivers both the rich gourd taste you want with the lovely burn of its 17.5% alcohol you didn't know you needed.
Gourd Rocker (9.4% ABV)
Brewed in North Carolina, Double Barley has been around since 2008 and they have made themselves very well known in their little Smithfield town with a slew of delicious beers. When Fall rolls around, it's time to head to their pub and sip on a pint of Gourd Rocker. But watch out, because this big beer is an Imperial Pumpkin Porter and comes in at a pretty strong 9.4 %. It's rich with pumpkins, creamy, and deliciously spicy. Enjoy but beware!
Boxcarr Pumpkin Porter (5.2% ABV)
Born in Charlottesville, Virginia in 1999 (back when craft beer seemed like it might be a fad), Starr Hill Brewery has gone on to create some of the eastern United States finest beers. One of their most popular seasonal beers is their Pumpkin beer called Boxcarr; a Porter with the grainy and vegetal tones of pumpkin and the cloying spiciness of the flavors you immediately associate with Pumpkin Pie. Delicious.
Evil Dead Red (6.66% ABV)
Yes sir, you read that correctly: 6.66 percent alcohol. That's part of the charm, kids. As is the fact that it pours a sinister red color and looks just like it should for its annual release right around Halloween. It's full of resinous piney notes and tangy with hops. Though it might not seem like something you'd find for your Autumn beer collection, it really needs to be.
Freaktoberfest Pumpkin Ale (6.2% ABV)
The delightfully creepy carnival barker on the label is but the man in front of the curtain that leads into one of this year's most delicious pumpkin beers. In fact, this brew (made in Brooklyn, New York) is not only made with pumpkins, but also Espresso for just that little kick of coffee flavor to match perfectly with the bready and caramel notes. This isn't just a pumpkin ale, it's a fantastically frightening complex "Big Ol' Pumpkin Ale".
Black O'Lantern Pumpkin Stout (6.5% ABV)
Mixing and Imperial Stout with a Pumpkin Ale isn't something new. However, it takes the hand of a master brewer… much like the ones you'll find at Wasatch Brewery in Salt Lake City, Utah, to do it properly. They know how to take a big, bold, creamy, delicious stout and add in gobs of glorious gourds to make their Autumn fare. It's a hit.
Goulschip (8.3% ABV)
Pumpkin beers are great, and just about everyone does them. But what does a brewer say when it's time to make a pumpkin beer that's just slightly different? What could they possibly come up with? Well, if you're a brewer in Portland, Maine and you decide to up the bar, you first brew your concoction with not only pumpkin but also the roasted seeds. Amazing. Then you don't ferment the beer right away. Oh no, you let naturally forming yeasts in the air do that for you creating a delightful sour note. It's delicious, it screams Fall, and it positively hollers originality.