Fantasy Football Jesus – Week 1 Recap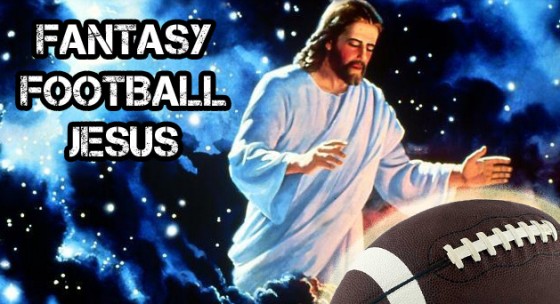 On the eighth day God created fantasy football… and with the first overall pick selected a tall, wiry signal caller from Nazareth by the name of Jesus.
Welcome to Fantasy Football Jesus. The only fantasy football column that's 100% Jesus approved. Here at FFJ, we wrap the week that was in fantasy football through the eyes of our Lord and Savior. Who was awe-inspiring? Who was awful? Who came through in the clutch? Who fell flat on their face? We will leave no stone unturned and pull no punches. Jesus shall forgive, but Jesus never forgets.
Now that we've dispensed with the pleasantries, let's kick the proceedings off right — with a musical interlude. Many a fantasy team owner is rejoicing the 38 points scored by the New England Patriots: Tom Brady, Wes Welker, Fred Taylor, the defense/special teams. Hallelujah!
In lieu of a choir of angels, here are the Dropkick Murphys singing "State of Massachusetts."
Bless the Patriots for their bountiful point production. Now is the time when we exalt those who were glorious…
Week 1 Apostles
Peyton Manning (40-57, 433 yds, 3 TDS) – The fair-haired goober from Indianapolis kept throwing and throwing and throwing, much to the delight to those shrewd enough to draft him as their starting quarterback. Once Bob Sanders suffered his annual week one injury and exited the melee, the defense was finished. Peyton tried to extract his charges from the abyss, but his efforts were in vain, at least on the scoreboard.
Arian Foster (33 carries, 231 yds, 3 TDs) – FFJ said a prayer to the Colts defense for displaying a wealth of generosity to Foster, who prior to this season was an undrafted peasant buried on the Texans backfield depth chart. There probably won't be many more days like this one for Foster, but for one week he truly was a king among men.
Hakeem Nicks (4 catches, 75 yds, 3 TDs) – Hakeem sounds Biblical, so FFJ approves. The littlest Manning has trouble finding the right colored uniforms from time to time, but Nicks reaped the rewards when his signal caller was on the same page. Is he a true number one receiver? Count us as believers.
Now is the time when we abase those who were garbage…
Week 1 Heathens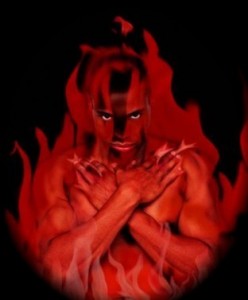 Kevin Kolb (5-10, 24 yds, 0 TDs, one concussion) – Welcome to life as an NFL starting quarterback, Kevin Kolb. It ain't no bed of roses. Lucky for KK, he probably won't remember how horrid he was in the first half on Sunday due to his head being crushed like a grape by Clay Matthews. Conspiracy theorists might conclude Eagles coach Andy Reid told team doctors to diagnose Kolb with a concussion so he could justify inserting Michael Vick in the second half. But FFJ doesn't subscribe to such unsubstantiated conjecture. *Ahem*
Frank Gore (17 carries 38 yds, 6 catches 45 yds, 0 TDs) – Michael Turner stunk, but he stunk against the Steelers, which is understandable. Frank Gore stunk against the Seahawks, which is laughable. FFJ is looking into whether or not there's any truth to the rumor that 'Hawks head honcho Pete Carroll promised Gore Reggie Bush's Heisman Trophy if he threw the game.
Andre Johnson (3 catches, 33 yds, 0 TDs) – When a team's starting running back rumbles for 231 yards, odds dictate the team's number one pass catcher will drop a turd. Apparently, Texans man in charge Gary Kubiak thinks the road to the playoffs runs through a balanced offense. Don't fret Andre owners. Gary Kubiak is a moron.
Now is the time when we hand out random acknowledgements…
The Wycheck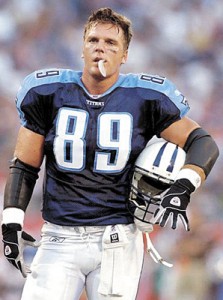 Given to the tight end who best exemplifies toughness and grace under pressure.
Visanthe Shiancoe (4 catches, 76 yds, 1 TD) – Shiancoe's prowess between the hashes was on display last Thursday night as he came up large with four huge grabs. The Vikings lost the game, but Shiancoe proved to be an enormous value to the offense. That's Wycheck material.
The Matt Leinart Award for QB Ineptitude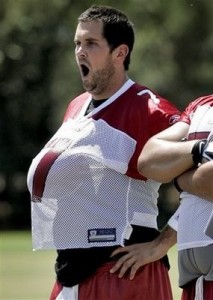 Matt Moore (14-33, 182 yds, 1 TD, 3 INT) – Jake Delhomme had a better day than Matt Moore. How is this even possible? We all knew Matt Moore was a mere flash in the pan late last season. We all knew he was incapable of carrying a team for a full slate. Well, everyone except the Panthers brain trust. The Jimmy Clausen era might begin sooner rather than later in Carolina. Good heavens…
Honorable mention: Mark Sanchez (10-21, 74, 0 TDs) and Matt Cassel (10-22, 68, 1 TD) are a two-man horror show under center. For obvious reasons, FFJ doesn't endorse torture of any kind, but if anyone is in need of vicious whippings from a Centurion, it would be this pair of bozos.
Wonder of the Week
Brandon Lloyd (5 catches, 117 yards) – Denver must be the place where washed-up receivers go to die. Javon Walker. Jabar Gaffney. Brandon Lloyd. Who's next, Braylon Edwards? Kyle Orton and Lloyd have a history going back to their days in Chi-town, but FFJ doesn't anticipate this kind of output on a regular basis. There are plenty of mediocre mouths to feed in Broncos country, so temper those expectations waiver wire watchers.
Sign of the Apocalypse
Pop culture trends that signal the end is nigh.
FFJ is patiently awaiting for pestilence and the rest of his pals to be unleashed upon the Earth. The signs are abundant: endless wars, catastrophic natural disasters, needless poverty, and enraging late night commercials like this one for the Snuggie:
Yeah, humanity is doomed.
Keeping Tabs on FFJ's Teams
FFJ is the proud owner of two fake teams. Let's see how they're doing.
Big Ben's House of Sin (1-0) – The vaunted trio of Randy Moss, DeSean Jackson and Pierre Garcon combined for a pathetic 15 points. Blasphemy! However, the badass backfield of Chris Johnson and Arian Foster went for 67. Praise the football Gods! It's a win for the Sin.
Pagan Idolatry (0-1) – The decision to start first-round pick Michael Turner instead of Cadillac Williams proved costly. Chalk up a three-point loss for the Pagans. It's disappointing, but nothing a virgin sacrifice can't cure.
Week 2 Lineup Advice From the Burning Bush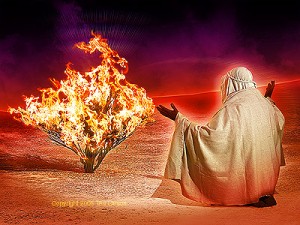 Sit: QB Jay Cutler @ Dallas – Cutler's week one numbers were deceiving. 195 of his 372 yards went to running backs. The Cowboys defense is fast and opportunistic. They'll put a clamp on check-downs, screens and wheel-routes. It'll be a long afternoon for big game Jay. The bush forecasts less than 200 yards and at least two picks.
Start: RB LeSean McCoy @ Detroit – McCoy averaged nearly seven yards per touch and scored once against the Packers. With the Birds quarterback situation in limbo, look for the second-year runner to be leaned on against a defense that allowed 201 yards and two touchdowns to Matt Forte. Obey the bush on this one.
Sit: WR Mike Williams (SEA) @ Denver – The Broncos secondary held Mike Sims-Walker to zero catches on Sunday. The comeback of Seahawks wideout Mike Williams makes for a good story, but it won't translate to on the field dividends during week two. The bush advises to look for safer options.
That does it for week one of the 2010 fantasy football campaign. FFJ will leave you with these parting words:
What shall it profit a man if he gains a fantasy football championship but loses his soul?
---
As you know, this season Gunaxin is representing Old Spice in the Blogger Fantasy League. Each week, we'll try to post a small update, so you can follow our progress. This week we were victorious over Brian Bassett from The Jets Blog, led by strong performances from Jay Cutler and Pierre Thomas. For more complete recaps of Week 1 action, check out CBS Sports, Midwest Sports Fans, Press Coverage or Blogs with Balls.
The P&G Blogger Fantasy League (BFL) is a group of 12 digital sports influencers competing on the NFL.com fantasy platform for the chance to win P&G product, a donation to a local charity, and a trip to Super Bowl XLV, all furnished by P&G. The NFL Entities have not offered or sponsored the sweepstakes in any way.