Fantasy Football Jesus – Week 10 Recap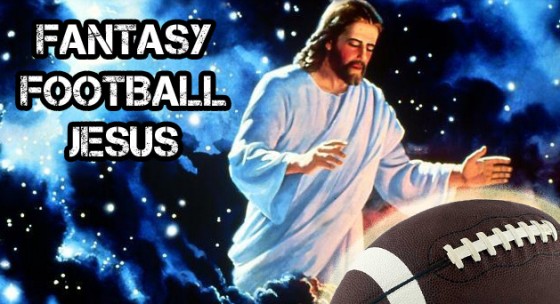 On the eighth day God created fantasy football… and with the first overall pick selected a tall, wiry signal caller from Nazareth by the name of Jesus.
Welcome to Fantasy Football Jesus. The only fantasy football column that's 100% Jesus approved. Here at FFJ, we wrap the week that was in fantasy football through the eyes of our Lord and Savior. Who was awe-inspiring? Who was awful? Who came through in the clutch? Who fell flat on their face? We will leave no stone unturned and pull no punches. Jesus shall forgive, but Jesus never forgets.
Now that we've dispensed with the pleasantries, let's get this party started right — with a musical interlude. Many a fantasy team owner is rejoicing the 59 points scored by the Philadelphia Eagles. Praise Michael Vick, DeSean Jackson, Jeremy Maclin, LeSean McCoy, Jason Avant, David Akers and the defense/special teams. Hallelujah!
In lieu of a choir of angels, here is Philly's own The Roots singing "Don't Say Nuthin."
Bless the Eagles for their bountiful point production. Now is the time when we exalt those who were glorious…
Week 10 Apostles
Michael Vick (20/28, 333 yards, 4 TD, 8 carries 80 yards, 2 TD) – The circle is complete. Vickdemption is back and better than ever. He destroyed a fetid Redskins defense in the Monday Night spotlight and smashed fantasy records in the process. Love him or loathe him, #7 is still one of the most amazing athletes in the history of sports.
Matt Cassel (33/53, 469 yards, 4 TD) – People laughed at Noah when he started building the ark. People laughed at fantasy owners when they drafted Matt Cassel. Well, who's laughing now? The KC signal caller has thrown 16 touchdowns and only four interceptions.
Fred Jackson (25 carries 133 yards, 1 TD, 6 catches 37 yards, 1 TD) – Fred Jackson. Steve Johnson. All Buffalo needs to do now is draft a quarterback named Joe Smith and they'll have the most boring trio of names in the league. All Jackson does is ball. Anyone who matriculates at Coe College is a-okay in FFJ's book.
Dwayne Bowe (13 catches 186 yards, 2 TD) – Thomas the Apostle has never been a Bowe believer. In fact, back in August he referred to the Chiefs receiver as a weak-minded newt. Bowe is currently tied for the most touchdown grabs with nine. FFJ has told Thomas to stop doubting, but the man is stubborn as a mule.
And now is the time when we abase those who were garbage…
Week 10 Heathens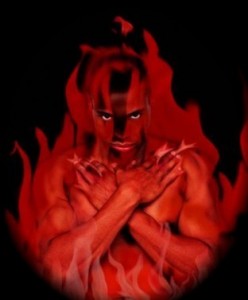 Peyton Manning (20/36, 185 yards, 0 TD) – For the second time this season, God's gift to quarterbacking failed to register a touchdown. Clark, Collie and Addai are hurt. Pierre Garcon is nowhere to be found. Reggie Wayne has only scored three times. The days of Indy lighting up scoreboards appear to be over.
Michael Turner (17 carries 39 yards, 0TD) – The Burner had been sizzling until he ran into the Ravens front seven last Thursday night. The Rams sixth ranked rush defense lies in wait, so Turner owners take note. The specter of Jason Snelling lingers.
Randy Moss (1 catch 26 yards, 0 TD, 1 drop, minimal effort) – FFJ wishes Randy would do the right thing and retire. He is a valueless pile of tripe who should no longer be allowed to sully a professional roster. Apparently he was too exhausted to participate in the two-minute drill after running routes at half speed and not blocking on runs for four quarters. New Moss — same as the old Moss.
Now is the time when we hand out random acknowledgments…
The Wycheck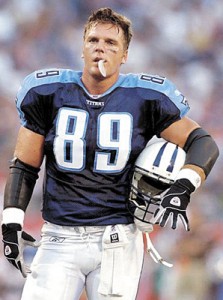 Given to the tight end who best exemplifies toughness and grace under pressure.
Rob Gronkowski (5 catches 72 yards, 3 TD) – If any name was suited to play the tight end position it would be Gronkowski. Six of his nineteen receptions have gone for touchdowns this season. He has become a red zone menace and isn't afraid to go toe-to-toe with the mighty Steelers. That's Wycheck material.
The Matt Leinart Award for QB Ineptitude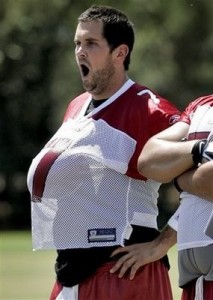 Brett Favre (18/31, 170 yards, 1 TD, 3 INT, 1 lost fumble) – It's time for old man Favre to face facts. His body is broken and bruised. His head is stuck in 2009. His coach is a dullard. His team is a joke. Brett should just hang 'em up now, but it's not in him to do so. He'd rather prolong the agony and make us all endure another seven weeks of his soap opera histrionics.
Lazarus of the Week
Felix Jones (14 carries 51 yards, 3 catches 85 yards, 1 TD) – Who the $%#@ resurrected this stiff? Jones has been one of fantasy football's biggest teases since entering the league three years ago. He should be a dangerous dual threat back every week — not a clueless bag of hammers. FFJ feels this performance is an aberration. Jones can prove his doubters wrong by shredding a generous Lions defense next Sunday.
Hail Mary! Hail Mary! Hail Mary!
David Garrard to Mike Thomas – Garrard closed his eyes and said a Hail Mary as he floated a 50-yard toss to the end zone as time expired. And FFJ is proud to say momma Mary answered the prayer. Wide receiver Mike Thomas snagged the batted ball to win the game in what could end up being the play of the year. The Jags owe momma big time for this one.
Sign of the Apocalypse
Pop culture trends that signal the end is nigh.
FFJ is patiently awaiting for pestilence and the rest of his pals to be unleashed upon the Earth. The signs are abundant: endless wars, catastrophic natural disasters, needless poverty, and live TV news clips of men cursing about sequins:
Yeah, humanity is doomed.
Keeping Tabs on FFJ's Teams
FFJ is the proud owner of two fake teams. Let's see how they're doing.
Big Ben's House of Sin (6-4) – Entering the Monday Nighter, the Sin trailed by 29 points with Vickdemption and DeSeansational yet to play. Their opponent had Jeremy Maclin and the Eagles D/ST. It was close, but the rest, as they say, is history. Or, Vickstory.
Pagan Idolatry (7-3) – The six game win streak is over. Michael Turner and Mike Sims-Walker both dropped massive turds. The Pagans remain in first place, but rage must be vented. A night of boozing and bloodletting is in order.
Week 11 Lineup Advice From the Burning Bush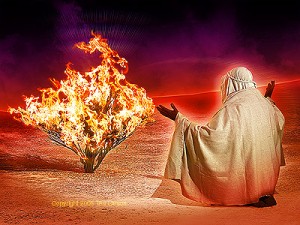 Start QB Vince Young vs. WAS – Provided he's healthy, VY should post solid numbers against the porous 'Skins secondary. Even rookie Sam Bradford dropped 235 yards and a touchdown on them back in Week 3. If you're in a pinch, the bush calls Young a safe play.
Start RB BenJarvus Green-Ellis vs. IND – The Colts run defense has actually improved as of late, but they are still vulnerable. BJGE has lit up the Vikings and Steelers during the last three weeks, so the bush is confident he can get you 80 yards and a touch if you're hurting at running back.
Sit WR Mike Williams (SEA) @ NO – Big Mike torched the hapless Cardinals on Sunday, but he'll find the going much tougher on the road versus a Saints pass defense that has allowed the fewest touchdowns and third fewest yards. Steer clear, sayeth the bush.
That does it for week ten of the 2010 fantasy football campaign. FFJ will leave you with these parting words:
Repent, for the kingdom of fantasy football is at hand.
---
As you know, this season Gunaxin is representing Old Spice in the Blogger Fantasy League. Each week, we'll try to post a small update, so you can follow our progress. Mike Vick resurrected many a fantasy team this week, and Team Gunaxin was no exception. Vick led us to victory over Stephanie Stradley who hoped having McCoy and the Eagles D going on Monday night would be enough to save her. In the end we pulled out the 6 point victory, and moved to 5-5, but still 7th overall.
We need to crack the Top 4 in order to make the playoffs, so we're going to need a miracle. A miracle is how we'd classify Josh Zerkle's (from With Leather) season. He is 7-3 with only a +17 point differential for the season. He is 2nd in the league, despite being ranked 11th in scoring. Of course he is that guy who has the least points scored against him. Don't you just hate that guy?
The P&G Blogger Fantasy League (BFL) is a group of 12 digital sports influencers competing on the NFL.com fantasy platform for the chance to win P&G product, a donation to a local charity, and a trip to Super Bowl XLV, all furnished by P&G. The NFL Entities have not offered or sponsored the sweepstakes in any way.