Fantasy Football Jesus – Week 11 Recap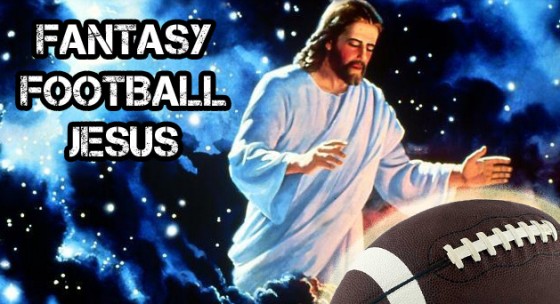 On the eighth day God created fantasy football… and with the first overall pick selected a tall, wiry signal caller from Nazareth by the name of Jesus.
Welcome to Fantasy Football Jesus. The only fantasy football column that's 100% Jesus approved. Here at FFJ, we wrap the week that was in fantasy football through the eyes of our Lord and Savior. Who was awe-inspiring? Who was awful? Who came through in the clutch? Who fell flat on their face? We will leave no stone unturned and pull no punches. Jesus shall forgive, but Jesus never forgets.
Now that we've dispensed with the pleasantries, let's get this party started right — with a musical interlude. Many a fantasy team owner is rejoicing the 49 points scored by the Buffalo Bills. Praise Ryan Fitzpatrick, Fred Jackson, Steve Johnson and the defense/special teams. Hallelujah!
In lieu of a choir of angels, here is the great Bob Marley singing "Buffalo Soldier."
Bless the Bills for their bountiful point production. Now is the time when he exalt those who were glorious…
Week 11 Apostles
Aaron Rodgers (22/31, 301 yards, 4 TD, 0 INT) – FFJ is puzzled why Rodgers isn't getting the pub he deserves. He's quietly having an MVP-worthy season, especially when the litany of injuries on offense are taken into account. No Ryan Grant. No Jermichael Finley. No Donald Driver. No big deal.
Maurice Jones-Drew (23 carries 133 yards, 1 TD, 3 catches 87 yards) – The best hyphenated name in the game did it all on Sunday. He led his team in rushing and receiving and even threw a pick. Now, the interception is bad, as is the lost fumble, but MJD came up huge when he needed to and single-handedly steered the Jags to a much-needed win. FFJ approves.
Greg Jennings (7 catches 152 yards, 3 TDs) – After a subpar 2009 campaign, Mr. Jennings has rebounded nicely in 2010. With nine touchdowns in ten games he's on pace to eclipse his career high of twelve set in 2007. An upcoming schedule filled with suspect pass defenses will have Jennings owners salivating like Apostle Mark on taco night.
And now is the time when we abase those who were garbage…
Week 11 Heathens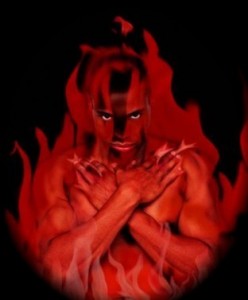 Eli Manning (20/33, 147 yards, 2 TD, 3 INT, 1 fumble) – The junior Manning lost his fifth straight to the Eagles and once again felt obliged to turn the ball over at an accelerated rate. On the season, he has tossed 21 touchdowns, 16 interceptions and lost five fumbles. Has another November/December swoon befallen Big Blue? It would appear as such.
Frank Gore (12 carries 23 yards, 0 TD, 5 catches 37 yards) – Gore was, dare FFJ say, gory on Sunday. He was also ghastly, gross, grody, godawful and a plethora of other G words that are synonyms for horrifyingly bad. Speaking of bad, the Niners are 3-7.
Andre Johnson (4 catches 32 yards, 0 TD) – Many an elite wide receiver has been shipwrecked on Revis Island never to be seen again. It's like the island from Lost and Cast Away all rolled into one. Confusing, treacherous, lonely and ultimately humbling.
Now is the time when we hand out random acknowledgments…
The Wycheck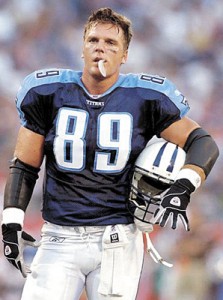 Given to the tight end who best exemplifies toughness and grace under pressure.
Marcedes Lewis (5 catches 66 yards, 1 TD) – Years ago Eagles head coach Buddy Ryan explained his reason for cutting wide receiver Cris Carter with the following statement: "All he does is catch touchdowns." Well, all Marcedes Lewis does is catch touchdowns. Eight of his 35 grabs have gone for six. That's Wycheck material.
The Matt Leinart Award for QB Ineptitude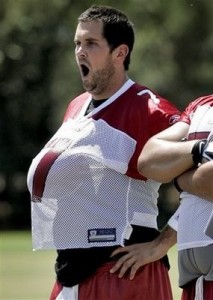 Vince Young ( 12/16, 165 yards, 0 TD, 1 fumble, one torn thumb tendon, one infantile meltdown) – Is that the sound of a baby crying? No, it's just 27-year-old Titans quarterback Vince Young pitching a top notch temper tantrum after hurting his thumb, chucking his shoulder pads into the stands and walking out on his team. FFJ would like to remind VY the crosses he must bear are minuscule compared to others on this planet.
Lazarus of the Week
Robert Meachem (3 catches 50 yards, 2 TD) – Who the #@$% resurrected this stiff? Meachem is immensely frustrating. Most weeks he suits up and does his best Randy Moss impression. In other words, act disinterested and make himself useless. Then there are those rare weeks when he drops a pair of touchdowns on an unsuspecting opponent. Not even a prophet as skilled as FFJ can accurately predict Meachem's weekly stats.
Sign of the Apocalypse
Pop culture trends that signal the end is nigh.
FFJ is patiently awaiting for Pestilence and the rest of his pals to be unleashed upon the Earth. The signs are abundant: endless wars, catastrophic natural disasters, needless poverty, and videos of triangle-shaped UFOs flying over England:
Yeah, humanity is doomed. Damn aliens.
Keeping Tabs on FFJ's Teams
FFJ is the proud owner of two fake teams. Let's see how they're doing.
Big Ben's House of Sin (6-5) – With the division lead on the line, the Sinners took a steaming dump and got blown out. Benching Arian Foster in favor of Ahmad Bradshaw was beyond idiotic, but it didn't even matter. That's how humiliating the margin of loss was.
Pagan Idolatry (7-4) – It was bound to happen. Eli Manning went spaz. His four turnovers versus Philly dropped the Pagans into a three-way tie for first place in their division. Awesome days from Michael Turner and Marques Colston went for naught.
Week 12 Lineup Advice From the Burning Bush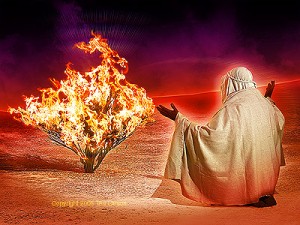 Sit QB David Garrard @ NYG – Garrard has been money for a month. The Giants D has been vulnerable as of late. Sounds like a great matchup for Garrard, right? Wrong. Just when you begin to trust him, he lets you down. Don't believe the hype, sayeth the bush.
Start RB Shonn Greene vs. CIN – Greene has had a rough season thus far. The presence of LT has put a major dent in his production. However, he's been more involved in recent weeks and faces a Bengal defense that has thrown in the towel. The bush likes his chances to feast on Thanksgiving.
Start WR Nate Burleson vs. NE – The Pats are 8-2, but their secondary is horrendous. The Lions usually show up on Turkey Day, so make sure Burleson (25 catches in his last four games) is in your lineup. The bush smells a potential shootout.
That does it for week eleven of the 2010 fantasy football campaign. FFJ will leave you with these parting words:
Yes, FFJ is with you always, until the very end of the fantasy football season.
---
As you know, this season Gunaxin is representing Old Spice in the Blogger Fantasy League. Each week, we'll try to post a small update, so you can follow our progress. We're all but eliminated from the playoffs at this point, after falling 142-86 to Aaron Schatz of Football Outsiders. Yeah, he dropped 142 on us, and even if we hadn't left Steve Johnson and Thomas Jones on our bench, we still would have lost. To read all about how we're losing this fantasy league to a pair of women, check out Diana Klochova's recap over at National Football Post.
The P&G Blogger Fantasy League (BFL) is a group of 12 digital sports influencers competing on the NFL.com fantasy platform for the chance to win P&G product, a donation to a local charity, and a trip to Super Bowl XLV, all furnished by P&G. The NFL Entities have not offered or sponsored the sweepstakes in any way.