Fantasy Football Jesus – Week 12 Recap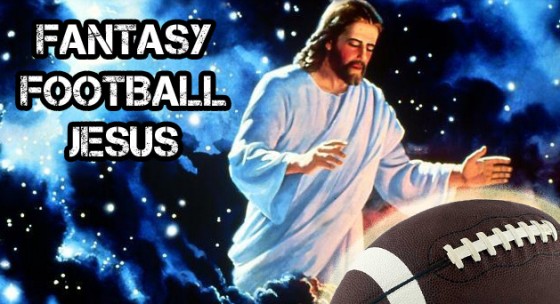 On the eighth day God created fantasy football… and with the first overall pick selected a tall, wiry signal caller from Nazareth by the name of Jesus.
Welcome to Fantasy Football Jesus. The only fantasy football column that's 100% Jesus approved. Here at FFJ, we wrap the week that was in fantasy football through the eyes of our Lord and Savior. Who was awe-inspiring? Who was awful? Who came through in the clutch? Who fell flat on their face? We will leave no stone unturned and pull no punches. Jesus shall forgive, but Jesus never forgets.
Now that we've dispensed with the pleasantries, let's get this party started right — with a musical interlude. Many a fantasy team owner is rejoicing the 42 points scored by the Kansas City Chiefs. Praise Matt Cassel, Dwayne Bowe, Jamaal Charles and the defense/special teams. Hallelujah!
In lieu of a choir of angels, here are the Kaiser Chiefs singing "I Predict a Riot."
Bless the Chiefs for their bountiful point production. Now is the time when we exalt those who were glorious…
Week 12 Apostles
Jay Cutler (14/21, 247 yards, 4 TD, 0 INT) – FFJ has spent the better part of the season trashing bad-haired Jay, so it's only fitting to give the maligned Bears signal caller some props when he does well. He shredded a listless Eagles D missing all-world cornerback Asante Samuel, made smart decisions, threw razor-sharp passes and avoided boneheaded turnovers. It was like watching the anti-Cutler.
Peyton Hillis (26 carries 131 yards, 3 TD, 6 catches 63 yards) – Like Moses parting the Red Sea, so did Hillis part the Panthers defense. The Great White Bull has amassed 1319 yards from scrimmage and scored 13 total touchdowns. Not too shabby for a guy that was acquired in a trade for Brady Quinn. *snicker*
Dwayne Bowe (13 catches 170 yards, 3 TD) – Bowe knows touchdowns. Bowe knows domination. Bowe knows unstoppable. FFJ is confident Bowe will pitch another of his infamous childlike tirades and ruin his recent brush with success, but it's impossible to deny the man is in full-on beast mode right now.
And now is the time when we abase those who were garbage…
Week 12 Heathens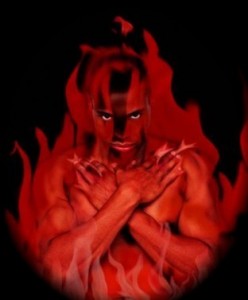 Philip Rivers (19/23, 185 yards, 0 TD, 0 INT) – With Antonio Gates, Malcolm Floyd and Legedu Naanee all back from injuries, one would think Rivers would be in line for a monster night. Didn't happen. Frequent stalls in the red zone led to an overabundance of field goals for the Bolts. Boo, kickers!!
Chris Johnson (7 carries 5 yards, 0 TD) – CJ2K picked a fine time to have the worst day of his young career. With fantasy playoff spots on the line, the Coach's Dream turned in a nightmarish performance against the woeful Texans defense. FFJ is still shaking his head in disbelief over this debacle.
DeSean Jackson (2 catches 26 yards, 0 TD) – Since opening the Monday nighter three weeks ago versus the Redskins with an 88-yard touchdown, DeSeansational has snagged 8 balls for 88 yards. Crazy eights, indeed. The big play bird has gotten his wings clipped. Perhaps the terrible Texans secondary will offer a cure on Thursday night.
Now is the time when we hand out random acknowledgments…
The Wycheck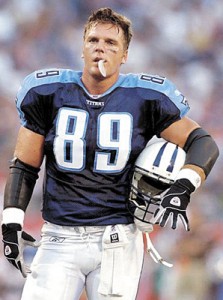 Given to the tight end who best exemplifies toughness and grace under pressure.
Kevin Boss (3 catches 74 yards, 1 TD) – Big, bad tight ends need big, bad names like Boss. With injuries to Steve Smith and Hakeem Nicks, Boss stepped up his play and delivered the game-winning touchdown to beat the Jags. That's Wycheck material.
The Matt Leinart Award for QB Ineptitude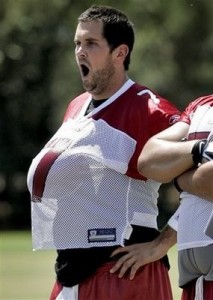 Rusty Smith (17/38 138 yards, 0 TD, 3 INT) – You know things are bad in Tennessee when fans are praying for the very old and very gimpy Kerry Collins to return under center. The Titans would've been better off starting Rusty from National Lampoon's Vacation. At least he knows how to guzzle a beer.
Blasphemer of the Week
Steve Johnson – FFJ was dismayed to learn that Bills wide receiver Steve Johnson via his Twitter account blamed God for dropping an easy touchdown toss in overtime versus the Steelers:
"I praise you 24/7!!! And this how you do me!!! You expect me to learn from this???How??? I'll never forget this!! Ever!! Thx Tho."
Dick move, Steve. Do you really think God pays attention to anyone who plays for the Buffalo Bills? God gave up on those clowns after Scott Norwood shanked the potential game-winning field goal in Super Bowl XXV.
Lazarus of the Week
Deion Branch (3 catches 113 yards, 2 TD) – Who the @#$% resurrected this stiff? It was a Thanksgiving to remember for Branch, who looked like a professional wide receiver for the first time in five years. It helped to have Tom Brady as his quarterback, and to beat up on a lazy Lions defense, but Deion was dy-no-mite for one week.
Sign of the Apocalypse
Pop culture trends that signal the end is nigh.
FFJ is patiently awaiting for Pestilence and the rest of his pals to be unleashed upon the Earth. The signs are abundant: endless wars, catastrophic natural disasters, needless poverty, and love dolls inspired by the skanks from MTV's Jersey Shore: (Via Buzzfeed)
Yeah, humanity is doomed.
Keeping Tabs on FFJ's Teams
FFJ is the proud owner of two fake teams. Let's see how they're doing.
Big Ben's House of Sin (6-6) – The Sin would like to personally thank Chris Johnson and DeSeansational for dealing a severe blow to their playoff aspirations. It's always wonderful when the highest-scoring team in the league drops a turd in back-to-back weeks.
Pagan Idolatry (8-4) – The two-game slide is over. Peyton Hillis and Michael Turner combine for 54 and the Pagans once again gain control of their division. The smell of playoffs is oh so sweet. As is the aroma of virgin blood.
Week 13 Lineup Advice From the Burning Bush
Start QB Mark Sanchez @ NE – Sanchez threw for 220 and three scores in the first meeting. The Pats secondary is ranked dead last in the league. With the Jets run game struggling as of late, they'll be forced to throw to keep pace.
Sit RB Darren McFadden @ SD – Run DMc has 18 carries for 16 yards in his last two games. The Chargers run defense yields a paltry 81 yards per game. The bush warns to look elsewhere, especially if you're battling for a playoff spot.
Start WR Johnny Knox @ DET – Knox has been more involved the last three games and even scored this past week. The Lions pass defense is more than generous. The bush feels good about rolling with the diminutive Bears wideout.
That does it for week twelve of the 2010 fantasy football campaign. FFJ will leave you with these parting words:
Ask and it will be given to you; seek and you will find; knock and the door to fantasy football glory will be opened to you.
---
As you know, this season Gunaxin is representing Old Spice in the Blogger Fantasy League. Each week, we'll try to post a small update, so you can follow our progress towards a championship which is still in reach. This week we kept hope alive by pulling out a 99-85 victory over Brian Bassett from The Jets Blog. We again rode strong performances from Mike Vick and Calvin Johnson while overcoming disappointing totals from Steven Jackson and Darren McFadden. This week we have the good fortune of facing the worst team in the league, Dan Levy's Press Coverage. On paper it looks like another winner for us, but stranger things have certainly happened in this league, so we're not taking any thing for granted. You can find a full wrap-up of the events of Week 12 from Jerod at Midwest Sports Fans, who seems delighted to be tied with us in the standings.
The P&G Blogger Fantasy League (BFL) is a group of 12 digital sports influencers competing on the NFL.com fantasy platform for the chance to win P&G product, a donation to a local charity, and a trip to Super Bowl XLV, all furnished by P&G. The NFL Entities have not offered or sponsored the sweepstakes in any way.