Fantasy Football Jesus – Week 13 Recap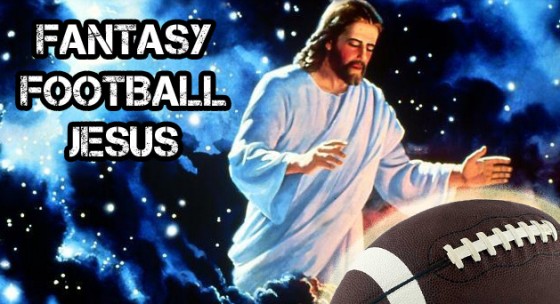 On the eighth day God created fantasy football… and with the first overall pick selected a tall, wiry signal caller from Nazareth by the name of Jesus.
Welcome to Fantasy Football Jesus. The only fantasy football column that's 100% Jesus approved. Here at FFJ, we wrap the week that was in fantasy football through the eyes of our Lord and Savior. Who was awe-inspiring? Who was awful? Who came through in the clutch? Who fell flat on their face? We will leave no stone unturned and pull no punches. Jesus shall forgive, but Jesus never forgets.
Now that we've dispensed with the pleasantries, let's get this party started right — with a musical interlude. Many a fantasy team owner is rejoicing the 34 points scored by the Saints. Praise Drew Brees, Chris Ivory, Marques Colston, Robert Meachem and Garrett Hartley. Hallelujah!
In lieu of a choir of angels, here is J. Cole rapping "Who Dat."
Bless the Saints for their bountiful point production. Now is the time when we exalt those who were glorious…
Week 13 Apostles
Tom Brady (21/29, 326 yards, 4 TD) – The Golden Boy humiliated a so-called fierce Jets defense in the Monday night spotlight. Hard to fathom, but Brady is playing better without Randy Moss. Wait, no it isn't. Randy Moss is a rotting pile of horse entrails. Tom Brady is a three-time Super Bowl champion.
Aaron Rodgers (21/30, 298 yards, 3 TD, 39 yards rushing) – Despite donning the most hideous throwback uniform FFJ has ever laid eyes on, Rodgers still managed to dissect the San Fran secondary. He hasn't thrown an interception since Week 7. By contrast, Peyton Manning has thrown 13 since Week 7. Weird.
Adrian Peterson (16 carries 107 yards, 3 TD) – Lost among the nonstop dramedy suffocating Minnesota has been another fine season from Peterson. Even with a couple nagging aliments, he has a realistic shot at the rushing title. However, with the Jets, Bears and Eagles upcoming, it will be a tall task.
Reggie Wayne (14 catches 200 yards, 1 TD) – At first glance, it might seem as if Reggie has had a down year in Indy. A closer inspection of the numbers reveals he's on pace to set a career high in receptions and possibly yards. There's been no more consistent wide receiver over the last seven seasons than Wayne.
And now is the time when we abase those who were garbage…
Week 13 Heathens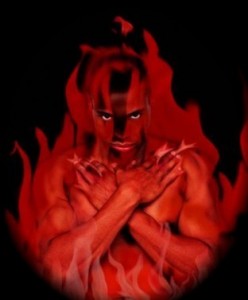 Mark Sanchez (17/33, 164 yards, 0 TD, 3 INT) – Can you say not ready for primetime? Yikes! Sanchez was the definition of dreadful against a beatable Patriots defense. It's back to the drawing board for Rex Ryan. FFJ is confident he'll feel better after staring at himself in the mirror and repeating "Bill Belichick is my bitch" over and over again.
Kyle Orton (9/28, 117 yards, 0 TD) – For the first time in 2010, Orton failed to throw a touchdown pass. The Broncos are an inept organization that just canned its pencil-necked pipsqueak for a coach, but it's hard to point a finger at the quarterback. FFJ fully endorses Orton and his nicely kempt beard.
Mike Tolbert (7 carries 16 yards, 6 catches 47 yards, 0 TD) – The Chargers as a collective shat a massive corn-filled dump all over Qualcomm Stadium on Sunday. The Apostle Mark turned to FFJ during the game and said the following: "Norv Turner needs to be dragged through the streets until he's dead." Seems a bit harsh, but FFJ isn't one to judge.
Dwayne Bowe (0 catches 0 yards, 0 TD) – His name is Champ Bailey. His name is Champ Bailey. His name is Champ Bailey. Bowe had been beating on the frail sisters of the NFL for weeks. Then he ran into the definition of a shutdown cornerback. Bowe knows embarrassment.
Now is the time when we hand out random acknowledgments…
The Wycheck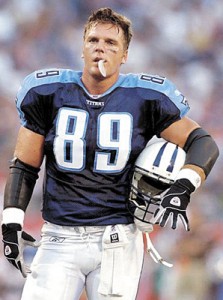 Given to the tight end who best exemplifies toughness and grace under pressure.
Vernon Davis (4 catches 126 yards, 1 TD) – It's been a rough 2010 for Vernon. Quarterback issues and injuries have limited his production. The old Vernon would've whined like a spoiled toddler, but the new Vernon just keeps on balling no matter how many frustrating losses the Niners endure. That's Wycheck material.
The Matt Leinart Award for QB Ineptitude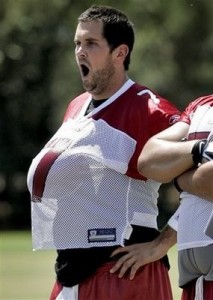 Kerry Collins (14/32, 169 yards, 0 TD, 2 INT) – That's all Kerry could muster against the 27th ranked Jags pass defense. He's no Rusty Smith, or Vince Young, but it's probably time for Collins to go where former first-round quarterbacks who never lived up to expectations go when they hang up the cleats: Real estate and/or used car sales.
Lazarus of the Week
Sidney Rice (5 catches 105 yards, 2 TD) – Who the [email protected]%# resurrected this stiff? FFJ surmises Rice was waiting for Tarvaris Jackson to take over the quarterbacking duties before blowing up. Or maybe he was waiting to face the horrific Bills defense? Whatever the case, those shrewd enough to stash Rice on their bench until now are reaping the rewards.
Sign of the Apocalypse
Pop culture trends that signal the end is nigh.
FFJ is patiently awaiting for Pestilence and the rest of his pals to be unleashed upon the Earth. The signs are abundant: endless wars, catastrophic natural disasters, needless poverty, and asinine theories suggesting the driver of the limousine killed Kennedy:
Yeah, humanity is doomed.
Keeping Tabs on FFJ's Teams
FFJ is the proud owner of two fake teams. Let's see how they're doing.
Big Ben's House of Sin (6-7) – A late season collapse has doomed the House of Sin. They will not be participating in the playoffs. Randy Moss's disappearing act, Pierre Garcon's underachieving and Chris Johnson's recent slump are to blame. Vickdemption and Arian Foster did what they could, but it wasn't meant to be.
Pagan Idolatry (8-5) – Another blah performance by Eli Manning cost the Pagans big time. They are now a game out of first place and in danger of missing the postseason. Peyton Hillis picked the wrong week to lay an egg. Curses!
Week 14 Lineup Advice From the Burning Bush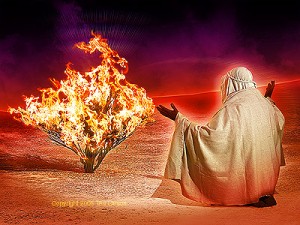 Start QB Joe Flacco @ HOU – Flacco has tossed for 801 yards and and six touchdowns in his last three road games. The Texans pass defense has allowed 27 scores and yields 288 yards per game. If you need a signal caller with a great matchup, look no further than Joey.
Start RB James Starks @ DET – The Pack has struggled on the ground since losing Ryan Grant. Starks gained 73 yards on 18 carries in his debut on Sunday. The Lions are giving up 127 yards against the run. If you're desperate for a runner, the bush believes Starks is worth the gamble.
Sit WR Larry Fitzgerald vs. DEN – It's difficult to bench Fitzy, but his quarterback is atrocious and Champ Bailey is capable of locking down the best of the best. Unless you have no other options, the bush advises you to look elsewhere.
That does it for week thirteen of the 2010 fantasy football campaign. FFJ will leave you with these parting words:
Love your fantasy football enemies and pray for those who persecute you.
---
As you know, this season Gunaxin is representing Old Spice in the Blogger Fantasy League. A few weeks ago we were left for dead, however with two victories in a row, we're now in the position to control our own destiny. Win and we're in… to the playoffs. But better yet, win three games in a row, and we're going to the Super Bowl baby! It all sounds so simple, until you remember that every other team is trying to do the same thing. This is probably the most competitive league we've ever been involved in, with 8 of the 12 teams in the league within 2 wins of each other. Dan Levy over at Press Coverage has broken down all of the playoff scenarios (oh, and we crushed him this week) which definitely required some higher level math.
The P&G Blogger Fantasy League (BFL) is a group of 12 digital sports influencers competing on the NFL.com fantasy platform for the chance to win P&G product, a donation to a local charity, and a trip to Super Bowl XLV, all furnished by P&G. The NFL Entities have not offered or sponsored the sweepstakes in any way.