Fantasy Football Jesus – Week 14 Recap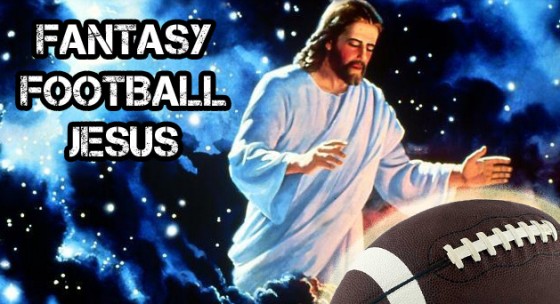 On the eighth day God created fantasy football… and with the first overall pick selected a tall, wiry signal caller from Nazareth by the name of Jesus.
Welcome to Fantasy Football Jesus. The only fantasy football column that's 100% Jesus approved. Here at FFJ, we wrap the week that was in fantasy football through the eyes of our Lord and Savior. Who was awe-inspiring? Who was awful? Who came through in the clutch? Who fell flat on their face? We will leave no stone unturned and pull no punches. Jesus shall forgive, but Jesus never forgets.
Now that we've dispensed with the pleasantries, let's get this party started right — with a musical interlude. Many a fantasy team owner is rejoicing the 38 points scored by the Jacksonville Jaguars. Praise David Garrard, Maurice Jones-Drew, Rashad Jennings, Mike Sims-Walker and Marcedes Lewis. Hallelujah!
In lieu of a choir of angels, here is Jacksonville's own Limp Bizkit singing "Rollin'."
Bless the Jaguars for their bountiful point production. Now is the time when we exalt those who were glorious…
Week 14 Apostles
Matt Schaub (31/62, 393 yards, 3 TD, 2 INT) – Things looked dire trailing 28-7 to the vaunted Ravens defense. Then Schuab went to work slicing and dicing, chucking and ducking, styling and profiling. It was a sight to behold and for all those fantasy owners bold enough to stick with Schaub, congrats. Houston lost, but who gives a turd?
Darren McFadden (16 carries 123 yards, 2 TD, 3 catches 86 yards, 1 TD) – When he's good, he's off the charts. When he's bad, he's off the wagon. Run DMc has proven to be a legit fantasy back in 2010. The only question is will he live up to his increased billing in 2011? FFJ remains skeptical.
DeSean Jackson (4 catches 201 yards, 1 TD) – DeSeansational bounced back in a big way down in Big D. He even acted like an ass on his touchdown catch. At least he remembered to bring the ball with him this time. Like McFadden, he runs hot and cold. But when he's hot, he sizzles like few others can.
Andre Johnson (9 catches 140 yards, 2 TD) – Simply put, he's a beast. Any questions?
And now is the time when we abase those who were garbage…
Week 14 Heathens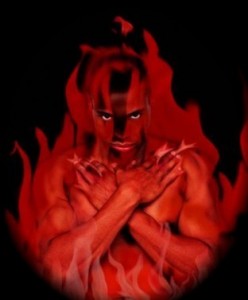 The Packers offense (66 yards rushing, 3 points, 2 interceptions, 1 fumble, one concussed QB) – True story. While playing Connect Four with John the Baptist last Friday, FFJ bore witness to the following declaration from the prognosticating preacher: "The Packers will lose to Detroit and miss the playoffs." FFJ laughed and replied, "You're insane, old man." The lesson here is never doubt JTB. The man is legendary.
Jamaal Charles (10 carries 40 yards, 0 TD) – The trickle down effect of losing Matt Cassel proved to be disastrous for the Chiefs' rushing attack. Charles will be okay. After inking a five-year, $32 million extension, he's probably lighting a Cuban cigar with a $100 bill while relaxing in a hot tub filled with Playboy models.
Mike Williams-Tampa (1 catch 15 yards, 0 TD) – Williams has become a weekly start in most leagues, which isn't bad for a rookie fourth-round pick with a checkered past. Somehow the dreadful Redskins secondary managed to hold him to one lousy grab. FFJ blames WikiLeaks.
Now is the time when we hand out random acknowledgments…
The Wycheck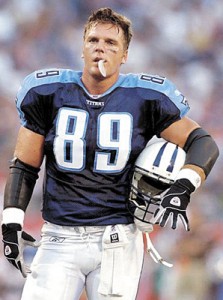 Given to the tight end who best exemplifies toughness and grace under pressure.
Jason Witten (7 catches 69 yards, 2 TD) – Nobody beats up Philly like Witten. He just has a way of making their linebackers and safeties look silly. He's not flashy or fast, but the man runs precise routes and knows how to make clutch catches in spotlight games. That's Wycheck material. 
The Matt Leinart Award for QB Ineptitude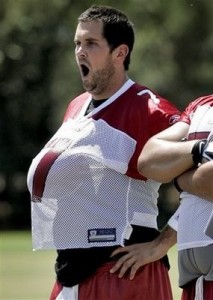 Brodie Croyle (7/17, 40 yards, 0 TD) – The Chargers have a solid defense, but 40 yards? In four quarters? Matt Cassel's exploding appendix could've thrown for 40 yards. Croyle's lack of football acumen and questionable arm strength makes him a perfect fit for either Carolina or Cleveland.
Lazarus of the Week
Alex Smith (17/27, 255 yards, 3 TD, 0 INT) – FFJ was certain Alex Smith had retired, been cut or, at the very least, was quarterbacking the Hamilton Tiger-Cats of the CFL. Turns out Smitty is still on the 49ers' roster and on Sunday he went about lighting up the woeful Seahawk defense. A Thursday-night trip to face the dangerous Bolts should return him to the ranks of bumbling fools where he so rightfully belongs.
Judas Kicker
No one betrays a team quite like the kicker.
Graham Gano and Hunter Smith – It was a two for one display of buffoonery in D.C. Kicker Graham Gano missed field goals of 34 and 24 yards, while punter Hunter Smith botched the hold on a potential game-tying extra point. Just more ammunition to support FFJ's argument that all footies should be banned from professional football.
Sign of the Apocalypse
Pop culture trends that signal the end is nigh.
FFJ is patiently awaiting for Pestilence and the rest of his pals to be unleashed upon the Earth. The signs are abundant: endless wars, catastrophic natural disasters, needless poverty, and really bad Christmas songs by German pop groups:
It's funny, but humanity is still doomed.
Keeping Tabs on FFJ's Teams
FFJ is the proud owner of two fake teams. Let's see how they're doing.
Big Ben's House of Sin (7-7) – Too little, too late for the Sin. They finish the season with a blowout victory and win the league's scoring title, but the crushing disappointment of not making the playoffs lingers. Nice to see Pierre Garcon finally do something. Jerk.
Pagan Idolatry (9-5) – Division champs. Highest scoring team in the league. Playoff bound. A pentagram burned into the earth followed by animal sacrifice and drunken frivolity is in order for the Pagans.
Week 15 Lineup Advice From the Burning Bush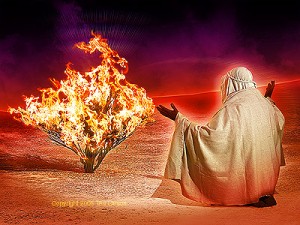 Sit QB Ryan Fitzpatrick @ MIA – Once the temperatures started to plummet, so did Fitzpatrick's stock. The Dolphins secondary has been stingy the last two weeks. If your'e in the playoffs, relying on the Harvard man would be unwise. Steer clear, sayeth the bush.
Start RB Tim Hightower @ CAR – Timmy is fresh off a 148 yard, 2 TD performance versus the Broncos. The Panthers run defense allows 132 yards per game and just got steamrolled by Michael Turner. The bush suggests you ride the hot back while you can.
Start WR Anthony Armstrong @ DAL – In desperate need of a wide receiver this week? Look no further than the big play Armstrong. If you've watched the Cowboys secondary recently then you're well aware how susceptible they are to deep throws.
That does it for Week 14 of the 2010 fantasy football campaign. FFJ will leave you with these parting words:
In the fantasy football world you will have trouble, but take courage for FFJ has conquered the fantasy football world.
---
As you know, this season Gunaxin is representing Old Spice in the Blogger Fantasy League. After demolishing Jerod Morris from Midwest Sports Fans in the final week of the regular season, 138 to 74, we're headed to the playoffs baby! RunDMc went nuts for us, and we also received strong performances from Vick, Witten, and Colston. Now we're two good weeks away from the big prize, or one bad week away from receiving nothing. We're going to face our Old Spice counterpart, Dan Shanoff, in the first week of the playoffs. For a full preview of the playoffs, check out Joe Sports Fan.
The P&G Blogger Fantasy League (BFL) is a group of 12 digital sports influencers competing on the NFL.com fantasy platform for the chance to win P&G product, a donation to a local charity, and a trip to Super Bowl XLV, all furnished by P&G. The NFL Entities have not offered or sponsored the sweepstakes in any way.