Fantasy Football Jesus – Week 15 Recap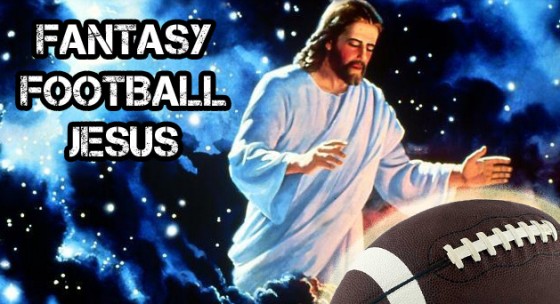 On the eighth day God created fantasy football… and with the first overall pick selected a tall, wiry signal caller from Nazareth by the name of Jesus.
Welcome to Fantasy Football Jesus. The only fantasy football column that's 100% Jesus approved. Here at FFJ, we wrap the week that was in fantasy football through the eyes of our Lord and Savior. Who was awe-inspiring? Who was awful? Who came through in the clutch? Who fell flat on their face? We will leave no stone unturned and pull no punches. Jesus shall forgive, but Jesus never forgets.
Now that we've dispensed with the pleasantries, let's get this party started right — with a musical interlude. Many a fantasy team owner is rejoicing the 33 points scored by the Dallas Cowboys. Praise Jon Kitna, Jason Witten, Miles Austin, Felix Jones, Tashard Choice and David Buehler. Hallelujah!
In lieu of a choir of angles, here is the opening theme to the classic '80s primetime soap opera, Dallas.
Bless the Cowboys for their bountiful point production. Now is the time when we exalt those who were glorious…
Week 15 Apostles
Michael Vick ( 21-35, 242 yards, 3 TD, 1 INT, 10 carries 130 yards, 1 TD) – At halftime, Vickdemption had 33 yards passing, zero touchdowns and a pick. With eight minutes to go, his Eagles trailed 31-10. What began as garbage time production turned into an amazing comeback victory and one of the best individual fantasy performances of the season. Can you say Top 3 pick in 2011? FFJ sure can.
Ray Rice (31 carries 153 yards, 1 TD, 5 catches 80 yards, 1 TD) – The little man from Rutgers single-handedly beat the Saints on Sunday and FFJ would posit, aided many fantasy owners to playoff or championship victories. Those who stuck with Rice through a rough patch are patting themselves on the back.
Vincent Jackson (5 catches 112 yards, 3 TD) – Remember this guy? After months of sitting on his ass and frustrating owners who drafted and stashed him, V-Jax finally made his presence felt by shredding the Niners soft secondary. If you're counting on him, pray he doesn't stage another holdout between now and Sunday.
And now is the time when we abase those who were garbage…
Week 15 Heathens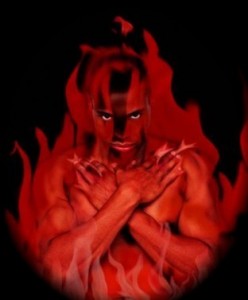 Carson Palmer (14/23 209 yards, 0TD) – FFJ hopes no one was relying on Palmer to lead them to fantasy glory. Perhaps a few desperate Aaron Rodgers owners were, but anyone else who slid him into their starting lineup must have been smoking some bad frankincense.
Maurice Jones-Drew (15 carries 46 yards, 2 catches 22 yards, 0 TD) – The best hyphenated name in the game had the perfect matchup entering Sunday's showdown in Indy. He'd rumbled for 100-plus yards in six straight and was facing the Colts 28th ranked run defense. What could possibly go wrong? Try everything. MJD owners can't be pleased by this effort.
Reggie Wayne (5 catches 34 yards, 0 TD) – Apostle Peter was decked out in his Wayne jersey on Sunday talking trash about how "his boy" was going to destroy the Jags "putrid secondary." When the final gun sounded, a despondent Peter could be seen slumped in his inflatable Colts chair babbling incoherently to himself. FFJ couldn't help but point and laugh.
Now is the time when we hand out random acknowledgments…
The Wycheck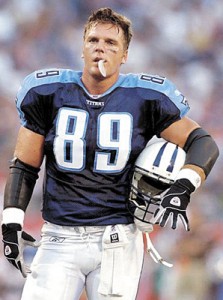 Given to the tight end who best exemplifies toughness and grace under pressure.
Jimmy Graham (5 catches 29 yards, 2 TD) – The rookie from Miami has been getting more and more playing time as the season progresses due to his athletic prowess and silky smooth hands. With the Saints studs either hobbled or shutdown, the youngster stepped up and kept his team in the game. That's Wycheck material.
The Matt Leinart Award for QB Ineptitude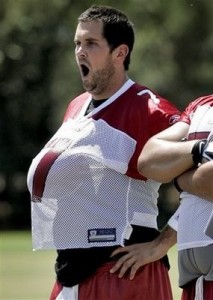 Matt Hasselbeck (10/17, 71 yards, 0 TD, 2 INT, 1 fumble lost, one benching) – How in holy Hades is this bum still a starting quarterback? He should be blinded, bound and held captive like Zedekiah after the siege of Jerusalem by Nebuchadnezzar.
Lazarus of the Week
Rex Grossman (25/43, 322 yards, 4 TD, 2 INT) – Who the $%#@ resurrected this stiff? FFJ credits the awfulness of the Cowboys defense more so than sexy Rexy. However, the fact that he looked like a professional quarterback for the first time in five years was impressive. By the way, how bad is Donovan McNabb if Grossman is capable of this kind of production? Just sayin'.
Judas Kicker
No one betrays a team quite like the kicker.
Dan Carpenter – The Dolphins footie missed not one, not two, not three, but count 'em, FOUR field goals in the 17-14 loss to the Bisons. The only suitable punishment for this kind of malfeasance is to be shot, hung and burned, but not necessarily in that order.
Sign of the Apocalypse
Pop culture trends that signal the end is nigh.
FFJ is patiently awaiting for Pestilence and the rest of his pals to be unleashed upon the Earth. The signs are abundant: endless wars, catastrophic natural disasters, needless poverty, and dog cleaning services:
Yeah, humanity is doomed.
Keeping Tabs on FFJ's Teams
FFJ is the proud owner of two fake teams. Let's see how they're doing.
Big Ben's House of Sin – Got the offseason golf game off to a great start by shooting a round of even par.
Pagan Idolatry (10-5) – Hello, Fantasy Super Bowl! Despite sitting Eli in favor of Freeman, the Pagans still conjure up a win thanks to Calvin Johnson and the Chargers defense/special teams. An evening of drunken debauchery awaits, bitches.
Week 16 Lineup Advice From the Burning Bush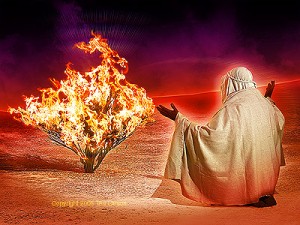 Start QB David Garrard vs. WAS – Garrard has accounted for a career-high 26 touchdowns in 2010, including six in the last three weeks. He also has a sweet matchup against the woeful Redskins. If you need a signal caller to help you reach the fantasy mountain top, the bush suggests you go with Dave.
Sit RB Peyton Hillis vs. BAL – The Great White Bull crushed the vaunted Ravens defense back in September to the tune of 180 total yards and a touchdown. It would be insane to sit him, right? Wrong. Hillis hasn't found the end zone in his last three starts and Baltimore is yielding only 94 yards per game. Start him if you must, but the bush advises owners to proceed with caution.
Sit WR Mario Manningham @ GB – The Packers will be in must-win mode against Big Blue. They have yielded only 14 touchdowns via the air, which is fourth best in the league. Mario has been hot lately, but he's done it against shamefully bad defenses. Green Bay is the opposite of shamefully bad.
That does it for week fifteen of the 2010 fantasy football campaign. FFJ will leave you with these parting words:
Ask and it will be given to you; seek and you will find; knock and the door to fantasy football glory will be opened to you.
---
As you know, this season Gunaxin is representing Old Spice in the Blogger Fantasy League. We're thinking about renaming our team "Butter", because we're on a roll. This is the very definition of peaking at the right time, as we've demolished our recent opposition. Dan Shanoff was the latest victim to fall, after Mike Vick decided to take over his game, and ours. Early on, the two of us were battling back and forth, and NFL.com's chart feature really shows the surge our team made in the 4th quarter of the early games to secure victory.
So now we have just one game separating us and the Super Bowl, as we're set to face Diana Klochova from National Football Post. Diana has assumed the position of the under dog, and points to the fact that our team has averaged 37 more points than hers in the past 3 weeks. While this is true, she did finish with the best record in the league, and has the advice of NFP's fantasy expert, Joe Fortenbaugh. Its tough to deny that our team looks better on paper, but we all know that winning a fantasy championship takes more than higher pre-game projections. Starting the right players, having them show-up to play, and doing so injury free are the keys to victory. In the biggest game of my 20 year fantasy football career, I only have control over one of those variables. So hopefully my wife will excuse me for yelling too loudly at the TV this Sunday, as its just about the only thing I can do at this point.
The P&G Blogger Fantasy League (BFL) is a group of 12 digital sports influencers competing on the NFL.com fantasy platform for the chance to win P&G product, a donation to a local charity, and a trip to Super Bowl XLV, all furnished by P&G. The NFL Entities have not offered or sponsored the sweepstakes in any way.