Fantasy Football Jesus – Week 16 Recap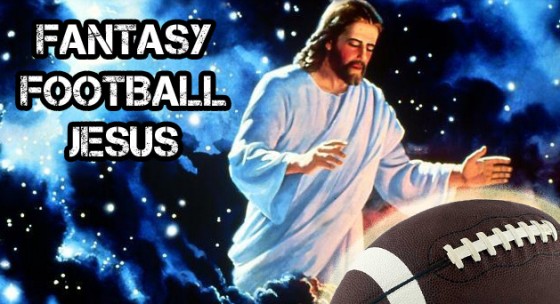 On the eighth day God created fantasy football… and with the first overall pick selected a tall, wiry signal caller from Nazareth by the name of Jesus.
Welcome to Fantasy Football Jesus. The only fantasy football column that's 100% Jesus approved. Here at FFJ, we wrap the week that was in fantasy football through the eyes of our Lord and Savior. Who was awe-inspiring? Who was awful? Who came through in the clutch? Who fell flat on their face? We will leave no stone unturned and pull no punches. Jesus shall forgive, but Jesus never forgets.
Now that we've dispensed with the pleasantries, let's get this party started right — with a musical interlude. Many a fantasy team owner is rejoicing the 38 points scored by the Chicago Bears. Praise Jay Cutler, Matt Forte, Johnny Knox, Devin Hester and Robbie Gould.
In lieu of a choir of angels, here is Chi-Town's own Wilco singing "I Am Trying to Break Your Heart."
Bless the Bears for their bountiful point production. Now is the time when we exalt those who were glorious…
Week 16 Apostles
Josh Freeman (21/26, 237 yards, 5 TD, 4 carries 23 yards) – If you were like FFJ and started Freeman in your championship matchup and won, then light up a cigar. The young Bucs signal caller was one of the pleasant surprises of 2010 and saved his best performance for when fantasy owners needed him most.
Matt Forte (19 carries 113 yards, 1 TD, 4 catches 56 yards) – FFJ would like to praise Forte for rebounding after a disastrous 2009 season. He was consistently good for owners this year and managed to render free agent arrival Chester Taylor a non-factor.
Dwayne Bowe (6 catches 153 yards, 1 TD) – Bowe still knows how to dominate. After snagging three balls for 56 yards in his previous three starts, the erratic Chiefs wideout delivered the goods for those bold enough to insert him in their starting lineups. FFJ is confident he'll be overvalued in drafts next summer. It's hard to ignore 15 touchdowns, but Bowe is still Bowe. Meaning, frustratingly unreliable.
And now is the time when we abase those who were garbage…
Week 16 Heathens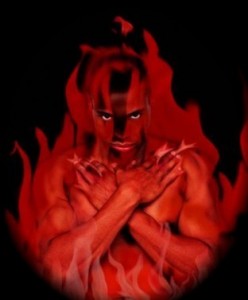 Ryan Fitzpatrick (18/37, 251 yards, 0 TD, 3 INT, 2 fumbles lost) – The bearded quarterback has been one of the bright spots in an otherwise forgettable season for the Bisons. 23 touchdowns and 15 picks is more than serviceable for a 4-11 team. However, he got Belichicked on Sunday and accounted for five turnovers. The Harvard man shouldn't get down, though. Many a signal caller has been embarrassed by the Patriots over the years.
Peyton Hillis (12 carries 35 yards, 0 TD, 1 catch 5 yards) – The Great White Bull was castrated by a ferocious Ravens defense. After abusing the blackbirds in September, Hillis continued his December slide on Sunday. FFJ warns against making Hillis a first-round selection in 2011. His bruising style makes him prone to injury and wearing down.
Anquan Boldin (2 catches 15 yards, 0 TD) – FFJ has ignored this bum for long enough. In his last eight games, Boldin has eclipsed 50 yards once and scored only two touchdowns. The same guy who torched the Browns for 142 yards and three trips for six in September did jack squat in the rematch. At this point, he's nothing more than a borderline number three receiver.
Now is the time when we hand out random acknowledgments…
The Wycheck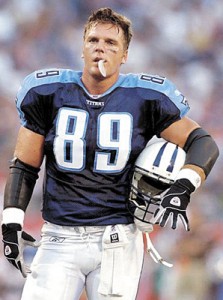 Given to the tight end who best exemplifies toughness and grace under pressure.
Kellen Winslow (7 catches 98 yards, 2 TD) – Despite a spate of nagging injuries, Winslow has quietly put together a solid 2010 season. He ruled the middle of the field versus Seattle and caught two of Josh Freeman's five touchdowns. He's displaying toughness and leadership for the first time in his career. That's Wycheck material.
The Matt Leinart Award for QB Ineptitude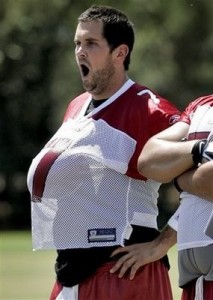 Jimmy Clausen (10/23, 72 yards, 0 TD, 1 INT) – Paging Cam Newton. Paging Andrew Luck. Safe to say, the Jimmy Clausen experiment seems to be winding down. Going back to Matt Moore ain't gonna happen. Is Chris Weinke still available? What about Vinny Testaverde? Wait… FFJ has it. Bring back Kerry Collins. That'll do the trick.
Lazarus of the Week
Correll Buckhalter (11 carries 42 yards, 1 TD, 3 catches 50 yards, 1 TD) – Who the @#$% resurrected this stuff? C-Buck has had more knee surgeries than King Solomon had wives. And yet, the Broncos back wouldn't be denied against a horrendous Texans defense. Maybe FFJ favorite Tim Tebow laid hands upon him prior to kickoff.
Judas Kicker
No one betrays a team quite like the kicker.
David Buehler – All the Cowboys footie had to do was convert a simple PAT and Dallas would walk away with a Christmas day victory. What did the waste of space do? He doinked it off the the left upright. Game over. Cardinals win. FFJ prays for the day when kickers are eliminated from football altogether.
Sign of the Apocalypse
Pop culture trends that signal the end is nigh.
FFJ is patiently awaiting for Pestilence and the rest of his pals to be unleashed upon the Earth. The signs are abundant: endless wars, catastrophic natural disasters, needless poverty, and Village People puppet shows:
Yeah, humanity is doomed.
Keeping Tabs on FFJ's Teams
FFJ is the proud owner of two fake teams. Let's see how they're doing.
Big Ben's House of Sin – Spent the week in a meth-infused haze regretting the decision to pass on Calvin Johnson and Roddy White in the second-round in favor of Randy Moss.
Pagan Idolatry (11-5) – Give it up for the Champs! Josh Freeman's career day was all it took to capture fantasy glory. A pentagram burned into the earth, animal bloodletting and copious amounts of sweet berry wine will be enjoyed by all. Bow to the Pagans, bitches.
Week 17 Lineup Advice From the Burning Bush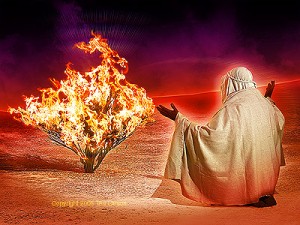 If you're still playing your fantasy playoffs it's time to get into a real league. Week 17 is a time to relax and reflect. Stay tuned next week when the Burning Bush unveils its 2011 Mock First Round.
That does it for the 2010 fantasy football campaign. Join FFJ next week for the Ultimate 2010 Fantasy Football Review. Until then, FFJ will leave you with these parting words:
Repent, for the kingdom of fantasy football is at hand.
---
As you know, this season Gunaxin is representing Old Spice in the Blogger Fantasy League. All good things must come to an end, and despite being projected for the easy victory, our team shit the bed and underperformed. Its tough to second guess our decisions, so instead we'll just blame it on overpaid inconsistent athletes. For a full recap of the action, and to put a wrap on the entire fantasy football season, check out the excellent write-up by Jerod over at Midwest Sports Fans.
The P&G Blogger Fantasy League (BFL) is a group of 12 digital sports influencers competing on the NFL.com fantasy platform for the chance to win P&G product, a donation to a local charity, and a trip to Super Bowl XLV, all furnished by P&G. The NFL Entities have not offered or sponsored the sweepstakes in any way.