Fantasy Football Jesus – Week 3 Recap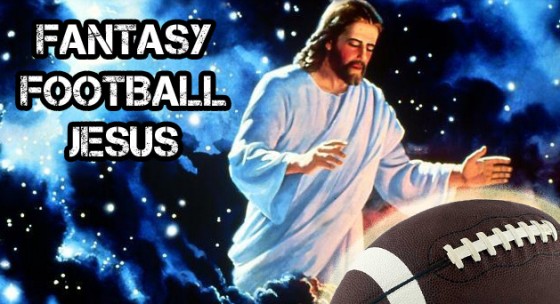 On the eighth day God created fantasy football… and with the first overall pick selected a tall, wiry signal caller from Nazareth by the name of Jesus.
Welcome to Fantasy Football Jesus. The only fantasy football column that's 100% Jesus approved. Here at FFJ, we wrap the week that was in fantasy football through the eyes of our Lord and Savior. Who was awe-inspiring? Who was awful? Who came through in the clutch? Who fell flat on their face? We will leave no stone unturned and pull no punches. Jesus shall forgive, but Jesus never forgets.
Now that we've dispensed with the pleasantries, let's get this party started right — with a musical interlude. Many a fantasy team owner is rejoicing the 38 points scored by the Pittsburgh Steelers: Charlie Batch, Rashard Mendenhall, Hines Ward, Mike Wallace, the defense/special teams. Hallelujah!
In lieu of a choir of angels, here are The Rave-Ups (originally from the 'Burgh) singing their '80s hit "Positively Lost Me" from the movie Pretty in Pink.
Bless the Steelers for their bountiful point production. Now is the time when we exalt those who were glorious…
Week 3 Apostles
Michael Vick (17/31, 291 yards, 3 TDs, 0 INT, 30 yards rushing, 1 TD) – Love him or loathe him, Vickdemption is quickly becoming the jewel of the 2010 fantasy campaign. If you were smart enough to snatch him off the waiver wire a couple weeks ago, light up a cigar and laugh maniacally. FFJ is predicting the inevitable fall from grace involving a whore and crackpipe before season's end, so ride the wave while it lasts.
Peyton Hillis (22 carries 144 yards, 1 TD, 7 catches 36 yards) – Ravens linebacker Terrell Suggs admitted he had no idea who Peyton Hillis was before facing him on Sunday. FFJ thinks Suggs might want to bone up on his pregame studies, but one can hardly blame him for being ignorant. Not since the golden era of Mike Alstott has a bruising white running back parted the green seas of the gridiron. Moses would be proud.
Austin Collie (12 catches 171 yards, 2 TDs) – Apologies to Anquan Boldin, who was spectacular on Sunday, but not since the golden era of Wes Welker has a white slot receiver parted the green seas of the gridiron (there is a theme here). FFJ is lashing himself daily for drafting Pierre Garcon instead of Collie. The moral here is never choose a dirty Frenchman over a clean-cut Mormon. Lesson learned.
And now is the time when we abase those who were garbage…
Week 3 Heathens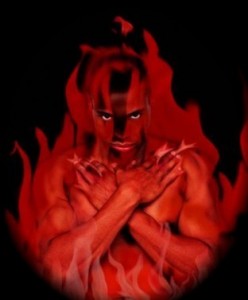 Carson Palmer (19/37, 195 yards, 1 TD, 2 INT) – FFJ's loyal disciple Bartholomew called Palmer a "castrated goat" after watching his dreadful performance versus the Panthers. That's what happens when Bartholomew gets into the wine purse. He also accused Matthew of stealing Jason Snelling on the waiver wire last week. Since Matthew used to be a tax collector, we're looking into the accusation.
DeAngelo Williams (10 carries 64 yards, 0 TDs) – In three games, Williams has amassed 200 total yards and scored zero touchdowns. Great numbers if you play for the UFL's Hartford Colonials, but not if you're a first-round fantasy running back. FFJ posits DeAngelo better get his act together or he'll be exiled to the land of unemployment alongside soon-to-be-fired head coach John Fox.
Marques Colston (4 catches 25 yards, 0TDs) – Rumor has it a Saints intern found a headless chicken in Colston's locker last Friday. FFJ is convinced he's been cursed by a Voodoo priest. Ya know, 'cause New Orleans is crawling with Voodoo. It's the only reasonable explanation for his horrific display this season. Get this guy a Gris-gris, immediately.
Now is the time when we hand out random acknowledgments…
The Wycheck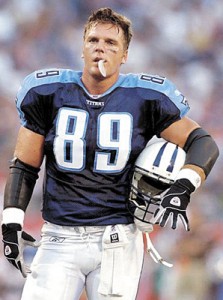 Given to the tight end who best exemplifies toughness and grace under pressure.
Tony Gonzalez (8 catches 110 yards, 1 TD) – Gonzo looked like a cripple in need of healing during his first two games. Well, apparently someone laid hands on him prior to Sunday's showdown because Tony G saved his best for the defending champion Saints. That's Wycheck material.
The Matt Leinart Award for QB Ineptitude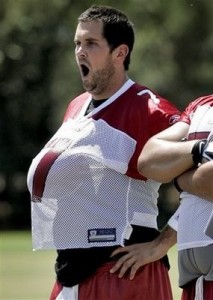 David Garrard (13/30, 105 yards, 0 TD, 1 INT) – FFJ has been plagued by the stink of Garrard in years past. Relying on him to lead a fantasy roster is akin to trusting Catholic priests to be alone with alter boys. Garrard is not a starting quarterback. Jack Del Rio will realize this when he's interviewing for the Lions linebackers coaching job in 2011.
Lazarus of the Week
Roy Williams (5 catches 117 yards, 2 TDs) – Who the %[email protected]# resurrected this stiff? Despite his tendency to be a lazy malcontent, FFJ admires Roy's perseverance. Just when you think the final nail has been hammered into his career coffin, he drops a pair of sixers in a must-win game. What to make of this stunning revelation? Not much. Roy boy is still the liver and onions of NFL wide receivers.
Judas Kicker
No one can betray a team quite like a kicker.
Garrett Hartley – From NFC Championship hero to backstabbing fiend. Hartley hooked a 29-yard field goal in overtime that cost the Saints a win on Sunday. It was his third miss of the season and could result in his dismissal. FFJ loves all God's children except for footies. A cauldron of boiling oil poured across his bare back seems like a fitting punishment for Hartley.
Sebastian Janikowski – Sea bass shanked a 32-yard field goal as time expired. It's the Raiders, so no one really cares about the miss, nor were they surprised by the news of Janikowski's failing. The dude should be serving drinks at a biker bar in Bakersfield, not kicking for a professional football team.
Sign of the Apocalypse
Pop culture trends that signal the end is nigh.
FFJ is patiently awaiting for pestilence and the rest of his pals to be unleashed upon the Earth. The signs are abundant: endless wars, catastrophic natural disasters, needless poverty, and videos of morons riding a mattress into a tree:
Yeah, humanity is doomed.
Keeping Tabs on FFJ's Teams
FFJ is the proud owner of two fake teams. Let's see how they're doing.
Big Ben's House of Sin (2-1) – The trio of Vick, DeSean and Chris Johnson combined for 77 to spearhead a crushing 60 point victory. The HoS is the highest-scoring team in the league and seems poised to make a run at the title. Time for a FFJ fist pump.
Pagan Idolatry (1-2) – Megatron and Marques Colston are killing the Pagans. And if Eli Manning throws one more ghastly interception, he's going to have a not-so pleasant encounter with a bicycle chain and lead pipe.
Week 4 Lineup Advice From the Burning Bush
Start: QB Bruce Gradkowski vs. HOU – The Texans secondary currently allows a disturbing 368 ypg. Gradkowski is hardly a world beater, but the chrome-domed signal caller known as 'Bruce Almighty' and 'Bruce GODkowski' loves to chuck the 'ol pigskin. The bush foresees close to 300 yards and two touchdowns.
Sit: RB Peyton Hillis vs. CIN – After his week three coming-out party, Hillis won't be sneaking up on anyone. The Bengals D has yet to allow a 100-yard rusher and will stack the box to stuff the Browns ground game. You'll thank the bush for steering you elsewhere after Peyton flops.
Start: WR Robert Meachem vs. CAR – Bob Meachem has been a complete bust. Four grabs for 38 yards is grounds for banishment from the league. However, the last two times he faced the Cats in the Superdome he posted 3/36/1 and 5/98/1. The bush is digging deep on this one, but has a good feeling.
That does it for week three of the 2010 fantasy football campaign. FFJ will leave you with these parting words:
We have a message about Fantasy Football Jesus. Do you believe in Fantasy Football Jesus?
---
As you know, this season Gunaxin is representing Old Spice in the Blogger Fantasy League. Each week, we'll try to post a small update, so you can follow our progress. After starting the season 2-0, this week we faced off against Jerod Morris from Midwest Sports Fans. About 15 minutes prior to the game, we reached that point where we over-prepared for the week, and looked at one too many projections. This is when self doubt crept in, and we decided to bench our first round pick, Steven Jackson. There was solid thinking behind this move, with Jackson facing Washington who hadn't given up much on the ground, we replaced him with Pierre Thomas (a 3rd round selection) who was facing the Falcons who had given up back to back good weeks against opposing running backs. I could sit here and defend the choice all day long, but the end result was Thomas struggling to get 9 points, and Steven Jackson outscoring that in the first 5 minutes of his game. So we lost, by 2 points. Despite Jackson's injury, that one decision cost us the game.
However everyone makes those decisions when they put together their roster. Our opponent Jerod pointed out on Twitter that he also made some poor lineup decisions, so in the end you go to battle with the players you decided to start, and hope for the best. The two of us were tied going into Sunday Night, with two players each remaining. Morris took a 21 point lead after Brandon Marshall's solid performance on Sunday night, so I was left to hope for a great game by Jermichael Finley and Robbie Gould. The NFL's Fantasy Site projected that Finley would score 24, but I knew that number was crazy. In the end, as I said, we fell 2 points short. Those two points could have come from Gould's missed 1st quarter FG, or Finley's TD that was called back for a holding penalty, or they could have come from Steven Jackson sitting on our bench. Either way, they didn't come, and thus the drama of a Fantasy Football season unfolds, and we fall to 2-1.
So after three weeks in the P&G Blogger Fantasy League, we have no undefeated teams left. What we have instead is some crazy parity with 8 of the 12 teams currently at 2-1. This is made possible by the fact that Team Gillette, represented by Dan Levy and Will Brinson are a combined 0-6. Go get em boys, way to represent! Team Old Spice is really laying the lumber though, with Dan Shanoff's team currently ranked #1 overall, and our Team Gunaxin coming in at #3.
The P&G Blogger Fantasy League (BFL) is a group of 12 digital sports influencers competing on the NFL.com fantasy platform for the chance to win P&G product, a donation to a local charity, and a trip to Super Bowl XLV, all furnished by P&G. The NFL Entities have not offered or sponsored the sweepstakes in any way.