Fantasy Football Jesus – Week 4 Recap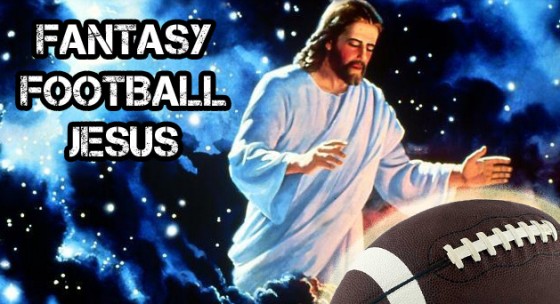 On the eighth day God created fantasy football… and with the first overall pick selected a tall, wiry signal caller from Nazareth by the name of Jesus.
Welcome to Fantasy Football Jesus. The only fantasy football column that's 100% Jesus approved. Here at FFJ, we wrap the week that was in fantasy football through the eyes of our Lord and Savior. Who was awe-inspiring? Who was awful? Who came through in the clutch? Who fell flat on their face? We will leave no stone unturned and pull no punches. Jesus shall forgive, but Jesus never forgets.
Now that we've dispensed with the pleasantries, let's get this party started right — with a musical interlude. Many a fantasy team owner is rejoicing the 41 points scored by the San Diego Chargers. Praise Philip Rivers, Antonio Gates, Mike Tolbert, Ryan Mathews, Nate Kaeding, the defense/special teams. Hallelujah!
In lieu of a choir of angels, here is San Diego's own Blink-182 singing "Down."
Bless the Chargers for their bountiful point production. Now is the time when we exalt those who were glorious…
Week 4 Apostles
Kyle Orton (35/50, 341 yards, 2 TDs, 1 INT) – Orton is an FFJ type of player. He's very workmanlike in his approach, is capable of growing a full beard and isn't afraid to call a spade a spade. After leading his charges to a last minute victory, Orton accused the Titans defenders of playing a "cheap" brand of football. Not good, or tough, but cheap. Kyle Orton is the Ben-Hur of quarterbacks.
LaDainian Tomlinson (19 carries 133 yards, 2 TDs, 3 catches 22 yards) – Peter turned to FFJ on Sunday afternoon and boasted he could run for a 100 yards against the Bills putrid defense. He's been clocked in the 4.4 range on sand, so he might be right. That being said, Tomlinson's Broadway revival has been a wonder to behold. Jets coach Rex Ryan was so excited with LT's performance that he smashed him in the face with a cricket bat. Rex Ryan is funny.
Calvin Johnson (6 catches 86 yards, 2 TDs) – The Lions finally figured out their best chance to score is to chuck the ball to Megatron over and over and over again. Some will get picked off, others will go for touchdowns. It's not a very sophisticated offensive gameplan, but it's the Lions. They're destined to lose. Might as well make it entertaining for fantasy enthusiasts.
The Patriots defense/special teams (4 interceptions, 2 sacks, 3 total touchdowns) – Evidently the Dolphins don't practice boring things like kickoff coverage and field goal/punt protection. Evidently Chad Henne doesn't practice basic things like smart decision-making and precision passing. Oh well. At least they have a bye week to correct the mistakes that should have been corrected two months ago.
And now is the time when we abase those who were garbage…
Week 4 Heathens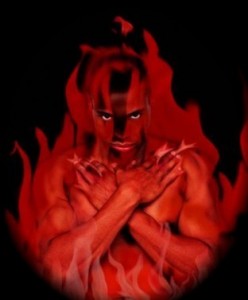 Jay Cutler (8/11, 42 yards, 0 TD, 1 INT, 1 fumble lost, one concussion) – Bad-haired Jay looked like his spastic self on Sunday night. He held the ball too long, made indecisive throws, endured nine sacks and fumbled three times. It's the world according to Mike Martz. A world where quarterbacks either throw for 300 yards on gameday or end up in a body bag.
Cedric Benson (15 carries 60 yards, 0 TD) – Cedric the Intoxicater is and always has been overrated. He's scored 21 touchdowns in six seasons and has a career per carry average of 3.8. Rams backup runner Kenneth Darby had one touch on Sunday and racked more fantasy points than Benson. FFJ has determined the Bengals back to be a pox on fantasy football.
Randy Moss (0 catches 0 yards, 0 TDs, one dropped TD, zero effort) – Randy doesn't feel wanted. Randy doesn't feel appreciated. Randy wants respect. Randy wants a new contract. WAAAAAAAHHH!!! Randy needs a bottle and bib. Randy needs a diaper change. Randy is a miserable malcontent who cost many a fantasy owner a win Monday night, FFJ included. Stoning is wrong, but…
DeSean Jackson (3 catches 19 yards, 0 TD) – Follow the bouncing ball. Michael Vick exits the game injured. Kevin Kolb enters. The Redskins defense laughs. Kolb checks down forty times. DeSean Jackson is rendered useless. How long is Vick going to be out? Kevin Kolb is the second coming of Jason Campbell. FFJ foresees a multi-year contract for Vickdemption and Kolb wearing Browns orange and white in 2011.
Now is the time when we hand out random acknowledgments…
The Wycheck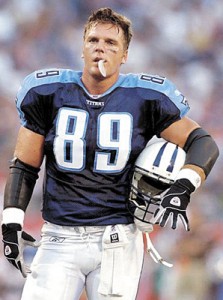 Given to the tight end who best exemplifies toughness and grace under pressure.
Antonio Gates ( 7 catches 144 yards, 2 TDs) – Gates' profound greatness has been evident for years. Stopping him is next to impossible. He toys with good defenses and embarrasses bad ones. He is a true Goliath. That's Wycheck material.
The Matt Leinart Award for QB Ineptitude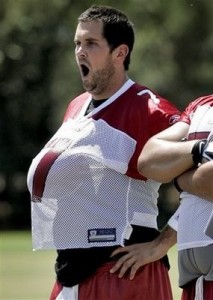 Derek Anderson (7/14, 64 yards, 0 TDs, 2 INTs, one benching) – Matt Leinart must be thinking, "They cut me for this asshat?" FFJ has been watching football for a couple thousand years and has witnessed many a shameful signal caller. Without an ounce of hyperbole, Anderson is by far the worst. May a plague of locusts beset his home and drive him from the desert like a penniless beggar.
Lazarus of the Week
Terrell Owens (10 catches 222 yards, 1 TD) – Who the #@%$ resurrected this stiff? TO hasn't been fantasy relevant since 2008. Too bad he doesn't face the Browns every week. The beauty of Mr. Me is he couldn't care less the Bengals lost. As long as he gets some spotlight time, it counts as a win in his book.
Sign of the Apocalypse
Pop culture trends that signal the end is nigh.
FFJ is patiently awaiting for pestilence and the rest of his pals to be unleashed upon the Earth. The signs are abundant: endless wars, catastrophic natural disasters, needless poverty, and videos of Filipino flight attendants dancing to songs by Lady Gaga:
Yeah, humanity is doomed.
Keeping Tabs on FFJ's Teams
FFJ is the proud owner of two fake teams. Let's see how they're doing.
Big Ben's House of Sin (2-2) – Once Mike Vick got sandwiched, it was curtains for the Sin. Randy Moss needed to deliver one of his signature 100-plus yards/multiple TD games to secure a stunning come from behind triumph. His final stats were 0/0/0. Thanks, Randy — thanks a lot. Dick. (That wasn't very Christian, but…)
Pagan Idolatry (2-2) – The awakening of Megatron and the acquisition of Peyton Hillis proved to be a winning prescription. A celebratory bottle of virgin blood was passed around Pagan team headquarters on Sunday. It was a good day.
Week 5 Lineup Advice From the Burning Bush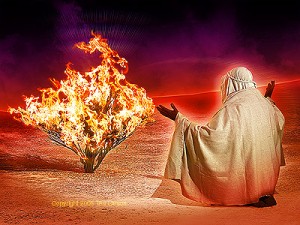 Start QB Sam Bradford @ DET – Young Sammy has tossed for 524 yards and three touchdowns in his last two starts. The Lions secondary allows on average 241 ypg and has yielded 8 scores. The bush feels Bradford will make a nice bye week/injury fill-in for those in need of a serviceable quarterback.
Start RBs Pierre Thomas/Ladell Betts/Chris Ivory vs. ARZ – Whichever Cajun back takes the field on Sunday, make sure he's in your lineup. The Cards run defense has awarded 100-yard games to Jason Snelling, Darren McFadden and Mike Tolbert. Not exactly a Hall of Fame trio. Start the Saints backfield with confidence, sayeth the bush.
Sit WR Malcolm Floyd @ OAK – Nnamdi Asomugha and the Raiders stingy pass defense is ranked third in the league. No wideout has surpassed 100 yards and both Larry Fitzgerald and Kevin Walter have struggled to find room to roam. Floyd has been a pleasant surprise so far, but he's hardly reliable. The bush advises owners to consider other options.
That does it for week four of the 2010 fantasy football campaign. FFJ will leave you with these parting words:
Love the Fantasy Football Jesus with all your passion and prayer and intelligence. Love others as well as you love yourself.
As you know, this season Gunaxin is representing Old Spice in the Blogger Fantasy League. Each week, we'll try to post a small update, so you can follow our progress. This week we fell to 2-2 with a disappointing loss to Josh Zerkle (PUNTE) from With Leather. Injuries are officially a problem with this team now, as Pierre Thomas and Donald Brown were inactive for Week 4, and Steven Jackson was benched for the second week in a row due to uncertainty. All of that, we could handle, but the loss of Vick and McFadden during the game proved to be too much for Team Gunaxin. Zerkle's Giants Defense put the final nail in the Week 4 coffin on Sunday night, and also knocked out our backup, Jay Cutler.
To hear a tale of how Brian Basset's Monday Night Miracle victory over Diana Klochova, check out his article on The Jets Blog. Then check out Dan Levy's recap post about his 0-4 team and the rest of the league. He also has more on that Kolb – Vick situation that we discussed a few weeks back.
The P&G Blogger Fantasy League (BFL) is a group of 12 digital sports influencers competing on the NFL.com fantasy platform for the chance to win P&G product, a donation to a local charity, and a trip to Super Bowl XLV, all furnished by P&G. The NFL Entities have not offered or sponsored the sweepstakes in any way.