Fantasy Football Jesus – Week 5 Recap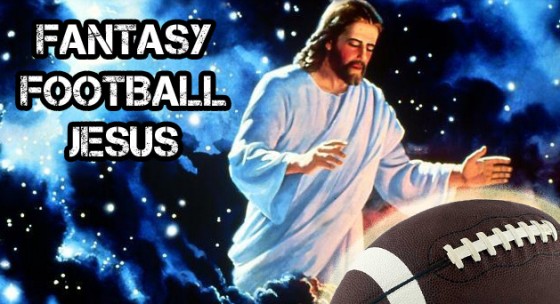 On the eighth day God created fantasy football… and with the first overall pick selected a tall, wiry signal caller from Nazareth by the name of Jesus.
Welcome to Fantasy Football Jesus. The only fantasy football column that's 100% Jesus approved. Here at FFJ, we wrap the week that was in fantasy football through the eyes of our Lord and Savior. Who was awe-inspiring? Who was awful? Who came through in the clutch? Who fell flat on their face? We will leave no stone unturned and pull no punches. Jesus shall forgive, but Jesus never forgets.
Now that we've dispensed with the pleasantries, let's get this party started right — with a musical interlude. Many a fantasy team owner is rejoicing the 44 points scored by the Detroit Lions. Praise Shaun Hill, Calvin Johnson, Brandon Pettigrew, Jason Hanson and the defense/special teams. Hallelujah!
In lieu of a choir of angels, here is Michigan's own Kid Rock singing "Bawitdaba" from Woodstock '99. (NSFW due to language and boobies.)
Bless the Lions for their bountiful point production. Now is the time when we exalt those who were glorious…
Week 5 Apostles
Philip Rivers (27/42, 431 yards, 2 TDs, 0 INT) – Rivers' very hateable face reminds FFJ of a Centurion's, which conjures nothin' but bad memories. Nevertheless, his 1759 passing yards tops all quarterbacks and his eleven touchdowns are tied for first. He might be a douche, but he sure can sling the ol' pigskin.
Ray Rice (27 carries 133 yards, 2 TDs, 4 catches 26 yards) – Welcome to 2010, Ray Rice. After shatting the mattress for a month, Raymond from Rutgers took out his mounting frustrations on the punchless Broncos defense. An upcoming schedule versus the Pats, Bills, Dolphins and Panthers has FFJ pondering a potential trade to acquire Rice's services.
Brandon Lloyd (5 catches 135 yards, 2 TDs) – True story. Mary Magdalene nabbed Lloyd in the 14th round of her draft and prophetically declared him to be the steal of 2010. Luke and Mark proceeded to lambaste her with insults regarding her sexual proclivities. Well, Lloyd leads all receivers in yards and is averaging a whopping 19.6 yards per catch. The moral here is don't offend the honor of a lady. Luke and Mark should know better.
The Raiders defense/special teams (3 sacks, 2 blocked punts, 2 total touchdowns) – How Norv Turner keeps his job remains a mystery inside an enigma wrapped around a riddle. He has to be the worst big name head coach in the league not named Wade Phillips. Props to da Raiders, who hadn't beaten the Bolts since 2003.
And now is the time when we abase those who were garbage…
Week 5 Heathens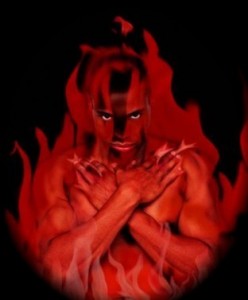 Peyton Manning (26/44, 244 yards, 0 TD, 1 INT) – For mere mortals, this was a okay game. For the Jesus of quarterbacks, it was deplorable. Under 300 yards with no touchdowns is blasphemous. FFJ said six Hail Marys for Peyton after the game, so he should be good to go next week against the 'Skins.
Arian Foster (11 carries 25 yards, 2 catches 2 yards, one knee injury) – FFJ likes the Foster who skips meetings and gets benched for a quarter more than the one who minds his p's and q's. He still leads the league in rushing, but the Texans offense is suffering from an identity crisis. Brace yourselves for maddening inconsistency from Foster the rest of the season.
Chad Ochocinco (3 catches 20 yards, 0 TDs) – More like Ocho "nada." See what FFJ did there? BOO!!! Sorry, that was lame. At any rate, now is the time to unload Chad. His quarterback stinks and that other Bengal receiver is hogging the spotlight like only he can. How do you say bust in Spanish?
Now is the time when we hand out random acknowledgments…
The Wycheck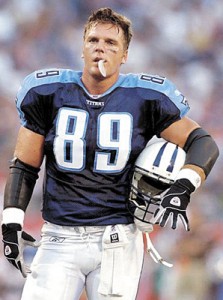 Given to the tight end who best exemplifies toughness and grace under pressure.
Marcedes Lewis (4 catches 54 yards, 2 TDs) – Could Lewis be a Messiah for the Jaguars erratic offense? The big man from UCLA has five touchdowns on 16 receptions. He's money in the red zone and isn't afraid to get down 'n' dirty to block for the best hyphenated name in the game. That's Wycheck material.
The Matt Leinart Award for QB Ineptitude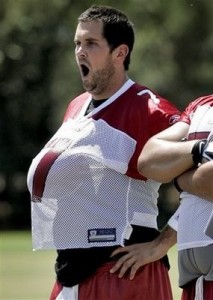 Todd Collins (6/16, 32 yards, 0 TD, 4 INTs, one benching) – Good Lord! Witnessing a public stoning is less painful than watching this disgusting display of signal caller suckitude. FFJ had to avert his eyes every time Collins dropped back to pass. He should never be allowed to don a professional uniform again. Ghastly doesn't adequately describe how dreadful it really was.
Lazarus off the Week
Michael Crabtree (9 catches 105 yards, 1 TD) – Who the #%[email protected] resurrected this stiff? Crabs stopped pouting and actually looked like a wide receiver for once, although it helped that Eagles Pro Bowl corner Asante Samuel missed the game. Since the Niners are 0-5 and heading nowhere, it's inevitable Crabtree will resume the infant-like behavior relegated to monumental first-round failures.
Wonder of the Week
Steve Johnson (5 catches 46 yards, 2 TDs) – FFJ grew up with a kid named Steve Johnson. When he was ten, he got shot in the face with a potato gun. From that point on he was known as Mr. Potato Head. This has nothing to do with the Bills wide receiver, but it makes for a mildly amusing anecdote. As for Johnson, he's a Bill, so don't rush out to pick him up unless you're desperate.
Sign of the Apocalypse
Pop culture trends that signal the end is nigh.
FFJ is patiently awaiting for pestilence and the rest of his pals to be unleashed upon the Earth. The signs are abundant: endless wars, catastrophic natural disasters, needless poverty, and videos of man vs. dog eating contests:
Yeah, humanity is doomed.
Keeping Tabs on FFJ's Teams
FFJ is the proud owner of two fake teams. Let's see how they're doing.
Big Ben's House of Sin (2-3) – From the highest scoring team to bottom-dweller in two short weeks. Such is life for a fantasy football owner. Arian Foster and DeSean Jackson's Houdini acts are to blame, as is Vickdemption's cracked rib cartilage. Might be time for the Sin to give rookie sensation Mike Williams and the bruising Ahmad Bradshaw some PT.
Pagan Idolatry (3-2) – Despite losing both Jermichael Finley and Mark Clayton in the first quarter on Sunday, the Pagans rode Eli Manning and the Titans defense to a 30-point victory. A celebratory midnight orgy involving Centaurs and tree nymphs is in order.
Week 6 Lineup Advice From the Burning Bush
The bush has been doused with dirt and exiled to a remote corner of the hottest desert on Earth. It shall return triumphantly next week, but after advising owners to start Sam Bradford and sit Malcolm Floyd, seven days of repenting is required. Luckily, FFJ is the forgiving kind.
That does it for week five of the 2010 fantasy football campaign. FFJ will leave you with these parting words:
Split a piece of wood and Fantasy Football Jesus will be there.
---
As you know, this season Gunaxin is representing Old Spice in the Blogger Fantasy League. Each week, we'll try to post a small update, so you can follow our progress. This week we fell to 2-3 as everyone on our team is injured, seriously. Since the draft, the following players have been effected by injury (round drafted) : Steven Jackson (1), Calvin Johnson (2), Pierre Thomas (3), Jay Cutler (5), Jermichael Finley (6), Dez Bryant (7), Donald Brown (8), Darren McFadden (10), Jacoby Jones (11), Laurent Robinson (12), Michael Vick (FA). Yeah, that is what you call being decimated by injury.
The P&G Blogger Fantasy League (BFL) is a group of 12 digital sports influencers competing on the NFL.com fantasy platform for the chance to win P&G product, a donation to a local charity, and a trip to Super Bowl XLV, all furnished by P&G. The NFL Entities have not offered or sponsored the sweepstakes in any way.