Fantasy Football Jesus – Week 6 Recap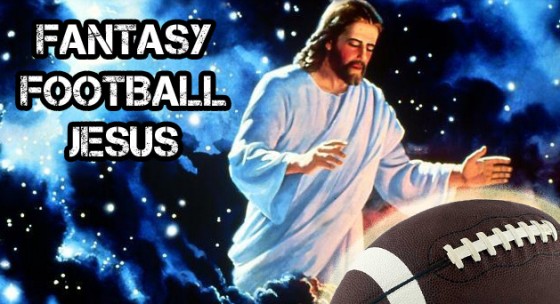 On the eighth day God created fantasy football… and with the first overall pick selected a tall, wiry signal caller from Nazareth by the name of Jesus.
Welcome to Fantasy Football Jesus. The only fantasy football column that's 100% Jesus approved. Here at FFJ, we wrap the week that was in fantasy football through the eyes of our Lord and Savior. Who was awe-inspiring? Who was awful? Who came through in the clutch? Who fell flat on their face? We will leave no stone unturned and pull no punches. Jesus shall forgive, but Jesus never forgets.
Now that we've dispensed with the pleasantries, let's get this party started right — with a musical interlude. Many a fantasy team owner is rejoicing the 35 points scored by the Houston Texans. Praise Matt Schaub, Arian Foster, Andre Johnson and Owen Daniels. Hallelujah!
In lieu of a choir of angels, here is Houston native Silm Thug rapping "Recognize a Playa." Yo.
Bless the Texans for their bountiful point production. Now is the time when we exalt those who were glorious…
Week 6 Apostles
Kevin Kolb (23-29, 326 yards, 3 TDs, 1 INT) – FFJ loves a good comeback story. Kevin Kolb is the definition of perseverance. Concuss him, bench him, curse him, flog him without mercy — nothing seems to bother the guy. FFJ eagerly awaits the Andy Reid press conference announcing Kolb as his starter the rest of the year. C'mon, ya know it's coming.
Ryan Torrain (20 carries 100 yards, 2 TDs) – Like Moses being rescued from the Nile as a babe, so was Ryan Torrain saved from NFL obscurity by Mike Shanahan. With Clinton Portis sidelined, Torrain is leading the Exodus in the Redskins backfield. Expect him to continue parting defenses with upcoming matchups against the Bears and Lions.
Jeremy Maclin (7 catches 159 yards, 2 TDs) – The other Eagles wide receiver is pretty darn good. Once D-Jax went down in a heap of daze and confusion, J-Mac became a dominant force. He leads the Birds in receptions and is tied among all wideouts with six scores.
And now is the time when we abase those who were garbage…
Week 6 Heathens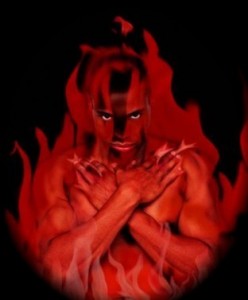 Jay Cutler (17-39, 290 yards, 0 TD, 0 INT) – Mad scientist Mike Martz strikes again. Cutler was sacked six more times on Sunday and failed to convert a third down conversion (0-12). The Bears offense is a disaster in the making. They can't and won't run, have zero receivers of note and are unable to protect the passer. FFJ suggests trading Cutler now before things get really ugly in Chi-town.
Jahvid Best (12 carries 16 yards, 6 catches 31 yards, 0 TD) – The Prodigal Child has fallen from grace. He hasn't found the end zone since week two and is averaging a paltry 3.2 ypc through six games. FFJ still likes his prospects, but the quarterback conundrum in Detroit won't help his cause.
Hakeem Nicks (3 catches 8 yards, 0 TD) – What in Hades happened here? At home against the Lions, Nicks pulled a complete Houdini act. Some guy named Bear Pascoe had more receiving yards. No reason to panic yet. However, there's always the risk Eli Manning goes full retard, which would kill Nicks' stock.
Now is the time when we hand out random acknowledgments…
The Wycheck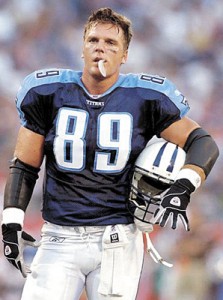 Given to the tight end who best exemplifies toughness and grace under pressure.
Ben Watson (6 catches 88 yards, 1 TD) – Not since the golden days of Ozzie Newsome has a Browns tight end looked so good. Okay, that's a stretch, but Watson has snagged 29 balls for 318 yards and a pair of scores in six games without a modicum of consistency from the quarterback position. That's Wycheck material.
The Matt Leinart Award for QB Ineptitude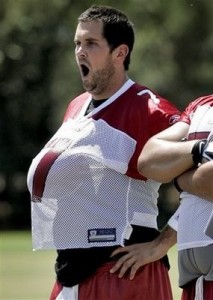 Jason Campbell (8-21, 83 yards, 0 TD, 2 INT) – How does Campbell still have a NFL job? No, really. FFJ can recognize a loser from a hectare away — Campbell is a loser. A potted plant has a better chance of throwing a touchdown pass than Campbell. A blind, club-footed beggar has more charisma than Campbell. A bag of rocks is… you get the point. Jason Campbell is a blight on professional football.
Lazarus of the Week
Dwayne Bowe (6 catches 108 yards, 2 TDs) – Who the #$%@ resurrected this stiff? Bowe's miraculous performance on Sunday is a testament to how putrid the Texans secondary is. FFJ walked on water once, so Bowe owners should be aware that crazy shit occurs now and again. Pay it no attention.
Crown of Thorns Candidate
Brandon Jacobs (9 carries 35 yards, 2 TDs) – Jacobs is a whining waste of space who refuses to go away. Ahmad Bradshaw owners, of which FFJ is one, are beyond perturbed by Jacobs' role as goal line touchdown thief. The portly pickpocket has swiped three scores from Bradshaw in the last two games. This must be put to a stop. A crown of thorns placed upon Jacobs' oversized skull should do the trick.
Sign of the Apocalypse
Pop culture trends that signal the end is nigh.
FFJ is patiently awaiting for pestilence and the rest of his pals to be unleashed upon the Earth. The signs are abundant: endless wars, catastrophic natural disasters, needless poverty, and videos of creepy Japanese robots dancing:
Yeah, humanity is doomed.
Keeping Tabs on FFJ's Teams
FFJ is the proud owner of two fake teams. Let's see how they're doing.
Big Ben's House of Sin (3-3) – The Sin needed this one badly and thanks to a pre-concussed DeSean Jackson, their prayers were answered. On a down note, Jackson's scrambled eggs brain will likely keep him sidelined for a few weeks. Danario Alexander? Come on down!
Pagan Idolatry (4-2) – A 17 point effort on Monday night by the Titans defense moves the Pagans into a tie for first place, despite a piss-poor effort from the backfield of Forte and Turner. An evening of celebratory animal sacrifice shall be enjoyed by all.
Week 7 Lineup Advice From the Burning Bush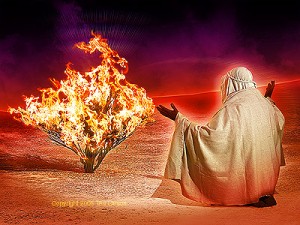 Start QB Matt Cassel vs. JAX – The bush is back and ready to crush. Matt Cassel is terrible, but he feasts on soft secondaries. The Jags allow over 280 yards through the air and will be traveling on a short week. Roll with Cassel, especially if you need a bye week fill-in.
Start RB Knowshon Moreno vs. OAK – Provided Moreno can survive a week of practice without coming up lame, he'll be an excellent start against a Raiders run defense that yields 150 yards on the ground. The bush forecasts around 90 yards and a touch for the Broncos back, if he can make it through warm-ups.
Start WR Jason Avant @ TEN – With DeSean Jackson out and Titans top cornerback Cortland Finnegan shadowing Jeremy Maclin, Eagles slot specialist Jason Avant should excel. Calvin Johnson, Andre Johnson, Reggie Wayne, Austin Collie, Bralyon Edwards and Santonio Holmes owners take heed. Avant should be available on your waiver wire.
That does it for week six of the 2010 fantasy football campaign. FFJ will leave you with these parting words:
Take courage! It is Fantasy Football Jesus. Don't be afraid.
---
As you know, this season Gunaxin is representing Old Spice in the Blogger Fantasy League. Each week, we'll try to post a small update, so you can follow our progress. This week we went up against the top scoring team in the league, Dan Shanoff's 99-Rated Swagger (also representing Old Spice) and slayed the dragon. Dan's team put up its lowest point total of the season, and we rode solid performances from our top 2 picks (Steven Jackson and Calvin Johnson) to victory and a 3-3 record. This week we hope to get some more players back from injury, so that we can field a full roster against Kyle Bunch's Febreeze Freshness.
The P&G Blogger Fantasy League (BFL) is a group of 12 digital sports influencers competing on the NFL.com fantasy platform for the chance to win P&G product, a donation to a local charity, and a trip to Super Bowl XLV, all furnished by P&G. The NFL Entities have not offered or sponsored the sweepstakes in any way.