Fantasy Football Jesus – Week 7 Recap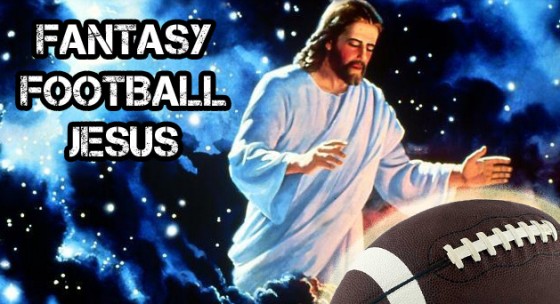 On the eighth day God created fantasy football… and with the first overall pick selected a tall, wiry signal caller from Nazareth by the name of Jesus.
Welcome to Fantasy Football Jesus. The only fantasy football column that's 100% Jesus approved. Here at FFJ, we wrap the week that was in fantasy football through the eyes of our Lord and Savior. Who was awe-inspiring? Who was awful? Who came through in the clutch? Who fell flat on their face? We will leave no stone unturned and pull no punches. Jesus shall forgive, but Jesus never forgets.
Now that we've dispensed with the pleasantries, let's get this party started right — with a musical interlude. Many a fantasy team owner is rejoicing the 59 points scored by the Oakland Raiders. Praise Darren McFadden, Michael Bush, Zach Miller, Sebastian Janikowski and the defense/special teams. Hallelujah!
In lieu of a choir of angels, here is Oakland's own Too $hort rapping "Blow the Whistle." Yo. 
Bless the Raiders for their bountiful point production. Now is the time when we exalt those who were glorious…
Week 7 Apostles
Ryan Fitzpatrick (29-43, 374 yards, 4 TDs, 2 INT) – FFJ would like to inform you that he once won a fake championship with Gus Frerotte under center. He won another with Tony Banks, and yet another with Tyler Thigpen. If you're hurting at quarterback, ignore the name on the jersey and pick Fitzpatrick up. The guy is fantasy frankincense.
Darren McFadden (16 carries 165 yards, 3 TDs, 2 catches 31 yards, 1 TD) – True story. FFJ was playing badminton last Wednesday with John the Baptist. After smashing the shuttlecock for a game-winning point, the Baptist turned and said the following: "Run DMc is primed to explode this week. I'm talking four touchdown explosion." FFJ laughed out loud and retorted, "You're nuts. McFadden is a bum." The moral here is never doubt JTB. He's legendary.
Kenny Britt (7 catches 225 yards, 3 TDs) – Kenny Britt is to the Eagles secondary as Joshua's Israelite army was to the city of Jericho. At one point in the fourth quarter yesterday, FFJ prayed to the Heavens for the Titans to stop throwing to Britt. It was a massacre of, well, Biblical proportions.
And now is the time when we abase those who were garbage…
Week 7 Heathens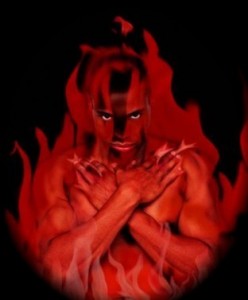 Jay Cutler (26-40, 281 yards, 1 TD, 4 INT) – FFJ is approaching broken record status with Cutler. The situation is getting uglier by the week. Considering the descent into Hell direction of both franchises, perhaps a late-night, under the radar quarterback swap between the Bears and Broncos is in order. Wait, didn't they already… oh yeah, never mind.
Rashard Mendenhall (15 carries 37 yards, 0 TD) – Credit the 'Phins defense for this clunker. Mendenhall is normally stout on Sundays. However, facing top notch defenses on the road has given him fits. Something to keep in mind if you're debating whether to start him or not.
Brandon Lloyd (1 catch 46 yards, 0 TD) – Who saw this coming? Try anyone who knows anything about fantasy football. Lloyd was playing WAY above his head and was primed for an epic face-plant. FFJ likes Lloyd's favorable schedule, but defensive coordinators are beginning to figure out Josh McDumbiels has no intention of running the ball, so a decline in production could be lying in wait.
Now is the time when we hand out random acknowledgments…
The Wycheck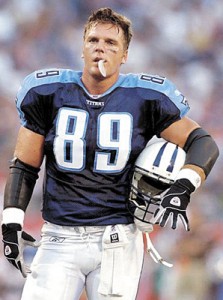 Given to the tight end who best exemplifies toughness and grace under pressure.
Todd Heap (3 catches 59 yards, 2 TD) – Without Heap, the Ravens would've likely lost to the lowly Bills. He's old, beat up and prone to getting blasted by illegal hits. Does he let that affect his game? Nah. All he does is keep on balling. That's Wycheck material.
The Matt Leinart Award for QB Ineptitude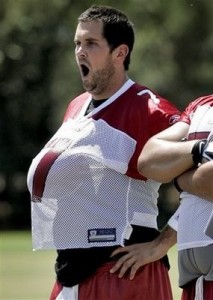 Max Hall (4-16, 13 yards, 0 TD, 1 INT, 1 fumble, one head injury) – The irony is not lost on FFJ that both Hall and Derek Anderson have won this oh-so coveted award in 2010. Matt Leinart was horrendous with the Cards, but was he really more pathetic than the clowns Ken Whisenhunt keeps marching out on a weekly basis? Are they allowed to draft Cam Newton right now? Probably not.
Lazarus of the Week
Lee Evans (6 catches 105 yards, 3 TD) – Who the #$%@ resurrected this stiff? FFJ honestly believed Evans to be deceased. He could have sworn he saw him standing in line at the Pearly Gates a few months ago. Oh well. Evans is alive and well and delivered one of his three annual awesome games on Sunday. He'll return to his normal 3 catches for 26 yards next week.
Wonder of the Week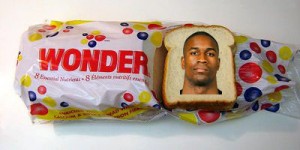 David Gettis (8 catches 125 yards, 2 TD) – A Panthers receiver not named Steve Smith going for 100-plus and two scores? It must have been raining frogs in Carolina. It's the only explanation for this stranger than strange occurrence. Then again, it did come against the calamity that are the San Francisco 49ers, so maybe it's not that shocking.
Sign of the Apocalypse
Pop culture trends that signal the end is nigh.
FFJ is patiently awaiting for Pestilence and the rest of his pals to be unleashed upon the Earth. The signs are abundant: endless wars, catastrophic natural disasters, needless poverty, and God-awful hoax videos of unicorns galloping through the forest:
Yeah, humanity is doomed.
Keeping Tabs on FFJ's Teams
FFJ is the proud owner of two fake teams. Let's see how they're doing.
Big Ben's House of Sin (3-4) – No DeSean Jackson and Arian Foster equals another excruciating loss for the Sin. Vickdemption can't get back fast enough. It would also be nice if Randy Moss could catch more than three balls a week. Dick.
Pagan Idolatry (5-2) – The Pagans are on fire. Marques Colston finally found the end zone and the opportunistic Titans D once again racked 16 crucial points. As long as Eli Manning keeps taking his anti-spaz medication, a playoff spot is within reach.
Week 8 Lineup Advice From the Burning Bush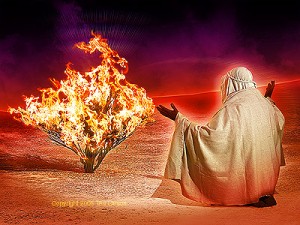 Sit QB Donovan McNabb @ DET – Donny Mac has been the model of inconsistency. He's yet to toss multiple TD passes in a game and has played horrible on the road. Believe it or not, the Lions have allowed only one quarterback to eclipse 250 yards. Look elsewhere, sayeth the bush.
Start RB Felix Jones vs. JAX – Cowboys runners have been unreliable to say the least. However, the Jags are incapable of playing physical on defense. They have allowed 389 yards and four scores on the ground the last two games. The bush loves Felix in this one.
Start WR Pierre Garcon vs. HOU – Worst pass defense in the league. Injuries to Austin Collie and Dallas Clark. Monday Night Football. Peyton Manning. It's the perfect scenario for Garcon to shine. The bush declares him the start of the week.
That does it for week seven of the 2010 fantasy football campaign. FFJ will leave you with these parting words:
Blessed are the pure in heart, for they shall see Fantasy Football Jesus.
---
As you know, this season Gunaxin is representing Old Spice in the Blogger Fantasy League. Each week, we'll try to post a small update, so you can follow our progress. Injuries and Bye weeks continue to be a problem. This week we were worried about starting Darren McFadden coming off his injury, so we went ahead and picked up Thomas Jones (dropping James Stewart), who played well, but not as well as Run DMc. Then we had a WR issue, so we dropped Ladell Betts and Brandon Tate and went for Robert Meachem and Steve Johnson. When Marques Colston cleared waivers on Sunday, we snagged him as well and dropped the disappointing Dez Bryant (oops). So apparently we should have dropped Meachem for Colston, as conventional wisdom would tell you that you don't want two receivers on the same team anyways. Net result, we lost again, falling 129 to 104. This week both of our Quarterbacks are on Bye (Cutler and Vick) so we have another roster issue to solve as we face Matt Sebek from Joe Sports Fan. Halfway into the fantasy season we are 3-4, and holding 7th out of 12.
The P&G Blogger Fantasy League (BFL) is a group of 12 digital sports influencers competing on the NFL.com fantasy platform for the chance to win P&G product, a donation to a local charity, and a trip to Super Bowl XLV, all furnished by P&G. The NFL Entities have not offered or sponsored the sweepstakes in any way.