Fantasy Football Jesus – Week 8 Recap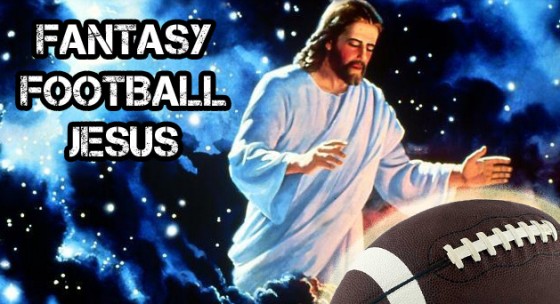 On the eighth day God created fantasy football… and with the first overall pick selected a tall, wiry signal caller from Nazareth by the name of Jesus.
Welcome to Fantasy Football Jesus. The only fantasy football column that's 100% Jesus approved. Here at FFJ, we wrap the week that was in fantasy football through the eyes of our Lord and Savior. Who was awe-inspiring? Who was awful? Who came through in the clutch? Who fell flat on their face? We will leave no stone unturned and pull no punches. Jesus shall forgive, but Jesus never forgets.
Now that we've dispensed with the pleasantries, let's get this party started right — with a musical interlude. Many a fantasy team owner is rejoicing the 38 points scored by the Tampa Bay Bucs. Praise Josh Freeman, LaGarrette Blount, Mike Williams and the defense/special teams. Hallelujah!
In lieu of a choir of angels, here is Tampa's preeminent death metal band Deicide screaming "When Heaven Burns." (Note: FFJ finds this kind of music to be blasphemous, not to mention incomprehensible.)
Bless the Bucs for their bountiful point production. Now is the time when we exalt those who were glorious…
Week 8 Apostles
David Garrard (17-21, 260 yards, 4 TD, 1 rushing TD) – Garrard's performance on Sunday is a testament to the putridity of the Cowboys defense. No legitimate defense should ever allow Garrard to dissect them like he were some future Hall of Fame quarterback rather than the borderline starter he really is. Fire Wade Phillips. Bench Mike Jenkins and Terrence Newman. Imprison Jerry Jones for fraud.
Jamaal Charles (22 carries 171 yards, 4 catches 61 yards) – Charles is running harder and better than Chris Johnson in 2010. FFJ likens Charles to the Apostle Paul, who ruled the gridiron as a youth growing up in Tarsus. He was known as "Posthaste Paul," the fastest halfback in Greece.
Calvin Johnson (9 catches 101 yards, 3 TD) – Welcome back, Matthew Stafford. Megatron was mega-wicked versus the Redskins. FFJ issued a plea a couple weeks ago for the Lions to involve Calvin more in the offense, if for no other reason than to please fantasy football enthusiasts. Apparently, they heeded his words.
And now is the time when we abase those who were garbage…
Week 8 Heathens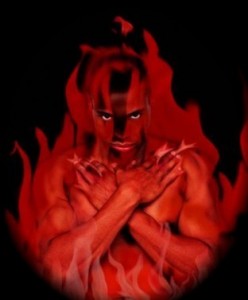 Aaron Rodgers (15-34, 170 yards, 0 TD) – Yeah, it was windy at the new Meadowlands Stadium. Okay, the Jets secondary is pretty solid. But under 200 yards and zero touchdowns for Mr. Rodgers is pathetic. Obviously the Pack offense misses Jermichael Finley. On the bright side, the Cowboys are up next, so Rodgers owners can start popping champagne now.
Marshawn Lynch (9 carries 7 yards, 0 TD) – Once a dud, always a dud. Lynch stunk in Buffalo and to no one's surprise he stinks in Seattle too. Against a Raiders defense ranked 26th against the run, Lynch averaged negative yards per carry. His longest run was seven yards, which means he gained 0 yards on his other eight totes. He is the definition of a "bum."
Randy Moss (1 catch 8 yards, 0 TD, zero effort) – Once FFJ watched Moss totally give up on a easy touchdown after being interfered with, he knew #84 was not long for Minnesota. Sadly, the bearded baby has once again lost interest in playing football. Next stop: how about Washington? Grossman to Moss would be epic.
Now is the time when we hand out random acknowledgments…
The Wycheck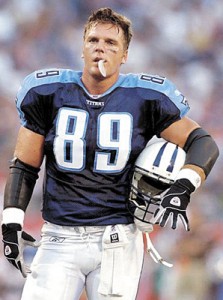 Given to the tight end who best exemplifies toughness and grace under pressure.
Jacob Tamme (6 catches 64 yards, 1 TD) – Filling in for an injured Dallas Clark, Tamme stepped into the Monday Night spotlight and became the latest scrub to be made fantasy relevant by Peyton Manning. Jacob is a strong Biblical name. Future success is all but assured. That's Wycheck material.
The Matt Leinart Award for QB Ineptitude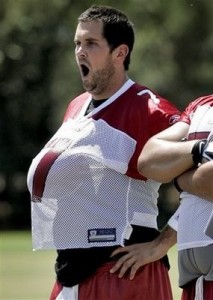 Matt Hasselbeck (13/32, 160 yards, 0 TD, 1 INT, one concussion) – The black hole claimed another victim on Sunday. The follicle challenged signal caller from the Pacific Northwest should probably retire, but he's a scrapper. FFJ likes scrappers; even ones who need to be put down like incontinent old dogs. Maybe Mike Shanahan can trade for Matty next March, then bench him in favor of Rex Grossman eight weeks into the 2011 season.
Lazarus of the Week
Darrius Heyward-Bey (5 catches 105 yards, 1 TD, 1 carry 30 yards) – Who the @#$% resurrected this stiff? Maybe it was the number change. Perhaps he was inspired by Darren McFadden's resurgence. Whatever the case, DHB's rise from the tomb of first-round busts was both a Halloween trick and treat. FFJ predicts a debilitating hamstring injury in the not-so distant future.
Judas Kicker
No one betrays a team quite like a kicker.
Rian Lindell – With a chance to bring home the Bills first win of the season, footie Rian Lindell bounced a 53-yarder off the right upright in overtime. Making matters worse, he nailed the same kick moments before, but it was nullified by a Chiefs timeout. FFJ prays for the day when kickers are permanently banned from the game and exiled to a land populated by flesh-eating zombies, kinda like the one in the The Walking Dead (a series FFJ fully endorses).
Sign of the Apocalypse
Pop culture trends that signal the end is nigh.
FFJ is patiently awaiting for Pestilence and the rest of his pals to be unleashed upon the Earth. The signs are abundant: endless wars, catastrophic natural disasters, needless poverty, and photos of impressionable children dressed like the cast of MTV's Jersey Shore: (Via Buzzfeed)
Yeah, humanity is doomed.
Keeping Tabs on FFJ's Teams
FFJ is the proud owner of two fake teams. Let's see how they're doing.
Big Ben's House of Sin (4-4) – Trailing by 38 heading into the Monday night affair, Big Ben's hopes of victory were left to the trio of Arian Foster, Pierre Garcon and Adam Vinatieri. 42 points later and it's a win for the Sin. Vickdemption and DeSean should be back in time for a mid-season playoff push. Oh, and Randy Moss is a rotting bag of goat feces. It had to be said.
Pagan Idolatry (6-2) – Bye weeks, schmye weeks. The Pagans were missing both Peyton Hillis and Michael Turner, so they rolled out BenJarvus Green-Ellis and LeGarrette Blount, who combined for 46 points. Four straight wins. First place in their division. Highest scoring team in the league. It's virgin sacrifice time, baby!
Week 9 Lineup Advice From the Burning Bush
Sit QB Matthew Stafford vs. NYJ – Don't be fooled by Stafford's four-touchdown game last week. The Redskins secondary is atrocious. The Jets shut down Aaron Rodgers and have allowed only ten scores via the air in seven games. The bush advises owners to look elsewhere.
Start RB Brandon Jackson vs. DAL – The 'Boys have given up on the 2010 season. Their listless defense has been steamrolled the last four games. Jackson is hardly a stud, but 100 total yards and a score is doable. Get him in your lineups, quoth the bush.
Start WR Patrick Crayton @ HOU – All competent wide receivers should be started against the Texans. Especially when the guy throwing the ball to said wide receiver is Philip Rivers, the leading passer in the league. The bush loves itself some Crayton.
That does it for week eight of the 2010 fantasy football campaign. FFJ will leave you with these parting words:
Do not worry about tomorrow, for tomorrow will worry about itself. Each day has enough trouble of its own.